English Springer Spaniel Pictures
Page 2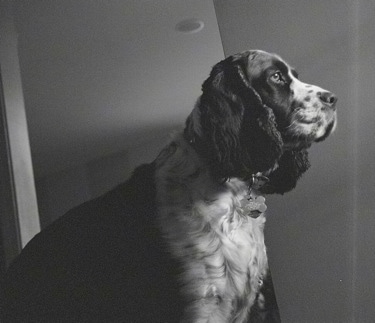 "This is my English Springer Spaniel, Molly. Molly is a very great family pet. She participates in agility and is training to be a therapy dog. She also loves to go on hikes, swim, and gets along very well with other dogs. Molly is a very easy-to-train dog and knows many tricks for treats. She is a very balanced dog. The training methods I use on Molly are based around Cesar Millan; I watch his show and I have been to one of his live seminars."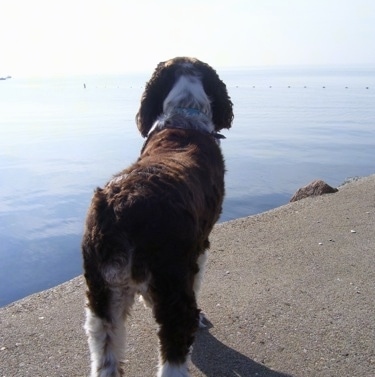 Molly the English Springer Spaniel looking out into the water.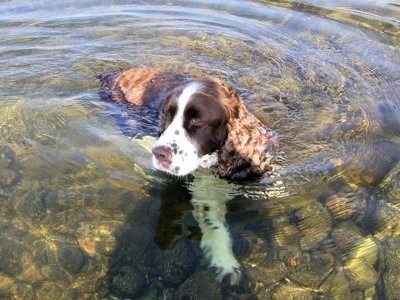 Molly the English Springer Spaniel going for a swim.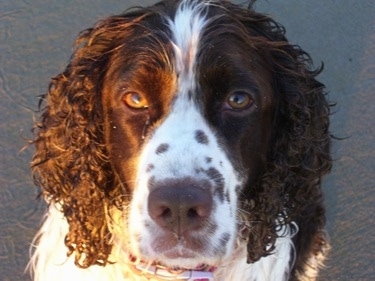 Molly the English Springer Spaniel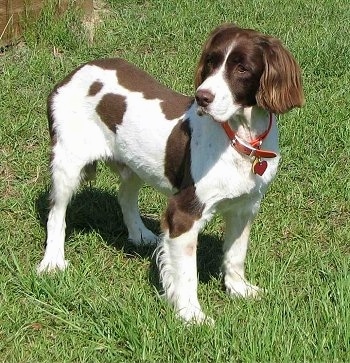 "This is Sonny, our English Springer Spaniel at 13.5 years old. He looks great. He weighs 51 pounds. His beautiful tail is not docked. Oftentimes, people think he is a puppy. He's a serious hunting dog and a wonderful companion. He loves to hunt, eat, swim, sleep, fish, hunt, eat, cuddle, kiss, hunt, eat. He likes to have his teeth brushed. He loves people. He hates squirrels and lizards and cats. He tolerates other dogs. He lives on a farm with a pond in south Georgia and he is quite the fisher dog, sometimes plucking fish right out of the pond after stalking them like a heron. In recent years, he has lost a lot of his muscle tone, he has some aches and pains, and he has some geriatric equilibrium issues, but his spirit has not diminished one iota since he was a pup. He just finished a September dove shoot and now he's now training for his annual November pheasant hunt in South Dakota. We let his hair grow "hippie" as we call it (long and curly) in the wintertime after his annual Pheasant hunt, but most of the year, we keep him in a field cut. I like to trim his ears in a "page boy" look."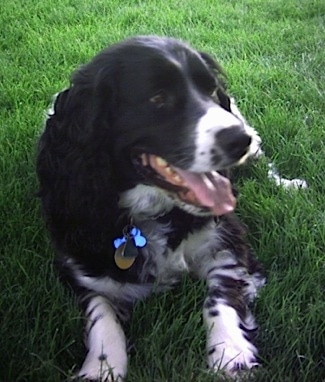 "Michael, the English Springer Spaniel was rescued from the Twim Falls Humane Society when he was one year old."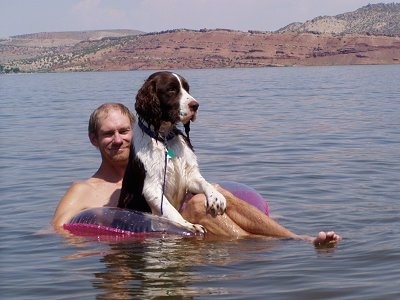 My English Springer Spaniel named Bently. I recently adopted him from the Beadle County Humane Society in South Dakota. He is a loving, wonderful, energetic, well-behaved, quick-to-learn dog. He has already brought so much happiness to my boyfriend, Kirk (shown with Bently in the picture) and me."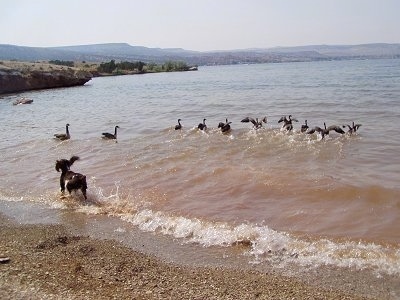 "He makes us laugh with his antics. He loves to swim...and swim...and swim! He likes to play.... His favorite thing to do is act surprised and intrigued by something new and bark at it. Such as the carp Kirk caught, or the rope with a knot in it tied up by the boat at the lake, or the waves coming into shore. After he checks whatever it is out, then he's fine and on to something new to learn about."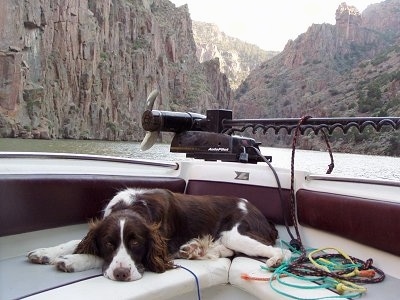 Bently the English Springer Spaniel sleeping on the boat, exhausted after his day of swimming!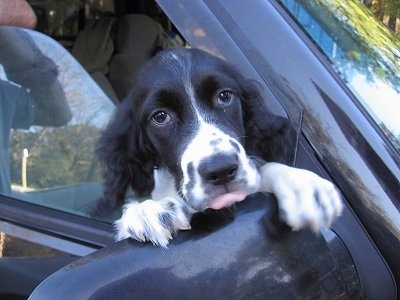 "This is Riannon, my dad's new English Springer puppy. She is very loving and smart! She is the perfect companion for my newly retired dad. She does not like to stay in the car by herself! This cute photo is her trying to figure out how to get out of the truck!"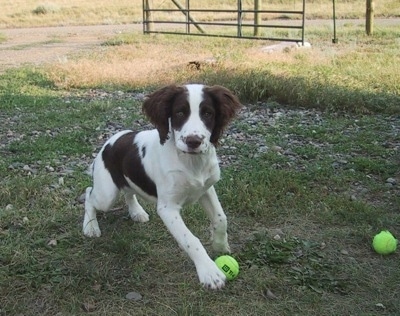 "This is Tootsie at 4 months old. She is an action-packed pup! It's hard to get a still picture of her. She came from a breeder in North Dakota. We went on a vacation to Minnesota and stayed at a motel that raised these guys. She was 1 of 9 pups, but my husband fell in love with her. Most people bring home a T-shirt, we got a puppy! She should be a good bird dog (always has her nose in the dirt). Loves the outdoors with anyone. Extremely friendly and outgoing."
Riley the 5-month-old English Springer Spaniel puppy swimming at the lake.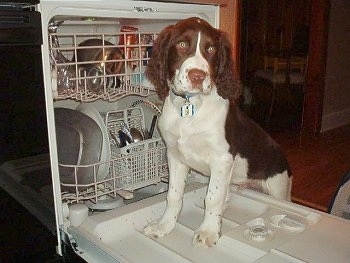 Riley the silly English Springer Spaniel puppy checking out the dishwasher
Belle the English Springer Spaniel at 6 years old

Bear Island's Remington Steel playing fetch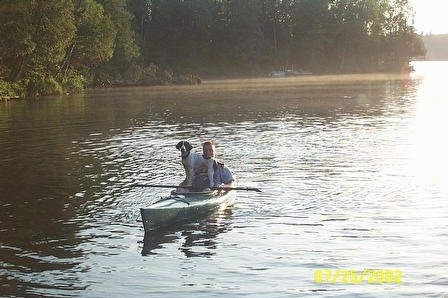 Bear Island's Remington Steel on the boat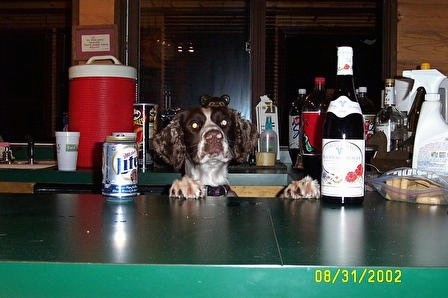 Bear Island's Remington Steel playing bar tender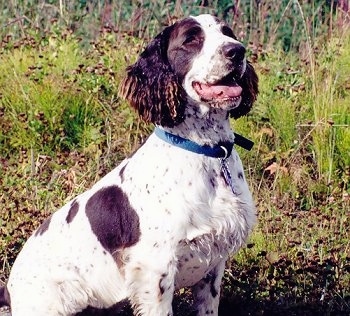 Max, owned by Nicole Richardson of BC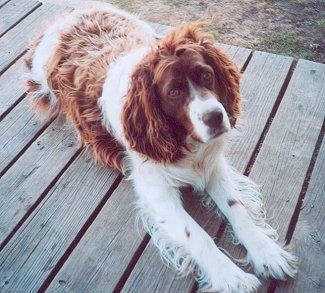 Spot the 5-year-old English Springer Spaniel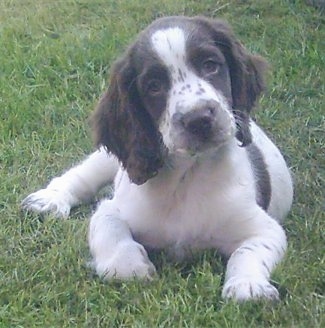 Bonnie the Springer Spaniel as a puppy at 9 weeks old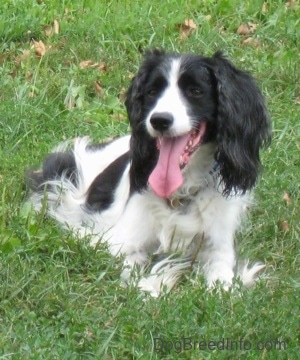 Darci the English Springer Spaniel has very good obedience skills. Even at 10 years old, she still loves to seek out birds. She had a great time visiting with Bruno the Boxer.
How Darci got her name, "I had wanted to get a new dog. I researched and found a breeder of Springer Spaniels that had a litter...black and whites. She was 150 miles away. So, my best friend and I made the trek (she is a dog trainer, and was going to temperament test the litter to find me the right pup. The pup turned out to be less than ideal, as far as Springers go. They are supposed to be black over their entire back...this one was cow-spotted all over.
"I brought her home. I had a baby name book that I used to pick her name. The breed is English, so I wanted a name that was from that part of the world. She is black and white so I wanted a name that had a meaning that would fit. I found "Darci" to be perfect. It means "dark one" in Old English. Fabulous.
"So, she is a purebred, and the AKC requires longer names than that. So, in honor of her cow spots, I named her after a local dairy...that had a logo of black and white cows in a field. Jerseymaid Dairy. I named the dog "Jerseymaid's Darling Darci." The AKC accepted it.
"Fast forward a year. I was at my friend's house, and we were talking about the dog—she was in training for agility. My friend's husband asked what it was that I had named her with the AKC. I told him and he said "of course—after the Jerseymaid spokescow—how cute." I said "no- just because she is black and white and cow spotted." Well, it turns out that in the 70s, that dairy had had a spokescow, a talking black and white cow, named Darci. Very strange. It was before my time, and I had never known that. Just a weird coincidence."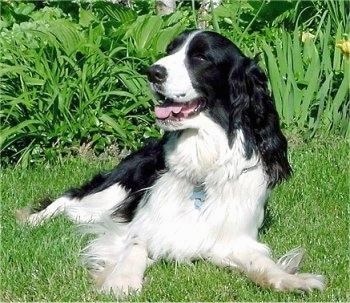 Frodo, the 5-year-old English Springer Spaniel herds sheep, and dives in DockDogs competitions. He is from English Springer Rescue America (ESRA).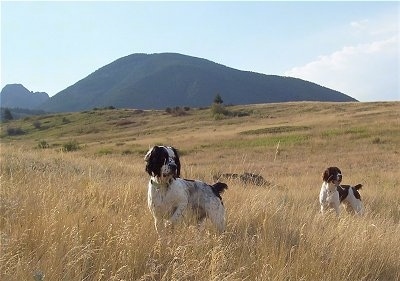 Baxter is a 3-year-old black and white Springer and Boomer is a 1-year-old liver and white Springer. They are hunting grouse in Montana in this photograph and they love it!
"Jager, an English Springer Spaniel at 2 years old. He absolutely loves his sister, Mackenzie, who will be one year old on May 24. The two of them are inseparable. He makes a wonderful friend for her. She uses him to balance while walking or uses him as a step stool to climb onto the couch, hehe. He is very inactive indoors, but turns into a different dog outside. He loves to play with soccer balls or racquet balls. He gets about 2 hours a day playing ball off the leash and 2 hours walking on the leash. That seems to be enough exercise for him as we live in an apartment."
This is Lady the black and white English Springer Spaniel.
Dash the black and white English Springer Spaniel always likes to have a job. This is him bringing his owner the newspaper in the morning.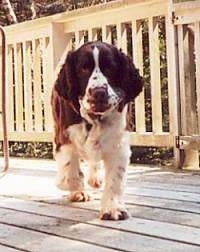 Freckles, playing with one of his toys in his mouth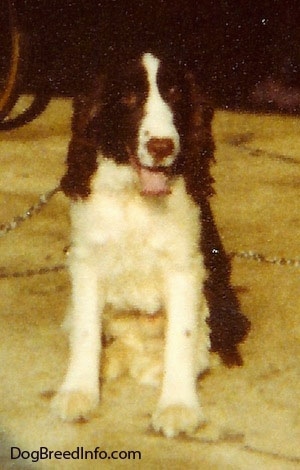 Kelov the English Springer Spaniel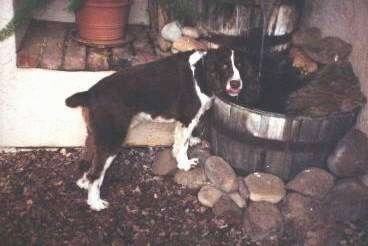 Buck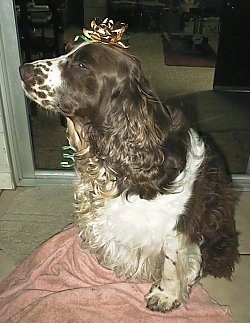 Maggie the English Springer Spaniel with a bow on her head.