Miniature Poodle Pictures
Page 1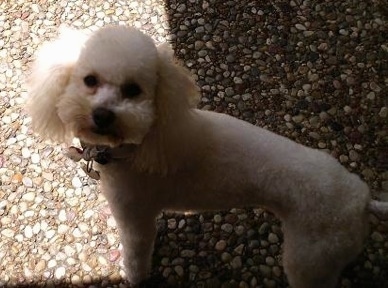 "Sammie is a rescue dog. I found him on the Internet—no picture. All it said was, "Please Adopt Free Poodle". I emailed the lady and found out he was a 9-lb, year-old (my vet said more like three years old) boy. I fell in love when they texted me a picture of him. I met them and saw that he had 2 bald spots and was eaten up by fleas. My best friend told me his fur looked funny. I guess I was blinded by love because I thought he was beautiful. Now I look back at pictures and ask my mom, "Was I crazy?! He could've had a disease!" Ha ha. The lady I got him from said she rescued him from an abusive home but having 5 dogs couldn't take care of him. I took him in and love him!! He now has all his hair and looks beautiful and is very attached to me. We do everything together. I'm so happy I gave him a second chance at life. Who says that an old dog can't be taught new tricks? Sammie knows so much now. He wouldn't even walk on a leash when I first got him and now he loves to walk! He was only half housetrained; now he is completely housetrained! His favorite game is to steal my socks. =) Although old things from the past still scare him (trash bags and horns) I know he feels safe with my family. Sammie has a forever home with me. Thanks so much for your site. I studied the Poodle profile before getting him and constantly refer to your site when I have a question. You guys are awesome. Without you I probably would've gotten a pup from a breeder, which isn't a bad thing but Sammie is better than a pup!! Thanks for all your information! Cesar Millan's work has also helped a great deal!! I read his first book and own his second one; need to read it! I love his show."
Other Names
Caniche
Barbone
Chien Canne
Carniche Moyen
Barboncino Miniatura
French Poodle
Pudle
Zwergpudel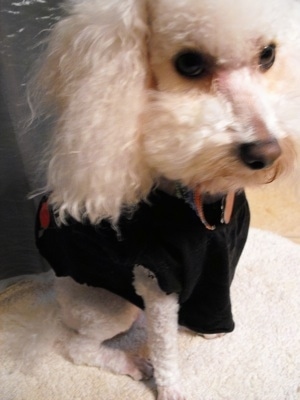 Sammie the white Miniature Poodle wearing a shirt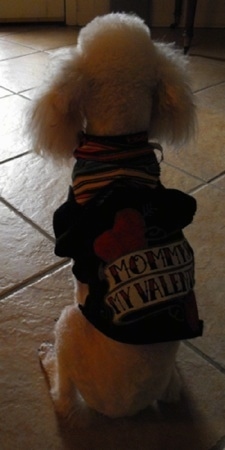 Sammie the white Miniature Poodle wearing a shirt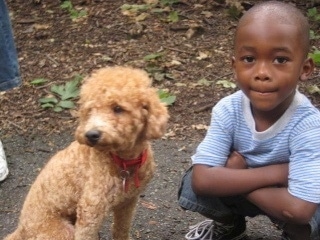 "This is my Poodle Pablo sitting down after playing with other dogs in Central Park in NYC. He is 1 year old and has a very good temperament. He loves to play with balls. He loves to run and gets a lot of exercise. He is a smart, well-balanced dog. I watch the Dog Whisperer with Cesar Millan. I have the whole 1st season on DVD and I use some of his tips, and they really work."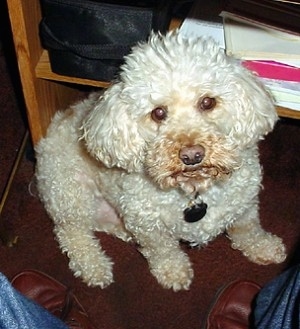 Frankie was rescued by his new mommy Anne. He is doing remarkably well!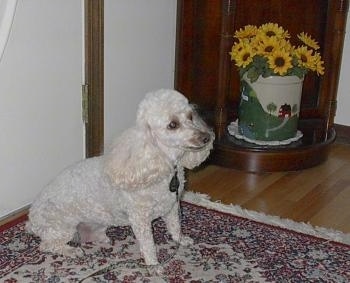 Frankie white the Mini Poodle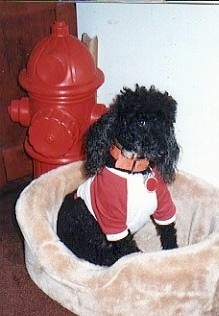 Pepsee the black Mini Poodle sitting in his dog bed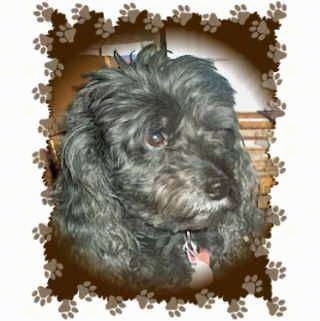 Daisy aka Daisy-Do-Right is one loved dog! Here is what her owner had to say about her...—"She is the sweetest thing this side of heaven. Never gets into trouble and is the most spoiled thing in the world. She is 7 in this picture. She is the greatest dog I have ever met by far! She never does anything wrong! She is always happy—even the next-door neighbor (George from Greece) says that she is the happiest dog he has ever seen. She will go sit by the fence (chain link) and wait for George (retired) to come out into the backyard to tend to his garden and she talks to him and tells him everything she knows. It is so cute to hear her. She has George wrapped around her little pooh paw just like the rest of us. There are no strangers to Daisy—just friends she hasn't met yet."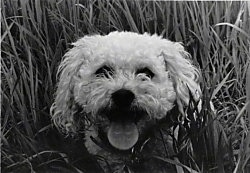 This is 5-year-old Danny the Mini Poodle.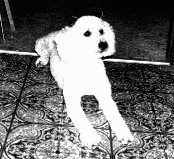 This is Sam the Mini Poodle at 4 years old.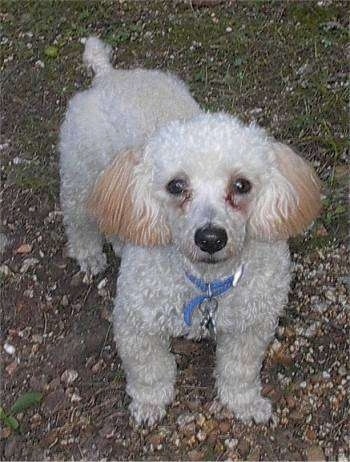 This is 7-month-old Sandy the Miniature Poodle.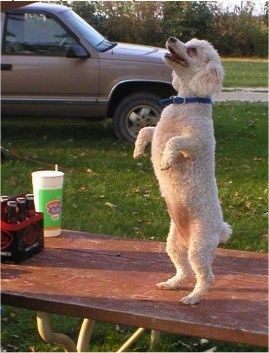 Sandy all grown up standing on her hind legs on a picnic table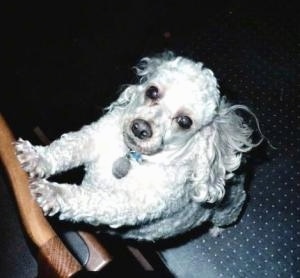 Pick me up, please!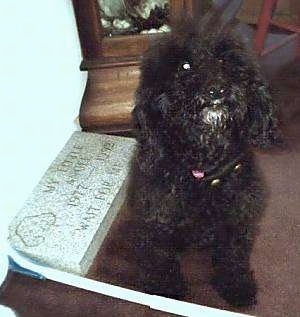 Sasha the black Mini Poodle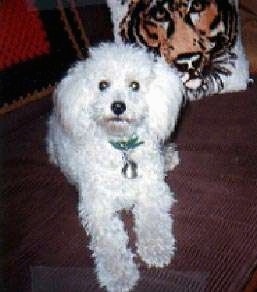 This beautiful girl is named Angel. While Angel is now at the Bridge, she is thought about every day here on earth by her owner Anne, who still loves her very much.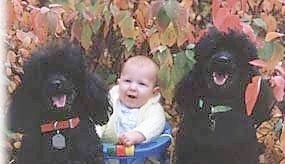 Can. Ch. Rosebell's Lump of Coal (call name: Freddy), Can. Ch. Rosebell's Optimystique (call name: Maya) and baby Kenneth, photo courtesy of Rosebell Kennels
Official AKC-Recognized Poodles

Non-AKC Poodle Types