Pomeranian Pictures
(Zwergspitz) (Dwarf Spitz) (Loulou) (Pom)
Page 3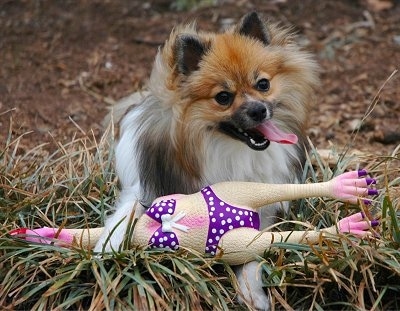 Gizzy Monster the Pomeranian at 11 months old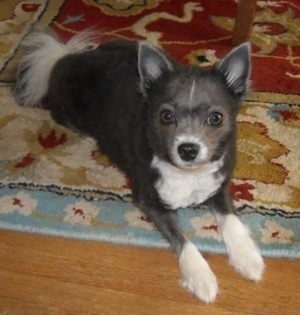 "This is my spayed, 2-year-old female Pomeranian that we just rescued. The rescue wasn't sure if she was a pure Pom because they had never seen Poms with her color before, but after doing a lot of Internet research I saw several Poms with what they called a blue parti-coat that looked just like her. She has the Pom double coat, but someone had trimmed her face and upper legs really short and then gave her a Mohawk so the rescue trimmed her fairly even all over—just leaving her tail longer. I think she is beautiful whether or not she has her full coat! She is still very nervous so I am continuing to use positive training and remain calm.
"I watch the Dog Whisperer and have one of Cesar's DVDs but I needed a little more information on how to properly bring home my adopted rescue dog. Your information was so helpful! Even though it was raining when we got home, we went for a walk, then (still on leash) I entered the house with her following. I stood in the entryway for about 10-15 mins. Once I walked into the room she didn't really want to explore, she just kept looking up at me. I remained calm and relaxed (kept my shoulders up) and stepped down into my sunken living room with her following. She immediately tried to jump on my sofa, so I made the uh, uh sound and blocked her—she immediately stepped back. I would not have known how to do this without the information on your website. Thank you and please continue to add more information about working with rescued dogs.
"I haven't decided on a name yet—I want to get to know her to see what suits her personality. Right now she is very nervous and probably a little frightened, but we are taking long walks and doing our best to always remain calm, relaxed and assertive—just like Cesar tells us!"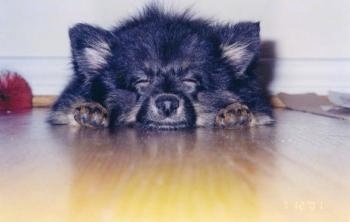 Three-month-old Phoebe the Pom as a puppy sleeping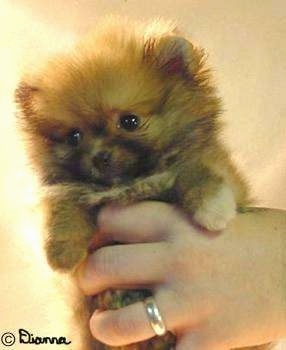 Donmar's Victoria a 11-week-old, 21-ounce female Pom puppy looking like a teddy bear. Photo courtesy of Donmar Pomeranians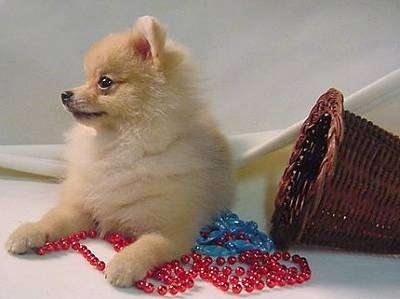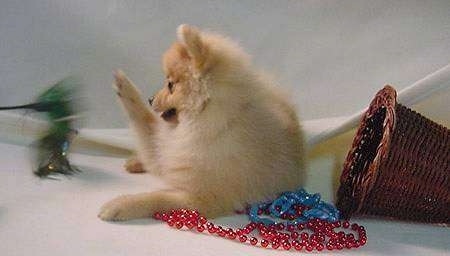 Playful puppy! Photos courtesy of Donmar Pomeranians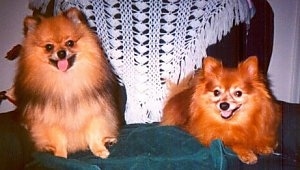 Tinker (left) and Rusty (right)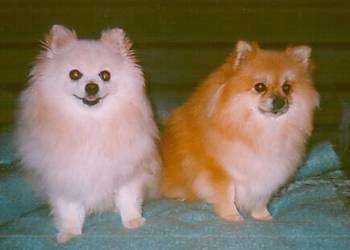 Tasha (left) is a very playful, 11-year-old, cream-colored Pom. Dusty (right) is a 6-year-old sable-colored Pom who prefers to nap on her owner's feet. They are very affectionate, and are quite spoiled.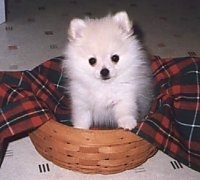 This is 2-month-old Daisy Mae the little white Pom puppy in a Longaberger basket .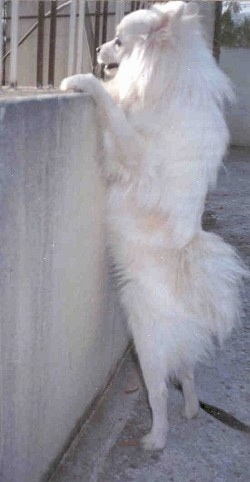 Chinu' the white Pomeranian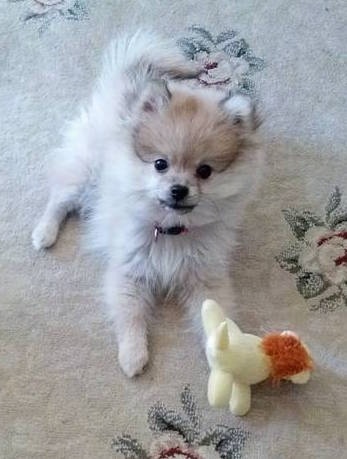 "AKC Pedigree Wolf Sable Male (Neutered) Pomeranian Fluffy started out as a very tiny, small Pom who did not like to be held or pet. He is now quite large at 8 months old, not the teacup Pomeranian we expected. He is very stubborn, willful and needs a stern hand. He learns very quickly and loves to sit, shake his paw and knows 'down'. He also knows 'dirty paws' as he's very light and gets muddy in the fenced in huge backyard we have. He loves to run and is astonishingly fast! He is also a climber, like a cat, he loves the cat's climbing house, and actually rests on one of the cat's shelves (much to the dismay of the cat, and yes, Fluffy actually has shown his dominance over the much larger cat). Fluffy is a bit over 5lbs. and constantly bites/nips/even barks when told 'NO'. He has a temper (runs/runs/runs when 'mad')...one has to really make sure he understands who is the pack leader. NOT him. He loves to chase the ball and brings it back, loves to drag anything much larger and heavier than him, he's done that since a tiny pup. He's very different than our last Pomeranian who passed last year at age 13 (tumors on the lungs). That Pomeranian was calm, stubborn (took quite awhile to 'sit', did not want to), but very congenial, and Extremely loyal to his male pack leader. He followed him everywhere and always looked to him. They're all different and enjoyable!"