Portuguese Water Dog Pictures
(Cão de Água) (Cão de Água Português) (Portie) (PWD)
Page 1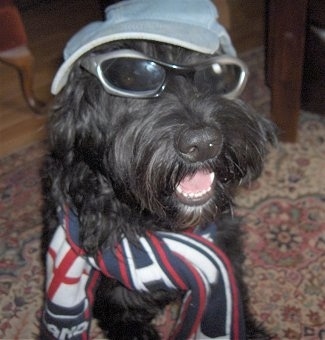 "This is our dog Figo. Figo is a Portuguese Water Dog. We named him after a well-known Portuguese soccer star. He is the nicest dog you will ever meet. He is also very patient, as you can see in the picture!"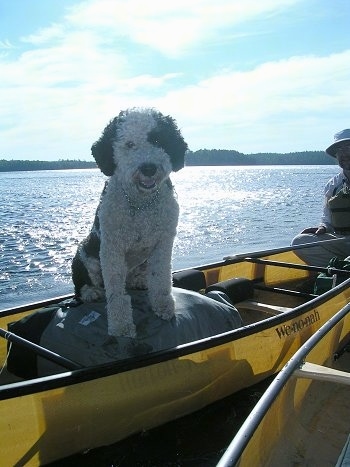 Ponto the Portuguese Water Dog on a boat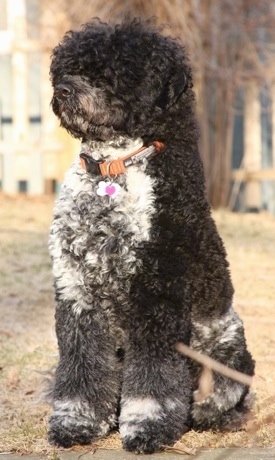 Morris the Portuguese Water Dog at 2 years old—"My husband and I, both dog lovers, knew we wanted a dog but didn't know what type to get. Mike "the researcher" found your website and we ended up taking your dog breed quiz. After reading the personalities of your recommended breeds, we knew that the Portuguese Water Dog would be a perfect fit in our little family. We quickly found a breeder and we adopted Morris."
"Now, before I go on, I must tell you that I have had three dogs in my life time and my husband has had one. Never in our lives have we ever encountered such an amazing and wonderful dog. I dare say I am more in love with this dog than all of the others put together!
"Morris is incredibly loyal. When we go on hikes, he either wanders close by, checking in every few steps or walks between me and my husband. He never strays far from the pack, although he is still working on his manners when it comes to passing people or dogs. He loves the outdoors and carrying his food in his own backpack when we go camping.
"Although Morris is a Portuguese Water Dog, he is almost equally a Portuguese Snow Dog. He gets extremely excited at the sight of either element and he is not completely satisfied until his face has been buried and covered in one or the other. Last summer on a visit to the beach, Mike and I unfortunately discovered that Morris is not completely clear on the difference between the snow and sand. He tried to bury his face in the sand, making a complete mess of himself. We're working on that…
"Being a singer myself, Morris and I get along great. As you may know, he has multiple octaves to his bark, but he has a few different barks within those octaves that I've decided to categorize for your enjoyment:
"Time to play" bark—this bark is in the middle range of his voice and often very obnoxious!
"I have to go to the bathroom" bark—often confused with the "time to play" bark.
"Come and get me" bark—again, very similar to the "time to play" bark, but slightly higher in pitch and more flirtatious.
"Nerd" bark—if he were a kid and had a voice like this, I promise other kids would make fun of him. His voice cracks and squeaks and moans. Maybe he's going through puberty. He is 14 in dog years.
"You're not fooling me" bark—this is his "I'm not stupid, you idiot. I know the ball is behind your back, now throw it already" bark.
"Mini-warning" bark—this bark is barely audible because it's very low and quiet. It is mostly heard when he hears or feels something going on like an earthquake or ice breaking.
"Super warning" bark—you might want to leave. Morris has been caught off-guard or he thinks you're here to hurt his pack leaders. This bark is in his bass register and it's quite intimidating. Move over, Rottewillers!
He is a very vocal dog and every time he comes home from doggy daycare, his report card has a check mark next to the word "talkative." Shocking.
"Before we brought Morris home, one of my husband's friends lent him the DVDs of Cesar Milan's show. Watching Cesar work with difficult situations really helped us prepare for what having a dog was going to be like. We were able to learn how to handle certain situations and avoid them as well, including food guarding, visitors, calming an out-of-control dog and the importance of socialization. We really feel that watching those episodes helped us to be better trainers and would recommend them to anyone BEFORE (or even after) they get a dog. What my husband and I did not anticipate was the amount of chewing that Porties do as puppies. Hundreds of dollars in socks and toys later, oh and a seat belt, he's finally slowing down."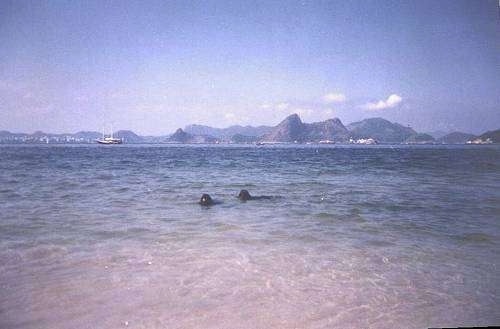 Portuguese Water Dogs in action!!! Photo courtesy of Jose Fontes, Cristalmar / Cão de Água Português, Rio de Janeiro / Brazil.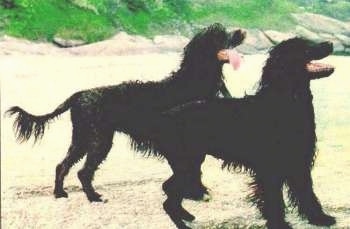 Photo courtesy of Jose Fontes, Cristalmar / Cão de Água Português, Rio de Janeiro / Brazil "Where you can find the ancient lines and type the way a real Cao de Agua was in the early times."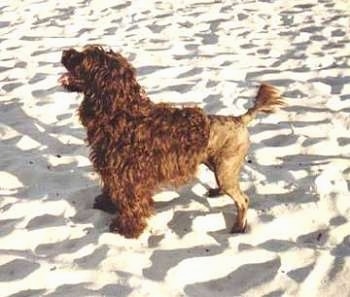 Photo courtesy of Jose Fontes, Cristalmar / Cão de Água Português, Rio de Janeiro / Brazil
Portuguese Water Dog puppies! Photo courtesy of Jose Fontes Cristalmar / Cão de Água Português, Rio de Janeiro / Brazil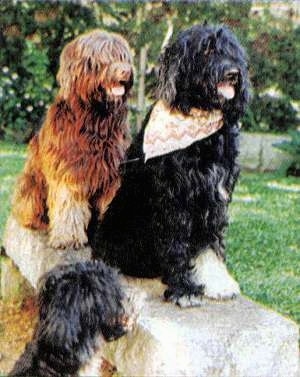 Photo courtesy of Jose Fontes Cristalmar / Cão de Água Português - Rio de Janeiro / Brazil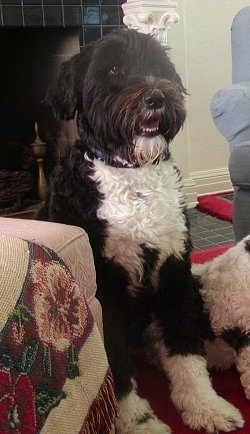 Haley, a female 3-year-old wavy black and white Portuguese Water Dog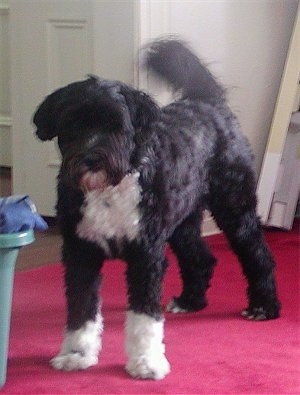 Haley, a female 3-year-old wavy black and white Portuguese Water Dog