Schnoodle Pictures
Schnauzer / Poodle Hybrid Dogs
Page 2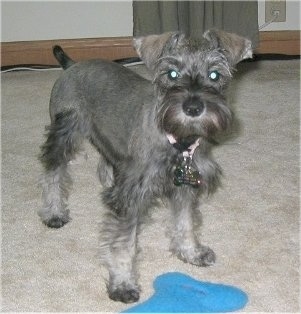 Reagan the Schnoodle definitely looks more like a Schnauzer than a Poodle, but has characteristics of both on the inside. She is a sweetheart and loves to curl up in your lap and give kisses. She's also a big fan of playing in the bathtub.
Other Names
Mini Schnoodle
Miniature Schnoodle
Schnauzerdoodle
Schnauzerpoo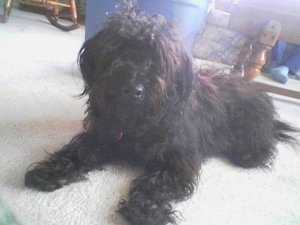 Cosby the Schnoodle before his haircut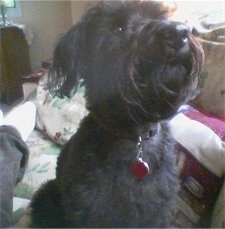 Cosby the Schnoodle after his haircut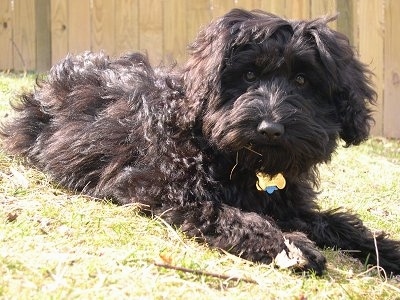 "Ernie is a 4½-month-old female Schnauzer / Poodle mix. She is very playful and is quite popular in her neighborhood. She has not been clipped, although this picture was taken right after she had a bath. She likes to bask in a sunny spot or sleep on your lap. She LOVES yarn and can play with a ball of yarn for hours, dragging it around the house and chewing on it."
Ernie the Miniature Schnauzer / Miniature Poodle mix (Schnoodle) all grown up at 14 ½ months old—"Ernie is still very popular in our neighborhood and among our family members and friends. Her favorite things include yarn, peanut butter, sunbathing, long walks and belly rubs."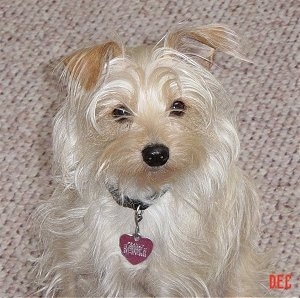 Peanut at 18 months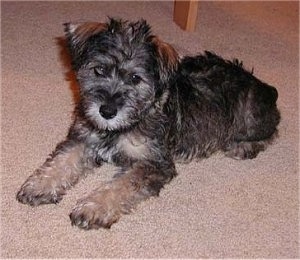 Scout the Schnoodle puppy at 3 months old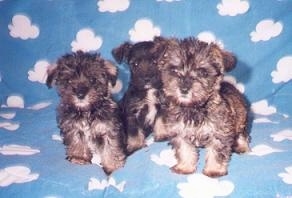 Schnoodle puppies, photo courtesy of Wild wood Acres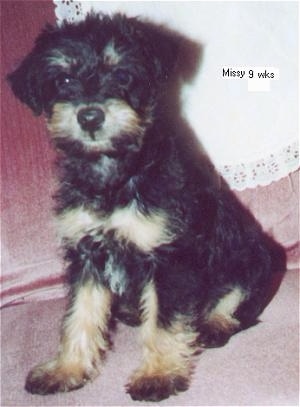 Missy the parti Schnoodle as a puppy at 9 weeks old, photo courtesy of Wild wood Acres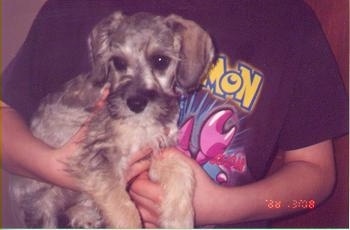 Sassy, photo courtesy of Wild wood Acres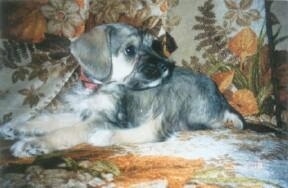 Sassy the Schnoodle as a puppy, photo courtesy of Wild wood Acres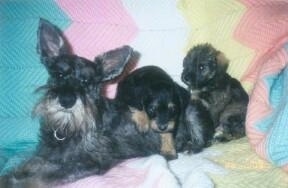 Lexy the Miniature Schnauzer with two Schnoodle puppies, photo courtesy of Wild wood Acres