Boxer Pictures
Page 2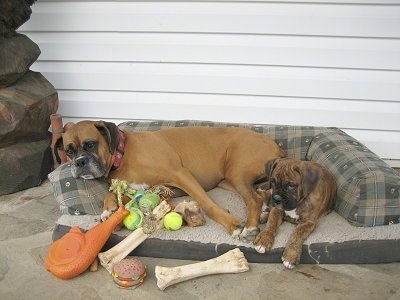 "This is Allie, a 6-year-old fawn Boxer with her new little brother Bruno, a 7-week-old puppy. Yes, I do believe they like one another. It only took a few days for Allie to accept Bruno into her pack. How do I know she has accepted him? Because Allie started pushing her food around, elling Bruno not to eat—a sure sign that she accepts the little puppy into her pack. Top Dog eats first"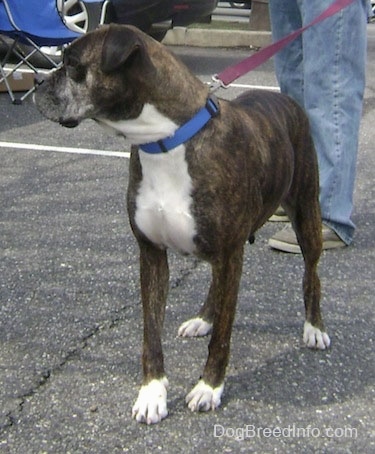 Senior Boxer rescue dog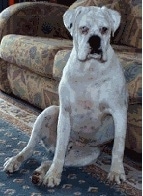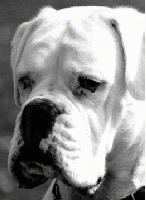 Meet Frankie, a very handsome white Boxer. Photo courtesy of Frankie's Isle of Skye Slobber Page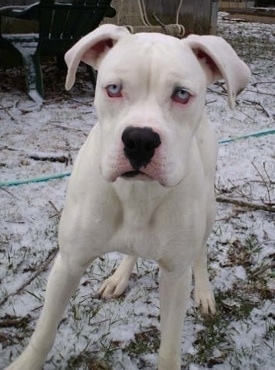 "Copper is a full-blooded white Boxer shown here at 11 months old. He is deaf so we have to watch him if we let him out of the fence, because it wouldn't do any good to holler for him, since he cannot hear us. He also has blue eyes, which I think is very rare, because most Boxers that I see only have one blue eye, and he has 2 blue eyes."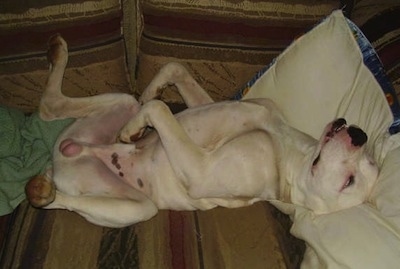 "He has a very loving and playful temperament. He likes to sleep, play, eat, he likes to be in the house because his hair is thin and short. He also LOVES to ride in a car with the windows down so that his jaws can flap in the wind. He also likes to play with my Australian Shepherd Dixie. He always has to sleep in the bed with me. He has to either be leaning on you, sitting on your foot, or lying on you when you are in the bed."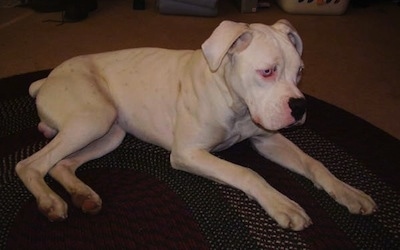 "His dislikes are: Being disciplined, he does not like his ears to be touched, he doesn't like it when you leave him alone somewhere, because he is deaf, he has to be able to see you or he gets nervous and starts running through the house looking in every room trying to find you. He absolutely HATES getting a bath, but he likes it when he gets out and you put the towel over his whole body and start rubbing him all over..."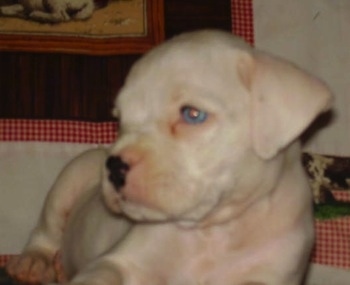 Cooper as a puppy at 5 weeks old—"His good habits are: he is housebroken and he will not beg for food. His bad habits are: chewing up my little sisters toys, barking when he can't see or find you. He gets a lot of exercise during the day, because we have an acre fenced in where they can run as much as they like."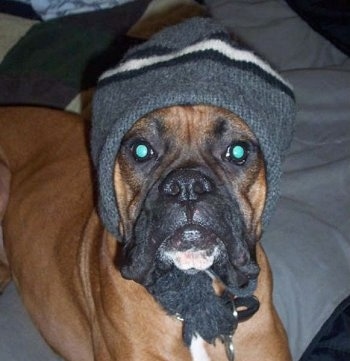 "This is our pride and joy, Ryken. He's a 1½-year-old boxer who has a hard time choosing between a squeaky ball and a treat! He's the biggest clown I know and snores like you wouldn't believe, but we love him dearly."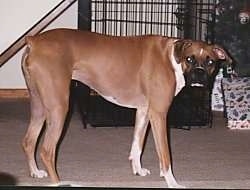 Oliver the 1 ½-year-old Boxer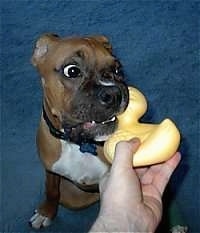 Shaggy, give me that duck!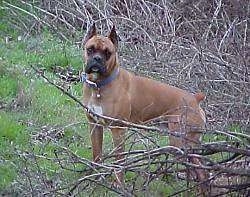 Gus the Boxer at 2 years old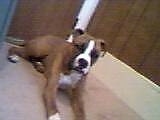 Hooch the Boxer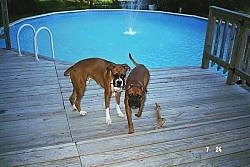 Bubba (left) 21 months and Jake (right) 16 months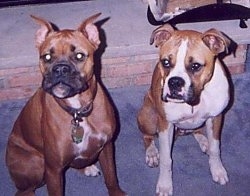 This is Sugar (left) and Sullivan (right).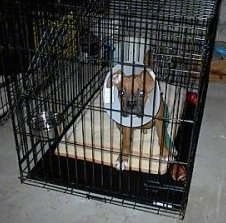 Shaggy the Boxer in his crate with a cone on his head after being neutered.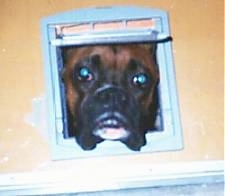 Hey...someone get me out of here! My name is Bear, by the way. Now go on...go find someone who can get me out!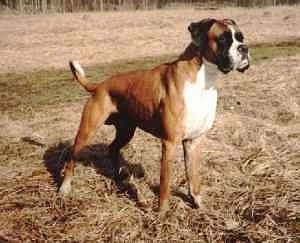 Impressive´s Yellow Boy Kilmer from Stockholm, Sweden. Notice the ears are not cropped and the tail is not docked. It is illegal to do so in a lot of European countries.