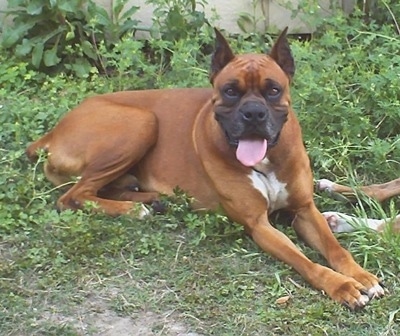 "This is a picture I took of my male Boxer, Jordan. I think he's about 7 years old, but I'm not sure. Jordan is a very special dog. Like a lot of dogs, Jordan was rescued from a very bad situation. He was extremely emaciated, he had no hair, covered in parasites, and extremely afraid of everything. He could barely walk when I got him. I have owned him for about 7 months now, and he has all his hair back (too much, actually), has gained a lot of weight, is MUCH happier, but most importantly he is no longer afraid of people. With spending a ton of time with his socialization, training, and guidance, he is now a well-balanced dog. I don't exactly know what happened to him before me, but it doesn't matter anymore, anyway. Jordan did have all sorts of bad behaviors at first due to his neglect which included: excessive barking, digging, pulling, jumping, etc. Typical "bad dog" behavior. But with all the walks and adventures we go on he is not only well-balanced, but truly happy. I am his "Guardian Angel." He has the sweetest personality. He gives hugs and kisses. He is my suction-cup when we are outside together; he has to be by me always. I love it! He is happiest when the whole family is out in the backyard playing together. (He is very much a part of our family, even stays inside now, after some time housetraining). He was never aggressive toward anything or anyone. He loves his "girlfriend"! (My other Boxer Baby Girl who also is a rescue). I've owned/rescued numerous dogs, but Jordan has reall touched my heart."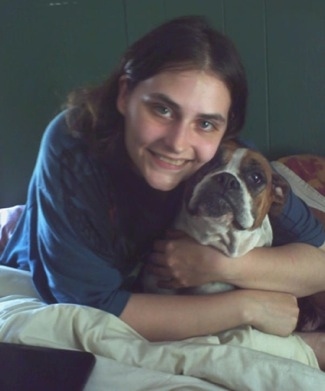 "This is a picture I took of my female boxer, Baby Girl. She was rescued at 2 years old and is now a whopping 8 years old. A few months after losing another rescue of mine I was really considering adopting another dog because I needed some form of protection living in a rough neighborhood. One day, while I was sitting in my living room my neighbor knocked on my door, "Hey, there's a Boxer outside running around crazy, and the owner doesn't want it." I said, "A Boxer? OK, I will take a look!" That's all it took, one look. I saw that happy face and that wiggly butt, I was in love! I said yes! Little did I know what I was getting myself into. This dog was an absolute nightmare, lol! At first she barged out of every door, broke every collar, leash, chain, tie-out cable we bought! She was horrified of so many things. She had separation anxiety really bad, so bad she made herself bleed to get out. After a very long and bumpy road we finally accomplished what I dreamed: "the perfect dog." She now doesn't even need a leash (though she wears one for safety reasons), she never runs out the doors and gates now. She is so well-behaved and excellent mannered. She even stops on a dime if I tell her to. She is my everything! I have taught her a lot, but not as much as she has taught me. She taught me patience, understanding, love, devotion, and so much more. She has won the hearts of everyone she has met AND has even made a dog lover out of the people who were "scared" of dogs or "hated" dogs. I take her everywhere with me. She loves her bath time, especially playing "torro" with the towel during drying time! She hugs me, and she gives me the gentlest kisses. She has no aggression toward anything or anyone, she loves everything! This dog is my entire world. She always rests her head on my lap and gives me those soulful puppy dog eyes. Unlike any other dogs I've ever had she and I communicate mentally or something. She and I just know what each other want."
"After the long haul of teaching her not to bolt off, and finally making her realize she can go out, she doesn't even mind staying in bed all day. Before I got her she had never been out other than a quick potty break on a 4-foot lead. She also had been through a lot of owners. She's great inside now, though! With all that work she's perfect inside! I can leave a whole plate of food on the floor for hours while I'm not in the room and she won't touch it. No accidents, never chewed on anything, very quiet. She's my angel. Her favorite activity would be eating. She's loves food. This is a dog who has taught me to be strong, all good things are worth fighting for, never give up, and you never get the dog you want, always the dog you need."
"Cesar Millan is my absolute hero, I have seen every episode of his television shows "Dog Whisperer.. I cannot say I follow his methods, because I have been training my dogs this same way before I ever heard of him. My methods are the exact same though, with Obedience, Agility, Weight Pulling, Schutzhund, Flyball, etc. included. I also train therapy dogs, and guide dogs. (Not certified, or anything. I rescue dogs and train them to help those who don't want to go through the certified Therapy Dog Associations for such reasons as waiting lists.) I've been training/rehabilitating rescues my entire life! I thank god for Cesar, though, because he is one of the few proving that Pit Bulls can be rehabilitated, and showing the world everything they need to know to save their dog's life."
"With people like Cesar out in this world maybe one day all dogs will be balanced. My love for Baby Girl made me fall in love with Boxers period, which led me into rescuing another Boxer, so I guess in a way she's saved two lives. Just like me. She's been through a lot, and has come very far. Most important thing she didn't give up on me, either. So, this photo is a dedication to Baby Girl so the entire world can hear Baby Girl's message of never giving up on your dog, because they will never give up on you. Thank you for the strength, you have given me Baby Girl, and I hope together we can save lives: the lives of dogs."
Lucy the white Boxer as a puppy at 9 months old—"She has a bigger personality and bigger punch than any dog I know. She's a Boxer in every sense of the word."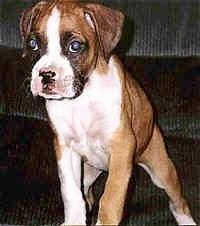 Callie the Boxer pup at 6 weeks old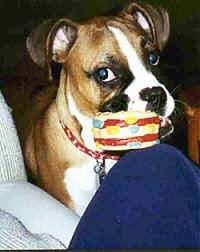 Callie with her squeaky toy
Callie the Boxer full grown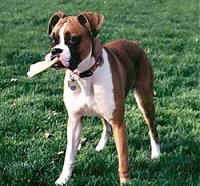 Callie the Boxer full grown with her toy.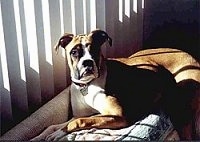 Callie the Boxer full grown getting some sun though the window blinds.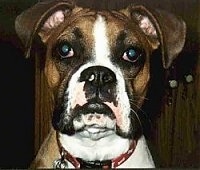 Callie the Boxer full grown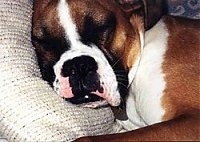 Callie the Boxer full grown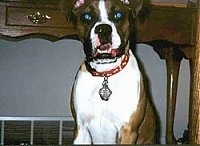 Callie the Boxer full grown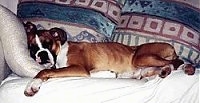 Callie the Boxer full grown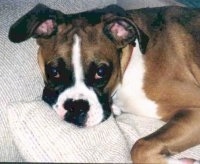 Callie the Boxer full grown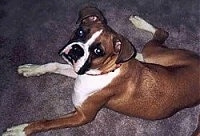 Callie the Boxer full grown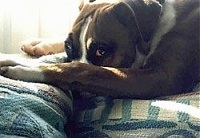 Callie the Boxer full grown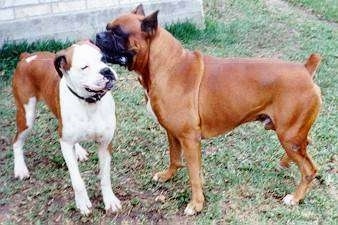 "Boss (right) is a 100-pound (45 kg) 10-year-old Boxer and a real sweetie. He is pictured with Abby (left) who is 3 years old and 68 pounds (32 kg). Boss is a Boxer from working lines and Abby is from North American show lines. See the difference?" Photo courtesy of Boxers of Whiteface Ranch