Boxer Pictures
Page 8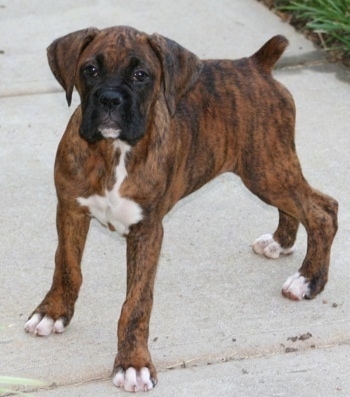 Hurley the Boxer puppy at 4 months old; Hurley looks a lot like Bruno.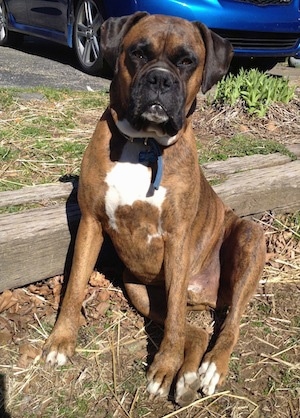 On one of the first warm days of the spring season Bruno the Boxer enjoys sitting outside in the sun.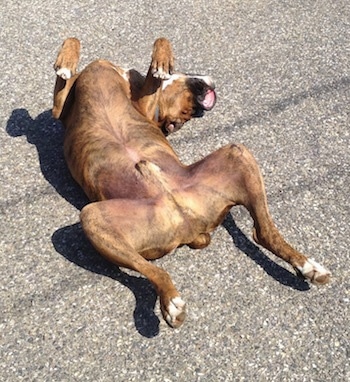 Later Bruno decides it's time to also warm up his underside.
"Ramsey is our first dog and acts like the teenager of the family. He is 6½ months old and is 56 lbs and 22½ inches from the ground to the highest point on the front shoulders (at the withers) in this picture. His father is a very tall, confident male and his mother is a very gentle and attentive female. Ramsey is very attached to his family and whines at the window when my husband goes to work or when my daughter gets on the school bus. He is very loyal to waiting by the door at 7pm for my husband's return home. He is also very gentle to my year-old daughter. He often falls asleep with the children on the rug in the family room."
"Ramsey is no couch potato! He needs to be out! He loves to play fetch and leaps over fallen trees in the woods. He walks 3x a week and plays with the kids or ball for the remaining week days. Ramsey loves people and children. He becomes excited when extended family members visit and sits in their lap so that they won't leave. He loves to chase squirrels and hates to be ignored and "whoo whoos" to get attention or to complain. Boxers are known for their "whoo whoo" vocals and do a funny dance that many Boxer owners call kidney-beaning. We love him very much."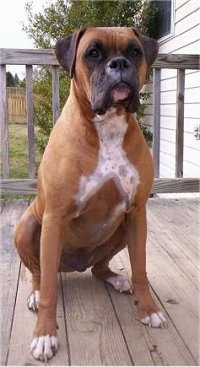 Cassius the Boxer (yes, that's for Cassius Clay!)—Cassius is the most lovable dog who loves to jump! He also doesn't realize that he's 70 pounds of pure muscle and tries to be a lap dog like a Yorkie!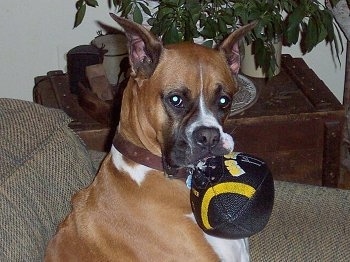 Sadie loves this football; she plays tug-o-war with it. In this picture she had been holding it in her mouth for the longest time.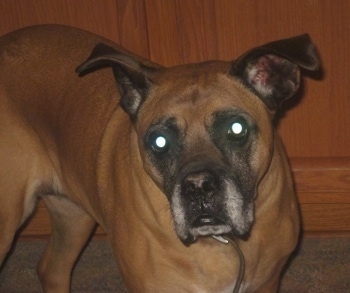 Lacy Ann Price the Boxer at 11 years old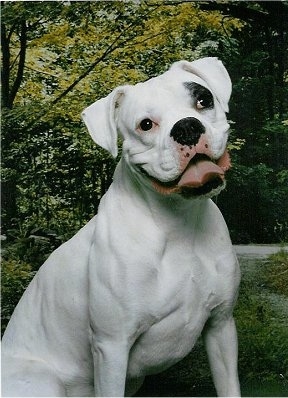 Frank the white Boxer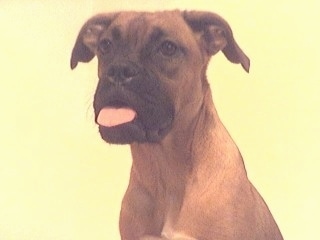 7-month-old Daria with her tongue hanging out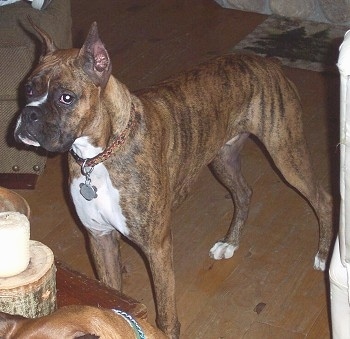 Caesar the brindle Boxer at 9 months old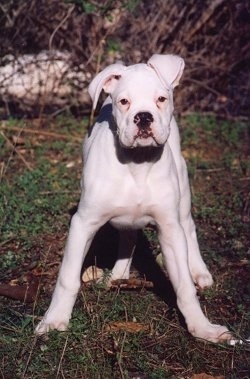 Simba the white Boxer puppy at 4 months old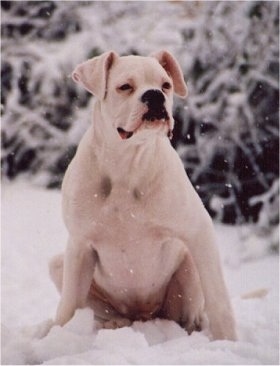 Simba the white Boxer at 7 months old