In Loving Memory of our Dear Friends
They were not just our pets, they were part of our families, our lives. They will be missed, but never forgotten.
Page 14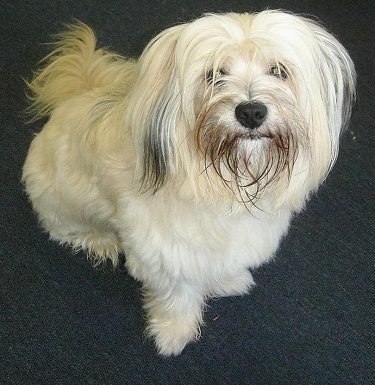 In loving memory of Molly. It has nearly been a year since I lost my soul mate Molly, she was with me nearly every minute of every day which might seem quite odd as a 32-year-old male.
Molly was/is a Tibetan Terrier who spent three adventure filled years with my wife and I, and her best friend at home, our red Burmese Elmo who would play with her all the time and even stop to give her a quick bath if required. When the humans were away from home they would get into all sorts of mischief together, and when she felt the urge would run like crazy with seemingly no end to her energy. Unfortunately this was possibly her undoing in that the cause of her passing in May 06 from a ruptured diaphragm in which some of her stomach went through and rapidly turned septic poisoning her, which in retrospect is not surprising considering the number of times she didn't quite get corners sorted out and crashed at full speed on many occasions. I miss my little companion, she loved to give cuddles and could really sense when you needed one.
They are a beautiful breed and reward your love for them many times over. I hope that one day I can bring myself to find another companion like her.
Since her passing, Elmo was very devastated and cried a lot so we got him a new friend in another Burmese, blue this time, named Max. He talks a lot and has many of the traits of Molly, and was actually born around the time of Molly's passing, and sometimes we think that Molly knew we wouldn't replace her in the form of a dog so came back as a cat. Elmo took to Max so quickly it was like they already knew each other….
This is Clarence, my beloved little boy who has just recently died of respiratory failure; he was twelve and a half. As you can see, he had his leg amputated; this was due to cancer. He traveled around in his little cart for almost three years. He was a celebrity in the local area and everybody loved him. I am devastated at his loss. He was such a brave little fellow, nothing fazed him; he kept his happy-go-lucky attitude right up until the end. He was his mummy's little solider and I miss him so very much, my heart is broken.
Yvonne Cameron (31-07-2005)
Clarence was a Norlfok Terrier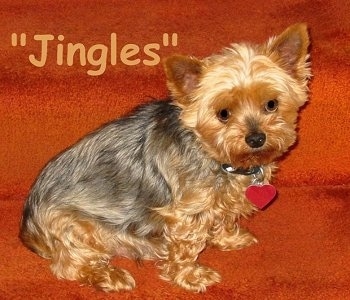 In memory of Jingle Bells Hart
August 24th, 1994 - December 28th, 2004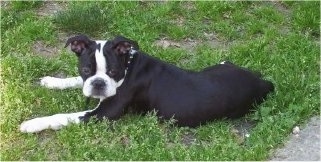 In Loving Memory of Fletcher June 2003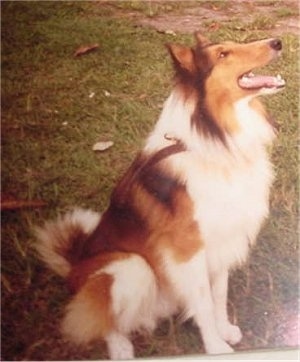 In Loving Memory of Lion 1991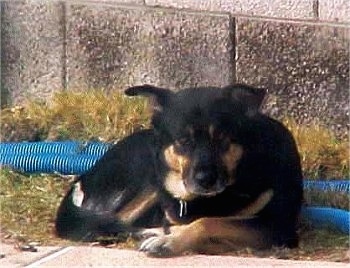 Buck Tiscarenio
April 1, 1997(Phoenix, AZ) – January 1, 2003, 8:30pm (Phoenix, AZ)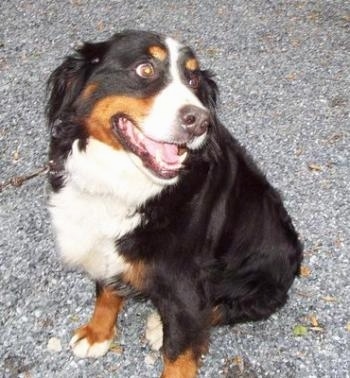 This is Jackie, my sweet 100-pound Bernese Mountain Dog puppy. She missed her eighth birthday by a month. This picture was taken a month before she died. Jackie was the just the sweetest little baby and she loved everyone. She was laid-back and just content to lie beside you even if you ignored her. She stopped eating one day and four days later she was vomiting a lot. The vets did various tests but we couldn't find out what was wrong with her. Five days later, she started breathing slower and slower and it looked like it was the end but we didn't give up on her. I stayed up and spent the night with her, feeding her ice pops to keep her from dehydrating. The next morning she improved slightly, but that afternoon she couldn't move and her body felt cold. After talking to the vet, they decided to put her on IV fluids. We left her overnight at the vet and the next day they called us. She had started having bloody diarrhea. Later she started having bloody vomit. Around six o'clock on Monday June 17th, 2002 Jackie started throwing up a lot and then bled to death. Although she is gone, we will always remember her and she will always hold a special place in our hearts. No other dog will ever measure up to her sweetness.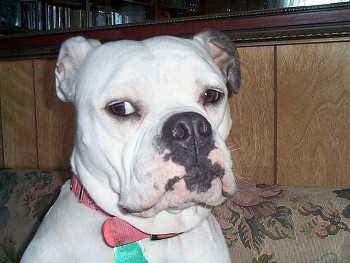 Sweet Mabeline, She was not only my companion, protector and friend, she was my life. No one can imagine how much I miss her.