In Loving Memory of our Dear Friends
They were not just our pets, they were part of our families, our lives. They will be missed, but never forgotten.


Page 6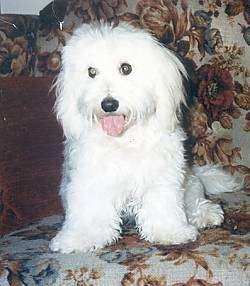 Tiffany came into our lives in November 1986. She was such an angel. From the time we brought her home, she was such a loving pet. She grew up with our children and gave them many years of fun and enjoyment. She loved children and had a temperament that is not often seen in animals. She allowed the children to do almost anything with her and never once showed any aggressiveness.

Tiffany had 13 years of good health with us but in her 14th year she developed heart problems and later in her life she also developed cancer in her liver. We lost her on Feb 10, 2000. It was one of the saddest days of our lives. She gave us 14 years of unconditional love that will never be forgotten. The only comfort that we have is we know she is in a better place now.

Bill and Karen
________________________________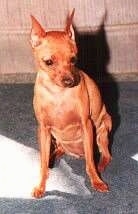 This is Penny, a Miniature Pinscher with a strong will to live, but with a bad disease that she couldn't fight off. To all who met her, she would take your heart. Penny was born 3/15/99 with chronic kidney failure when my husband and I adopted her. I have never known such a wonderful dog. Her memory will live in my heart forever, until we meet at the rainbow bridge, where I will once again be able to hold her in my arms. Penny was put to rest on February 28, 2000, her fight was over but she will always have a special place in my heart, for she truly was a fighter. Her spunk and bouncy way, you couldn't help but to fall in love.
Sadly Missed by your Mom and Dad and Brothers and Sisters.
Roger and Amy
Dubois, PA
________________________________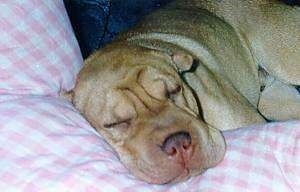 This is my beautiful baby, Billy boy! My wonderful Shar-Pei!! He was my best friend for almost 9 years. Not nearly enough time, but time that I am very grateful for!! We will remember him and love him always.
________________________________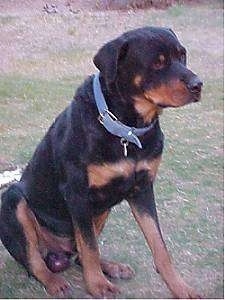 This is Beau Von Shotz or just Beau, owned by Emily Tiscarenio. He was a great dog. He was my friend, my companion, my pet, my guardian, but most of all, he was my soul mate. When he walked, you could see his bulging muscles. He loved obedience and agility. He loved to swim and retrieve and dive to the bottom of the pool. He liked to catch things while swimming. He used to touch the bottom of the shallow end of the pool with his back paws and walk around. He was a great dog and great in size; he stood 36 in. to the shoulder and stood 6 ft. or more on his hind legs and his paw was the same size as my hand and his head was bigger than a man's head. He used to sleep next to me in my bed. He lived with two other wonderful dogs, Buck, a German Shepherd/Rottie/Dobie/Malamute mix and Todo, a Poodle. Bone cancer took his life. He first had gotten it in his shoulder then toward the end of his life it spread to his brain and he became very dangerous. He would forget who we were and snarl at us. One day he started to cough up blood. We called the vet to come out and euthanize him, like we had planned. Well, he said he didn't want to because he was off duty, but Beau was too big, weak and aggressive to take (we didn't go to that vet anymore because of his non-caring attitude) so we called All Animal Rescue and Transportation and they came out and took him. They were very nice about it and even offered us an Akita/Rottie mix but we couldn't take her because she was full grown and we didn't know how she would react to our cat and other animals. He was a little over a year and he wasn't even fully grown yet. He is greatly missed. 4/27/1998-1/4/2000.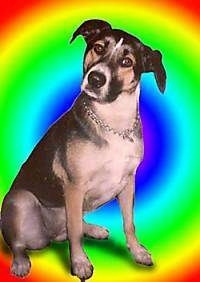 This is Lulu...taken too soon at 9 years of age...in Oct. 1999.
________________________________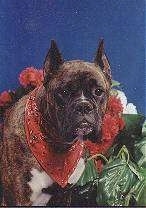 December 1991 - January 2000

Buster was part of our family for 9 years. We adopted him from Boxer Rescue and he proved to be the heart of our family. We truly miss Buster the brindle Boxer. We often stop and reflect on all the wonderful memories we have of our Buster.
.