In Loving Memory of our Dear Friends
They were not just our pets, they were part of our families, our lives. They will be missed, but never forgotten.


Page 8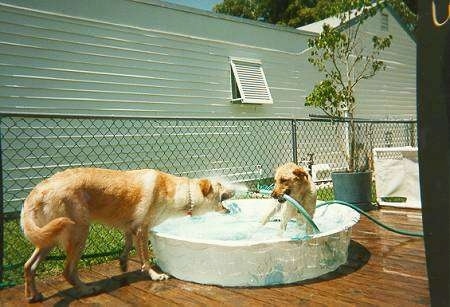 These were our beloved family members, Bailey and Bristol. They were brother and sister German Shepherd and Yellow Lab mixes that we got when they were puppies in August 1994. Bailey was the biggest in the litter and Bristol was the runt. At first we thought we were crazy for having two puppies at the same time but they grew to be the best dogs we ever had. They were inseparable and loved to play in their kiddy pool. We lost Bristol in May 1997 to kidney failure and now just lost Bailey in July 2000 to cancer. This has always been our favorite picture of the two of them and now we know that they are playing together again. We were surely blessed for all the joy they brought to our lives and we miss them both.
Dan & Lil
_____________________________________________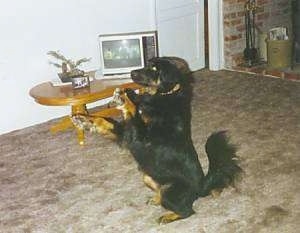 November 30, 1993 - July 14, 2000
This was my dog Pepper. She's Rottweiler/Lab and some kind of longhaired retriever. It didn't matter to my son or me, we loved her and we miss her. The pain and sorrow of losing her so young to a seizure lingers on my mind constantly. I know some people think dogs (and other animals) are "just" animals, but Pepper was a part of my family, as well as my brother's and mom's because they each have one of Pepper's sister's. But, knowing they were related also helps a tiny bit, too. My life has changed. I use to arrange my going into town on days when the weather was cool enough to take Pepper with me after work. I catch myself thinking "I'll go by the house and get her," and then remember she is gone. Coming home and not having her anxiously waiting for me at the door hurts. I look at the double gates on the side of the house when I drive up, expecting to see her black nose through the hole (she would alternate between her nose and one eye, it was a beautiful sight). The day Pepper died she was in front of the yard when I drove up and she opened the small gate (she could do that unless I put a hook through the latch) and came running up to the pickup, excited to see me. Thank you, Pepper for giving me that wonderful memory before you left this world. I'll always miss you and the way you would place your head on my arm of the chair or on my leg and look at me with those big brown eyes "asking" for so little from me, like a scratch behind the ears. Goodbye my dear friend, I love you.

Sue Alvarado
Tres Pinos
_____________________________________________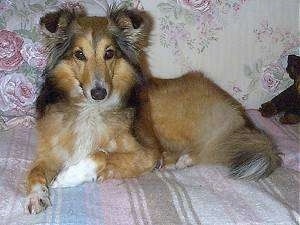 Summer came into our lives and stayed just a short time. She died way too young, at the age of 7 years old. We will miss her forever. Summer was very special and very smart. I don't think there will ever be another dog like her, but I do hope to love another dog again, for I'm a lover of dogs! I love you, Summer.
_____________________________________________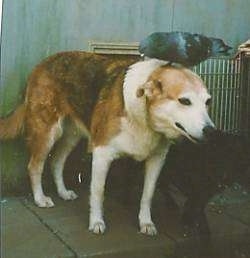 This is Honey, a German Shepherd/Collie mix. She came to us one morning by a group of kids who found her in a cabbage patch. She was very small, thin and frightened. She was approx. 6 weeks old. She had a bad case of mange and mites. We weren't going to keep her because of the cost, but we figured no one else would either! So after some very expensive treatments we ended up with the BEST dog in the world! She was a friend to everyone, including hamsters, pigeons, other dogs, cats, bird, lizards, etc. She was the sweetest dog in the world, one you could always count on to be there for you. This photo shows her patience with other animals, might I add that was one MEAN bird! She was a great dog who we unfortunately had to put to rest in March 2000. She was 14 years old, about 80-90% blind and deaf and she had become victim to some disabling arthritis. After watching her try to be part of the family and half the time she couldn't get up and when she did she would fall down and cry in pain, we knew we could be selfish no longer and allow her to leave our family! She might not be with us anymore but she'll ALWAYS be in our thoughts and memories until that one glorious day when we are all re-united at the Rainbow Bridge! She is a very missed member of our family!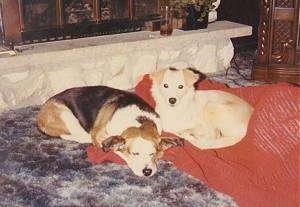 This is a picture of Taffy (left) and Lucky (right). We were fortunate enough to spend 17 years with Taffy, a Beagle/Basset Hound mix. She was a feisty, fat little dog, always ready to protect our family. She was stubborn and often in the way, but life would not have been the same if she was not at our feet. When she got to the point where she could not see, hear or walk, it was time to allow Taffy to graduate to the big dog kennel in the sky. When Taffy was about 12, we adopted Lucky. Lucky was a Collie and Cocker Spaniel mix full of life and energy! We found her at a humane society on Friday the 13th, hence her name. She did not have a mean bone in her body, but she sure could be mischievous! If someone was running late and had to leave the house, she would come about five feet from you, then run off so she could be chased... Almost as if she knew we were late. We had 14 great years with Lucky, who passed peacefully in her sleep. We do not have to tell anyone how much they added to our lives and how much they were part of our family. Anyone who has ever owned a dog can testify to that. We miss them both.
_____________________________________________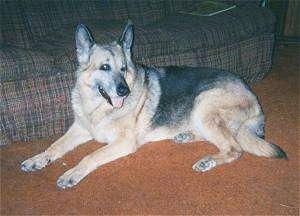 This is my beloved GSD, Kelly (May 22, 1987 - August 11, 1999). She gave me 12 years of loyal and unconditional love. She'll always be close to my heart and never forgotten in mind. ~Elizabeth~
_____________________________________________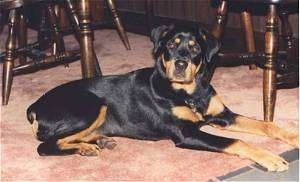 In Loving Memory of Daddy's Little Girl Maxxine 9/22/89 to 7/31/98
Owners: Gail and Bill Egounis
Beverly, MA
.
Euthanasia: Gentle Death, Painful Decision
Please Note: Due to lack of staff, Dog Breed Info Center® is not currently accepting new In Loving Memory submissions.