Labradoodle Pictures
Labrador Retriever / Poodle Hybrid Dogs
Page 4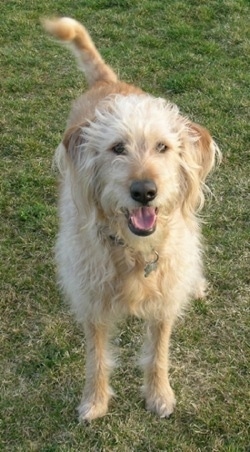 "This is a photo I took of Meridian, our 3½-year-old apricot-colored Labradoodle. She is an awesome family dog and very devoted as well. We purchased Meridian in part due to her hypoallergenic qualities. If you are an allergy sufferer, this might be an excellent choice for you. Meridian is also a good watchdog and will bark at any strange sound she hears. Being that Meridian is a first generation (F1), she does shed a little but we have found that if we brush her daily, it keeps the shedding under control. Meridian does wonderfully with children and infants, and would never bite or snap at them. She is just the best dog. We could not have asked for a more perfect fit for our family."
Other Names
American Labradoodle
Labradorpoo
Labradordoodle
Labrapoo
Labrapoodle
Standard Labradoodle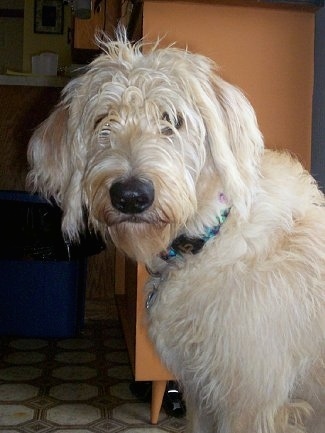 Olive the Labradoodle—her owners say, "She is our family dog, and she is the sweetest tempered dog. I can't think of a better family dog. She has been a piece of cake to train, picking up new things fast and very eager to please. Because she is a first generation cross (50% Lab x 50% Poodle ) she does shed, but if she is brushed once a week, there is no hair from her on the furniture, or anywhere but the brush. She has adapted very well to our family, and none of us can imagine what we did without her."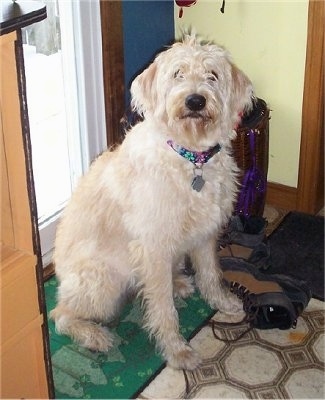 Olive the Labradoodle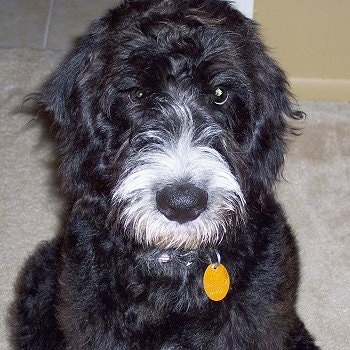 Wilson the 9-month-old parti Labradoodle before his haircut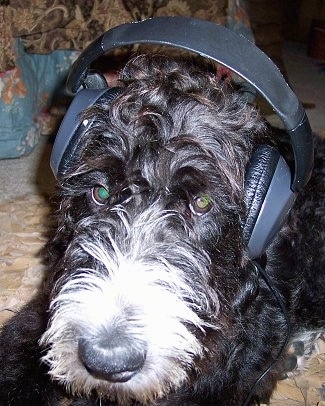 Wilson the 9-month-old parti Labradoodle before his haircut wearing head phones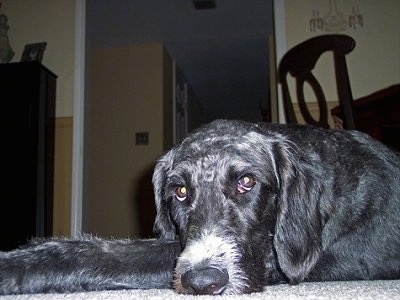 Wilson the 9-month-old parti Labradoodle after his haircut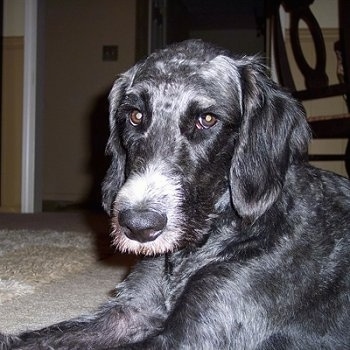 Wilson the 9-month-old parti Labradoodle after his haircut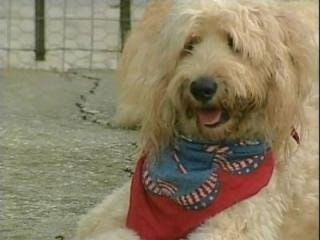 Annie caught digging in flower garden! Photo courtesy of Bay Lake Labradoodles, Orlando, FL
Dixie and Annie went to Universal Studios in Orlando. This is them playing with a toy. Photo courtesy of Bay Lake Labradoodles, Orlando, FL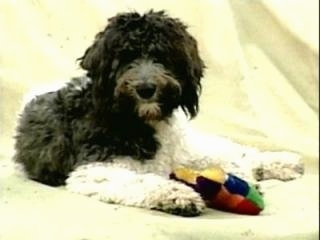 Cherokee was on TV in Orlando, FL. Photo courtesy of Bay Lake Labradoodles, Orlando, FL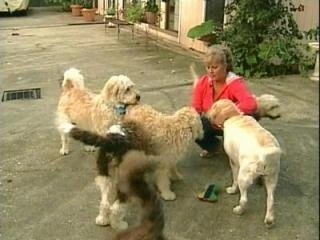 "Me and my Doodles," photo courtesy of Bay Lake Labradoodles, Orlando, FL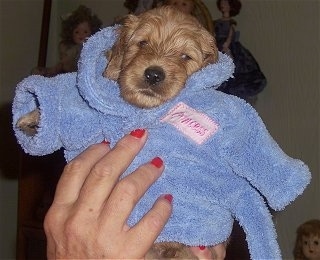 "Mom just has to dress up Yogi Bear Doodle," photo courtesy of Bay Lake Labradoodles, Orlando, FL