Chihuahua Pictures
Page 7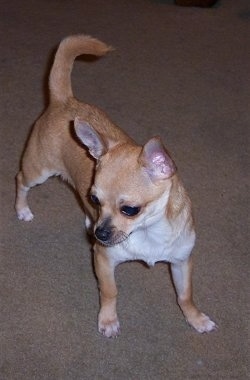 "This is our Chihuahua, Oscar at 8 months old. He is registered as "Little Man Oscar Wilde." He is the sweetest Chihuahua I have ever met. His "sister," Nolie can be a little snippy but we made sure to keep Oscar well socialized and that has helped tremendously. He never meets a stranger and greets everyone with a waggy tail! He loves to play and run but once he spies an open lap he doesn't pass up the opportunity to snuggle. At 10 months old he weighed about 6 pounds (he was only 1½ pounds when we brought him home!). We have a house full of animals—both cats and dogs—and he gets along with everyone. Nolie never really liked the other dogs in our home, but she has taken to Oscar. She shares her pillows and blankets with him. He was difficult to potty train to go outside but we have both Oscar and Nolie trained to use a puppy litter box. He caught on to that extremely fast and has been doing well with that. Oscar is a great companion. He follows me all over the house and is very comforting and attentive if I am under the weather. He brings me toys and chew sticks in hopes it will make me feel better. He is such a sweetheart. We are blessed to have him in our family."
Nolie the adult female Chihuahua—"Her registered name is "Nolie-Olie-Olie-o." She is about 5 lbs. She has that Chihuahua spunk! She is a sweetie and is always up for a belly rub!!! Nolie was an only dog for almost 3 years and we spoiled and pampered her. She wasn't as socialized as our other dogs and is a bit snippy. Since we got Oscar (pictured above Nolie) we have noticed a big difference in her. When we go for walks she doesn't bark at others as much and will stick around for a rub, whereas before she'd run away and try to act rough and tough. We have been trying to socialize her more. She is much more tolerant of people and other animals now—it is going to take time and persistence. She was the runt of the litter and is only about 4 1/2 - 5 lbs. and is 5 1/2 years old now. Oscar is only 10 months and is already noticeably larger than she is. Nolie was raised around cats and loves them dearly. Neither of our Chihuahuas are "yippy," as that breed has often been labeled. They make excellent companion dogs. The differences in their temperaments are like night and day. Oscar is more laid back and Nolie is super alert. Oscar is totally accepting of new people / pets / situations and Nolie is more standoffish. Nolie does not like children (we weren't around many when she was growing up) but Oscar LOVES them. He gets so excited and will do anything he can to get to them and give them kisses. Nolie loves the beach. She loves to run in the sand and she chases the waves back into the ocean and will strut because she's so tough! She is very affectionate and loves to burrow in a blanket. She usually leaves one ear out for surveillance purposes. She is very smart. She knows many tricks. (Oscar still hasn't grasped the concept of sit/stay yet). They both travel well. Nolie prefers the back seat with pillows and blankets while Oscar would ride on the hood if we'd let him. He likes to sit on my shoulder and look out the window."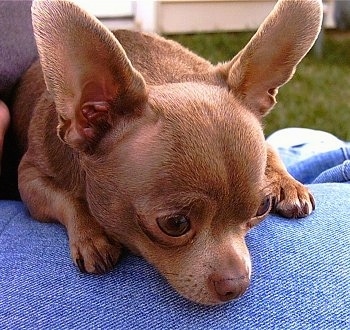 Nolie the adult female Chihuahua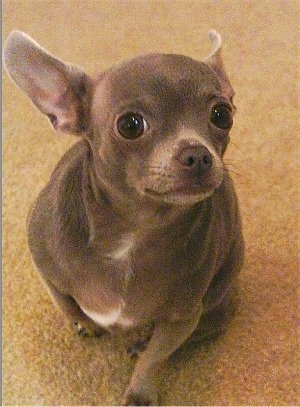 Nolie the adult female Chihuahua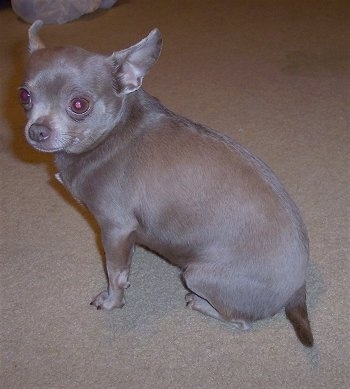 Nolie the adult female Chihuahua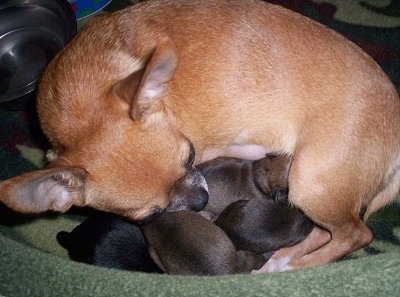 "This was Ginger Pie's (the momma dog) first litter! All 4 boys! They squeak and crawl around all night long and weighed about 3-4 ounces a piece! They are so cute! Everyone loves them!"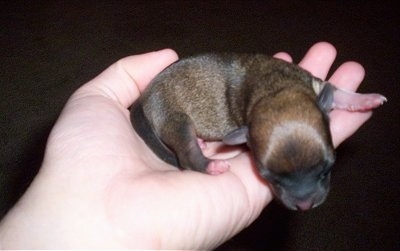 Newborn male Chihuahua puppy from Ginger Pie's first litter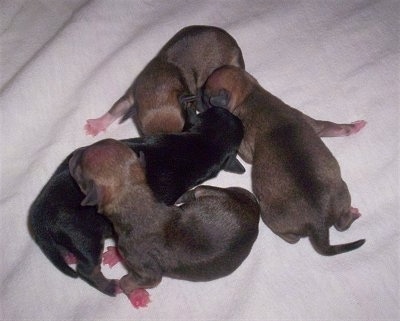 Newborn male Chihuahua puppies from Ginger Pie's first litter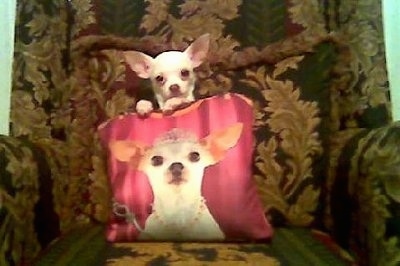 Belle the Chihuahua at 9 months old—"She is loved by everyone she meets, especially kids. This is a photo of her inside of my purse with a look-a-like picture of her on it."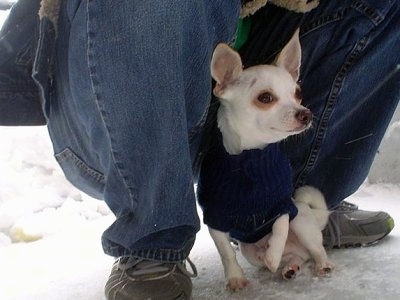 "Aidan is extremely social and loves bigger dogs. His owner loves to dress him up. He is a purebred white and tan short-coated Chihuahua weighing just over 6 lbs."