Chihuahua Pictures
Page 6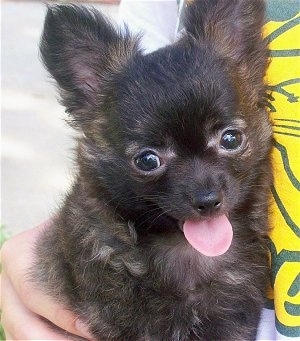 "Bear is a longhair black with tan Chihuahua and he's about 10 weeks old. He's a very calm puppy…at times. And usually doesn't make much noise. He gets along great with my two cats, even though they take no interest in him. He's a great dog. He's very sweet and loving. But he does tend to pee and chew on everything he finds. We are currently in the process of potty training him. Chihuahuas are awesome dogs. And I'm in love with mine!!"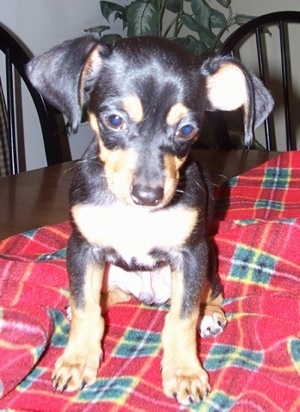 "This dear is Onyx, a 12-week-old black and tan Chihuahua male. He is a little love bird. He is being parented by our Jack Chi and it's a relationship that is so cute. Unlike most Chihuahuas Onyx's potty training is going at a pretty good rate. Onyx, like any puppy, is really energetic loves scratching, chewing and jumping on anything including leaves and his daddy. Onyx has been doing well socializing with other dogs at the dog park as long as his dad is nearby. Onyx is the dog that everyone goes "oh look at that puppy is that a Dachshund" because of his color, but he is purebred Chihuahua and a cute one at that."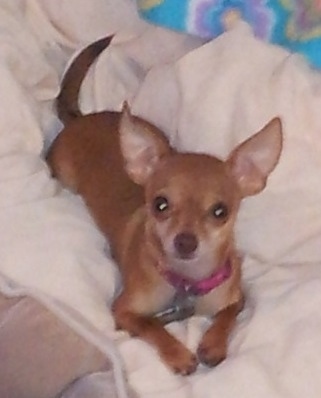 Lady Gaga the tan and white Chihuahua at 1 1/2 years old—"Lady Gaga is one of 5 puppies from my dad's last litter of Chihuahuas. Lady Gaga and another puppy Adele that I picked from the litter were fed high quality, expensive dog food. The other 3 puppies from the litter were given inexpensive, filler dog food. My Lady Gaga and Adele stayed at 5 pounds and the other 3 dogs from the litter are over 12 pounds. Lady Gaga is my love. She is absolutely the odd Chihuahua. She barks, of course, like any other Chihuahua, but once you pet her, she loves you for life. She grabs her toy and shakes her butt in excitement wanting to play from then on out. She is wonderful with infants and toddlers, too. She is my cuddle buddy, my bed warmer."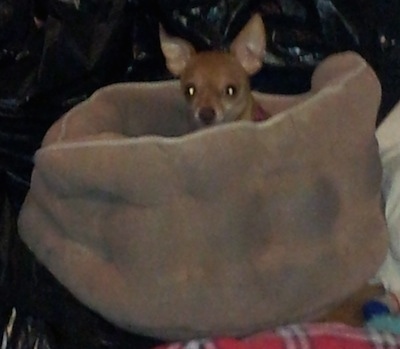 Lady Gaga the Chihuahua at 1 1/2 years old in her dog bed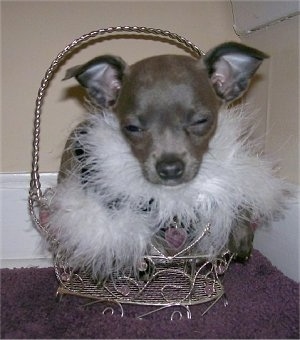 Mabel, a blue colored Chihuahua puppy at 9 weeks old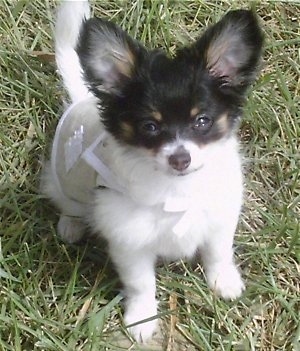 "This is Chloe Chanel, a female longhaired purebred Chihuahua. In this picture Chloe was sporting one of her many outfits, outside playing. She is 14 weeks old, 1 pound, 14 ounces. Chloe definitely has her own unique personality. She is unlike any other dog I have ever been around. There is not one word to describe Chloe's temperament. Sometimes anxious or high strung, others laid back and nonchalant. She loves to pose.... She is very affectionate, loves to give kisses. She can be very wild and playful… yet sweet and loving. She thinks she is much bigger than she is. Anytime strangers come by our house she is sure to warn them off by letting out the loudest barks she can. She loves to chase her mommy and daddy and play with her many toys. Chloe likes to go bye-bye and lie on mommy and daddy's lap, and also to chew on her daddy's highlighters.... She dislikes strangers, heat and her toenail clippers. Chloe's bad habits are running from mommy and daddy as fast as she can...and when she has accidents in the house.... Her good habits are just being the most lovey, wonderful, fun dog in the world!"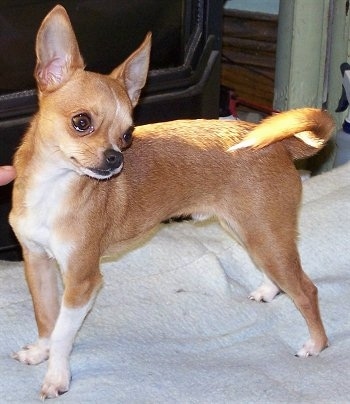 Moose the Chihuahua at 2½ years old— "He is 4 pounds and full of energy. Although, he does tend to sleep a lot."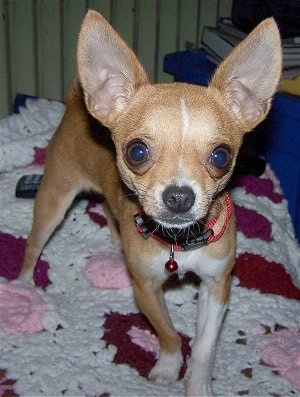 Moose the Chihuahua at 2 ½ years old, weighing 4 pounds
Moose the Chihuahua at 2 ½ years old, weighing 4 pounds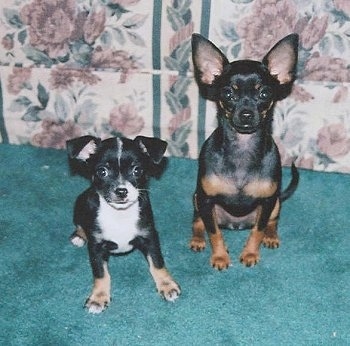 Chihuahuas— "Molly (right) and her little "brother" Tucker. At 6 pounds, you can see how much bigger she is (was) than Tucker when he was new. Now he is the bigger one."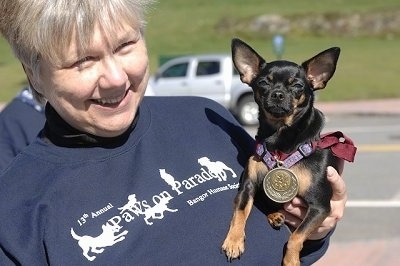 "Molly at the Bangor, Maine "Paws on Parade" fundraiser for the Bangor Humane Society. She won the medal for SMALLEST DOG."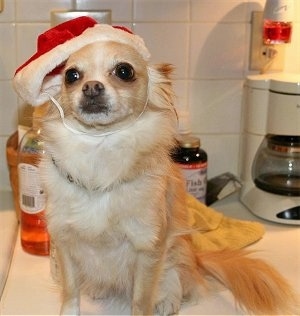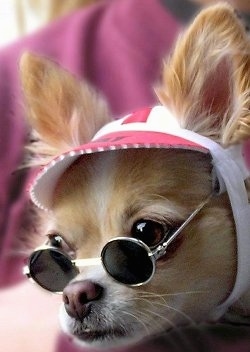 Chico the 6-pound, longhaired Chihuahua lives with two Pit Bull Terriers (Nala and Petey). His owner says, "Both of our Pit-Bulls are terrified of him when he shows his temper. He rules the roost! He eats first then allows the Pit Bulls to eat. It is funny to watch."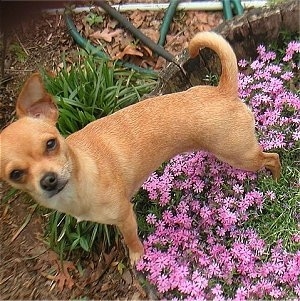 Daisy the Chihuahua at 2 years old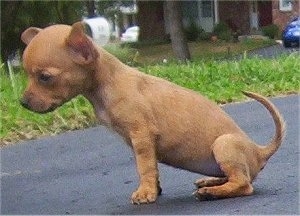 Peanut the 12-week-old, one-pound, female tea cup Chihuahua—see how Peanut got her name.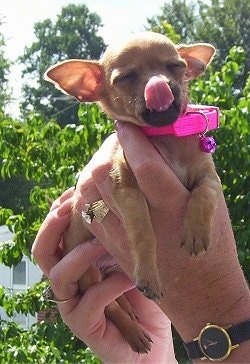 Peanut the 12-week-old, one-pound, female tea cup Chihuahua—see how Peanut got her name.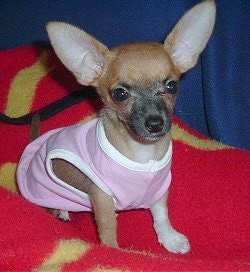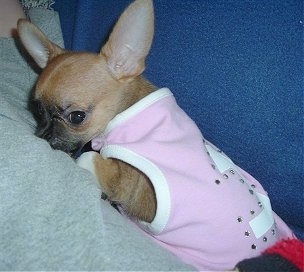 Lilly, a Chihuahua puppy at 10 weeks old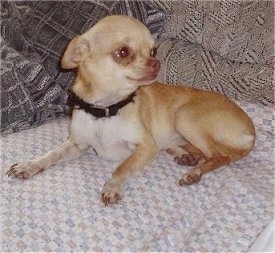 Rufus the tan Chihuahua at 1 year old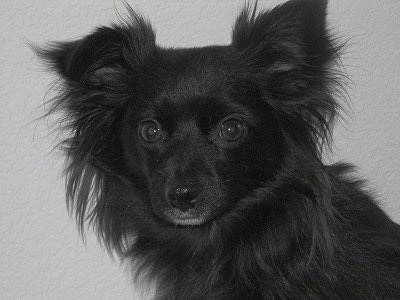 Pepino the rare all-black longhaired Chihuahua