Chihuahua Pictures
Page 1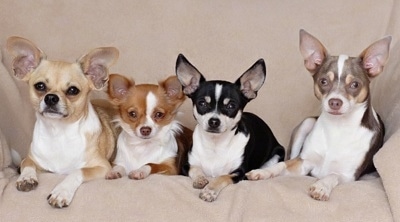 "Here is a photo of our Chi family of now 4. From left: Milo (17 months), Maribelle (6 1/2 months), Maxwell (13 months) and Matilda 16 1/2 months). While Milo and Matilda are on the bigger side of the Chi scale at 8 and 9 lbs., Maribelle and Maxwell are on the more average size at 5 1/2 and 4 ½ lbs. Milo is a bit more on the lazy side compared to the other three and sometimes will just sit there and watch the others play or just take a nap! They are all very loving and are always anxious to share kisses with their humans and with each other alike. Sometimes they'll lie in the sun bathing each other's faces and ears. They like to burrow in blankets, pillows, etc. until they fluff it up just enough to get comfortable and then proceed to take a long nap. None of our pups is alpha dog, as that is the human's job, but the two girls are definitely more bossy. If Matilda wants to play you'd better play or else you'll get a "donkey kick" until she gets a reaction. And Maribelle, our only long-coat Chihuahua, let's just say she's been a bit of a challenge at times but she still has her place at night right on mom's pillow! I always have heard how Chihuahuas are hard to train but I find them incredibly smart and clever. Maxwell is even known to open a crate door if he finds something inside appealing to him. All of our Chis are doggy door trained to go outside to potty. But they also like to go outside and lie in the grass in the sun or sniff around and eat leaves in their fenced-in play area.
"I had always been a large-breed dog person and was never really fond of little dogs. However, when wanting a new addition to our home, I did my breed research and found the Chihuahua to best suit my wants in a dog. Apparently they surpassed my expectations and my whole family's expectations, as we went from one to four Chihuahuas in 10 months with absolutely no regrets. Our Chihuahuas fit perfectly into our lives and home and are like our children.
"I have been watching Cesar Millan's shows for almost a year now and have been using some of his techniques. The techniques we've learned have definitely helped our dogs to be what they have become. I can only imagine the terrors they'd have been if I didn't find Cesar's show, and while they still are a work in progress I know it can only get better as time goes on. :o)"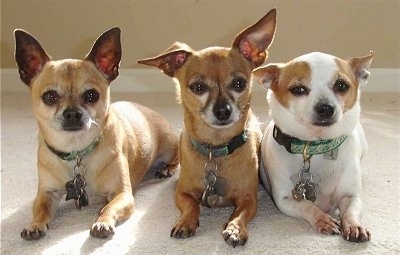 "These Chihuahuas, from left to right, are Taco, age 6, Willie, age 4½, and Wolfie, age 5. Taco was a rescued puppy, a lucky addition to our family, we discovered that he shares a biological father with Wolfie. We took this picture in a rare moment when they were all subdued by the warm sun. Wolfie is definitely the pack leader and they are all very protective of each other and my husband and me. Their favorites include snuggling under blankets and lying in the sun. Willie spends most of his time suckling on his favorite stuffed dog. They reluctantly share their home with a 2½-year-old female rescued Pug named Tootsie Bootsie and 4 birds, Placido, Pavaroti, Fat Head and Juan Valdez. They also enjoy trips to visit the grandparents and their pets, Louie, a 1-year-old Rat Terrier and the cats, Tigger, age 10, Cat King Cole, age 8, and Grace, age 6."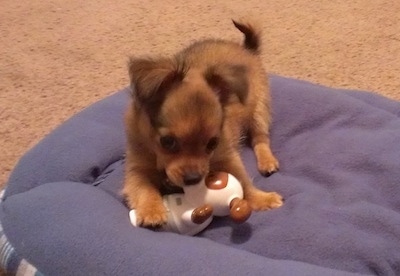 Logan the longhair Chihuahua puppy at 14 weeks old—"My wife and I obtained Logan the longhair Chihuahua from a breeder when he was 7 weeks old. Since then, we have had a lot of work and time dedicated to this little guy. I have spent hours reading this site, learning from the experiences of Bruno and Spencer and a little about Cesar's Way through them. The number one thing I have learned from this site is "A tired puppy is a good puppy." If I miss a walk with Logan, he might be a complete spaz. He's extremely playful, but we are still working on a few corrections with him. He loves his toys and is often seen taking them from his area of the kitchen (where we keep him when we're working) to the living room when we get home. If we walk to another room of our small apartment, he loves to grab a toy and follow us. On his walks, he is great at following, but being a curious puppy, we still have to give him his occasionally correction so that he will not stop and try to look at new things during the walk. He absolutely seems to love new people and always slinks down in front of them. The problem we have currently is that after they pet him, he wants to jump up and follow their hands. We are working on that one, though. Overall, we love our Chihuahua. He is a great companion and brightens our day, even if we have to sometimes clean up after him. Case in point, he recently had an incident with his food bowl. His food and water bowls are stainless and held by a small metal holder. He was too aggressive in going for his food and ended up splashing water onto himself from the water bowl because he moved the holder. Now he wants nothing to do with any bowls. We first noticed this when he went number 2 on the floor instead of on his pad while we were gone. The reason why is because his bowls were on the floor and he didn't want to walk past them to the restroom area we have set up for him (only the water bowl had anything in it, we don't leave food out all the time). We are slowly re-introducing him to his bowls. He is "brave" enough now to steal enough food and water to get by, but we still put a little bit of food in our hands to feed him because we know he is not eating as much as usual because of his fear. Thanks to your site, we know not to sweet talk or give him affection when he is fearful. Instead we just ignore him and carry on like everything is normal. This is when he gets up the nerve to take a few pellets of food (which he then carries back to his crate, for safety, lol)."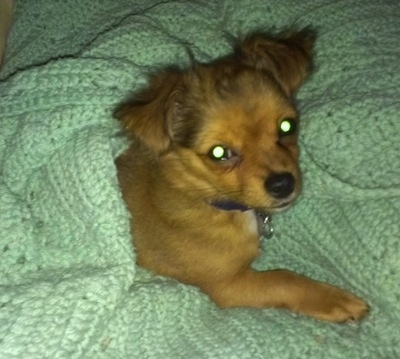 Logan the longhair Chihuahua puppy at 14 weeks old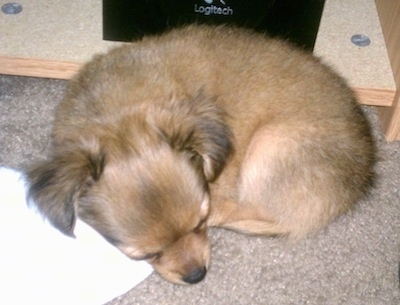 Logan the longhair Chihuahua puppy at 14 weeks old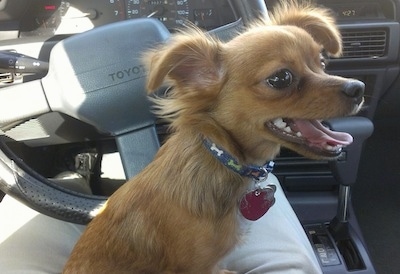 Logan the longhair Chihuahua at 7 months old—"Logan's hair has gotten much longer. We believe he is pretty much as big as he is going to get now, as he now weighs what his father did (5 lbs.). Looking back at when we first got him at 6 weeks, we can't believe how quickly he grew. But that's always how it is! He is super playful and always keeps us busy."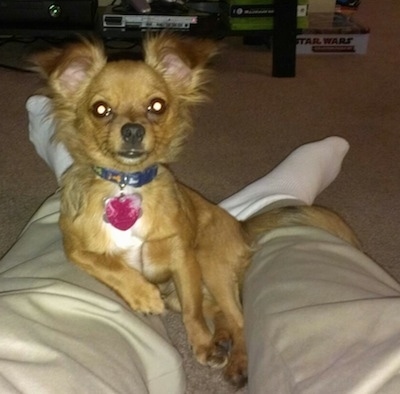 Logan the longhair Chihuahua at 7 months old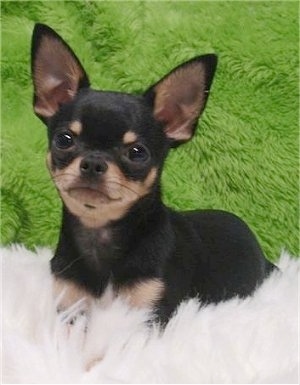 Male Chihuahua, "Vians Big Mac Attack, nicknamed Mac—he is a very lovely black and tan short coat with a perfect apple head. He has been evaluated as Perfect by several judges."Photo courtesy of Vian Kennels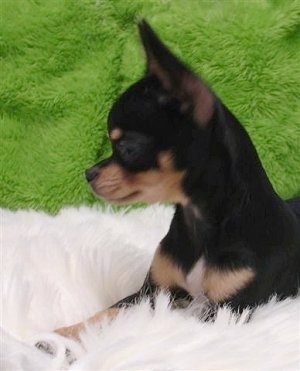 Vians Big Mac Attack, nicknamed Mac, a full-grown male Chihuahua, photo courtesy of Vian Kennels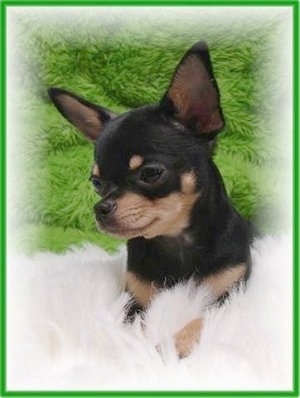 Vians Big Mac Attack, nicknamed Mac, a full-grown male Chihuahua, photo courtesy of Vian Kennels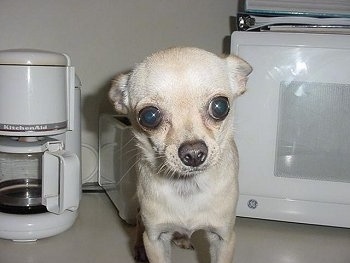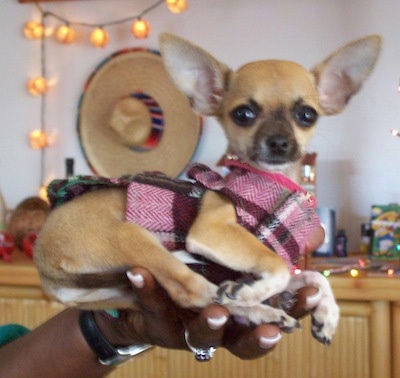 "Diva Starr is a delightful 4-pound Chihuahua. She has the best personality and gets along with everyone; human and canine. She is friendly, outgoing and funny. She is a ball of energy and scurries around like a little bunny. Diva can bark, but she seldom does. Diva's only bad habit is that she is a chewer; she will chew on anything. My remedy...plenty of chew toys and snacks. She enjoys the "Blue" products; the food, the cookies and the snacks. She is delightful. I have not yet met a person that did not love her almost as much as I do. I'm sure you'll love her too. She'll make good commercials don't you think?"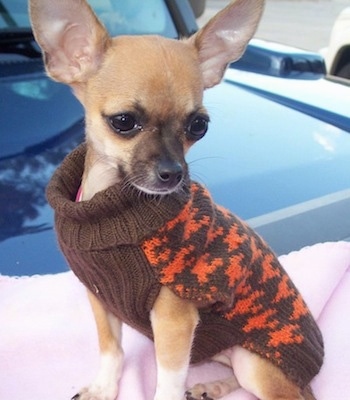 Diva Starr at 10 months old, weighing 4 pounds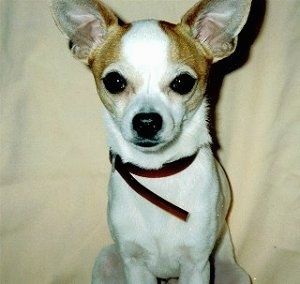 Pedro at 8 years old and 5 lbs. (2.5 kg)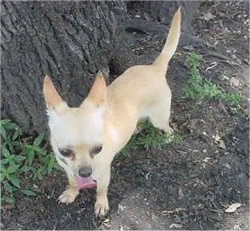 Milo the Chihuahua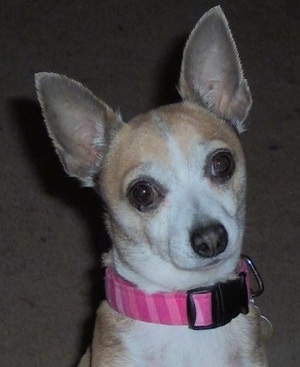 "This is Chi-Chi-Belle. She is a full-blooded creme and white Chihuahua. I am an advocate for the Chihuahua breed because I feel they don't get enough good recognition. I grew up with large-breed dogs all my life…then decided to get a smaller dog to suit my lifestyle....well Chi-Chi has been my saving grace. She is my heart and my happiness, I love the fact that I can take her for car rides and take her to various places she loves to explore. I was ignorant before I bought a Chihuahua, thinking that a smaller dog would be less work, but it's not by any means. Chihuahuas have different needs than bigger dogs that I never encountered before. They can be infantile in their behaviour. She needs to be picked up a lot to get onto furniture, in cars, which can be tricky when you have many groceries in the other hand, too. I hate the stereotype of "Hollywood" or "not a real" dog. She has been every bit of a dog to me as my German Shepherds were and her devotion to me is unstoppable. Sometimes she is shy, she is weary of strangers, but so am I! BUT...let me tell you, when we go to the beach she's not aware of her size and is out there with the best of them in the ocean. She impresses the big dogs at the beach with her b-ball skills. She swims out into the ocean after her ball with NO FEAR, people even formed a crowd around her once because she was the smallest thing on the beach with the most confidence. I call her my lil' angel because she has helped me through some rough times."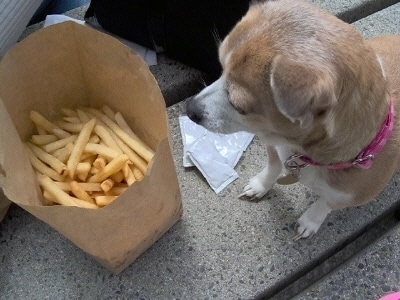 Chi-Chi-Belle, a full-blooded creme and white Chihuahua eying up those French fries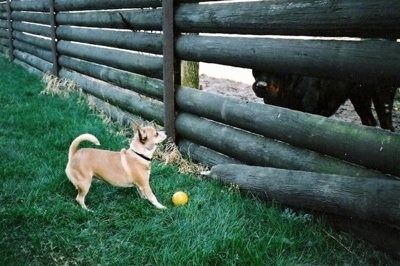 Chi-Chi-Belle, a full-blooded creme and white Chihuahua ready to play with the BIG dogs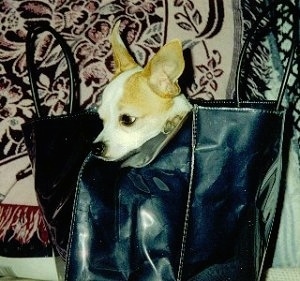 Pedro the Chihuahua in a handbag.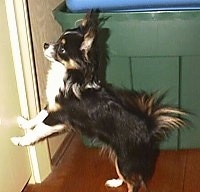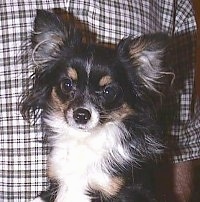 Peanut the longhaired Chihuahua also known as Nutter Butter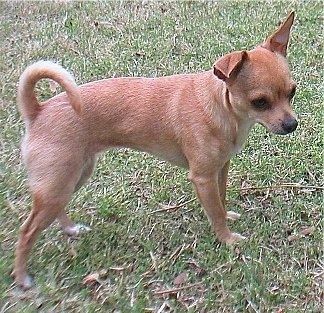 Daisy the tan Chihuahua at 2 years old