Rescue a Chihuahua
Chihuahua Puppies for Sale
Chihuahua Pictures
Page 4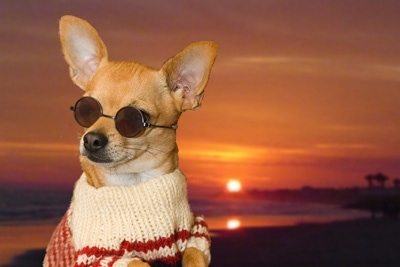 "This is Ditto. He is a 9-year-old Chihuahua weighing 4 lbs. He is charming and very friendly. My parents gave him to me when I was housebound due to severe panic disorder. He was only a few months old at the time. He saved my life. By focusing my attention on him rather than myself I was eventually able to work through my panic disorder and step outside for the first time in over 8 months. Since then he has been a constant source of laughs and love. He loves to go for walks with me and sometimes I ask him what he sits on when I am not home as he is always in my lap (not that I mind). He loves to play and his favorite toy is an old raggedy stuffed teddy bear that squeaks when he bites it. He is very smart, very handsome and he is my love. He will put the side of his little face next to my mouth so I will give him kisses. He does this a lot."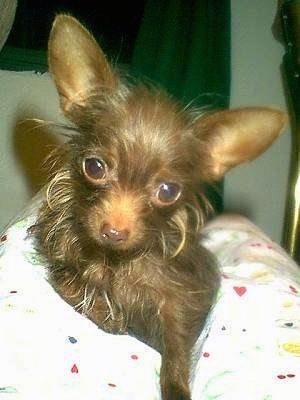 10-month-old Chewy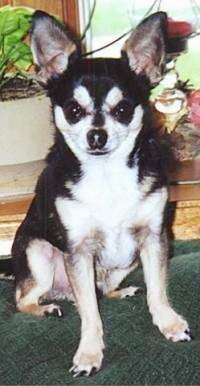 "This is eight-year-old Damon weighing in at 1.5 pounds. This amazing dog has the cutest talent; he talks! Because of his small snout, we were able to train him to say, "I love you"!!! Damon is the sweetest dog."

Miss Tootsie Belle, Chihuahua, 3 months old, favorite food: pizza!
Rocky, a 2-year-old Chihuahua
| | | | | | | |
| --- | --- | --- | --- | --- | --- | --- |
| | | | You may also be interested in... | | | |
Small Dogs vs. Medium and Large Dogs
Chihuahua Dogs: Collectable Vintage Figurines