The Pack of Dogs is Here!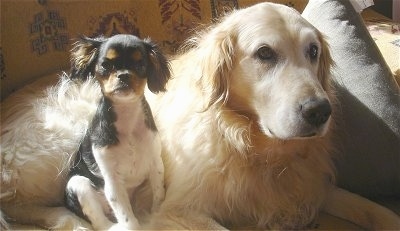 Lola the English Toy Spaniel at six months old with Mia, the Golden Retriever at nine years old
Some of us have no choice but to leave our dogs at home all day while we are at work, school or wherever our duties call us. If your dog is left alone for regular, long periods of time, you might want to consider getting a second dog to keep him company. Even if you are home, your dog may enjoy having another fellow pack member around to romp around with. Having more than one dog is not for everyone, so do your homework. But it can be very rewarding for you and your dog. Just think, Fido would have someone to chew his bone with while you are away! Regardless of how many dogs you have or how big your yard is dogs need a daily pack walk. Walking your dog in the morning before you go to work will help the dog(s) rest during the day while you are gone.