Love Those Mutts
Pictures of Mixed-Breed Dogs
Page 15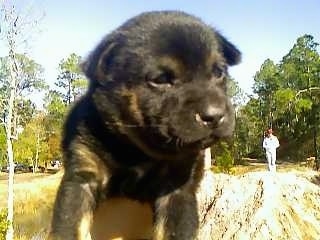 "This is my puppy, Buckshot. Buckshot is a 5-week-old Rottweiler / Shar Pei mix, or at least so we think. My boyfriend found him in the back of his shop at work, where he had been abandoned or left behind by his mother and the rest of the litter. My boyfriend and his fellow co-workers waited all day for the puppy's mother to come back for him but when it came time to go home she was nowhere to be seen. Instead of leaving him to freeze another night in the rain he decided to take the puppy home and surprise me with him. When he got into my arms that first night Buckshot was in terrible shape; he was severely underweight, flea-ridden and caked in mud. I gave him a warm bath, filled a bowl with warm puppy milk, and rocked him to sleep. Already he was looking better and he slept contently with a full belly. However, later on after I put him down in his crate he cried and cried and cried some more looking for mom. I've had Buckshot for a little over a week now and he's living a wonderful normal puppy life. He's started sleeping longer through the night, my other dog Heather is his new best friend, he is flea-free (thank God, I don't think I could handle one more flea bite myself), and the vet says he is perfectly healthy."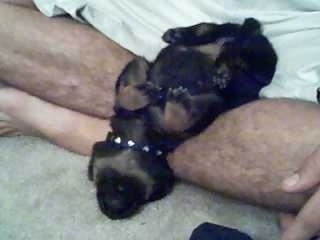 "In the little time I've cared for Buckshot I've learned so much about him and myself. For one, he loves the dirt bike track. I was afraid the loud bikes would scare him but he was perfectly content playing around the yard there and exploring the woods (even though the woods are a bit difficult to maneuver being such a small puppy). As for myself, I've discovered how patient and tolerant of a mother I will make some day. My boyfriend gets a little irritated when Buckshot cries at night but I am more than happy to jump up and take him outside, which surprised me. But how couldn't I, he's my new baby and I absolutely adore him! He's a good dog though, for the most part. He's very dominant, but that's nothing I can't handle. I've already started teaching to Sit, Stay, Come, and he walks very nicely with me when it's time to go out and exercise."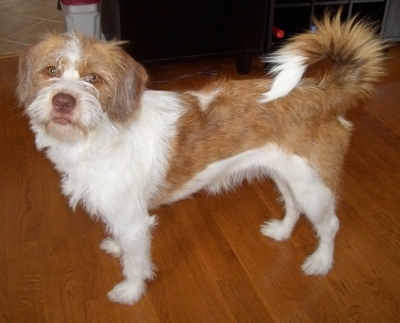 Izzy at 1 year old, weighing 23 pounds—"I submitted Izzy's DNA to MetaMorphix, Inc. to be tested. They only have about 40 dog breeds in their DNA database so they weren't able to determine her primary heritage but they did figure out her secondary DNA was Beagle and she also had DNA (although a small amount) of a St. Bernard. Also interesting is Bassett Hound and Shih-Tzu were in the DNA pool and no DNA from those two dogs was part of Izzy's DNA."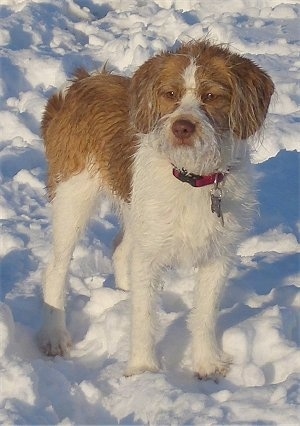 Izzy at 9 months old—"Izzy is close to full grown and weighs about 20 lbs. in this picture. She does shed and although she has a wired-hair look to her, she has a soft, not rough coat. She's 15" from the ground to the top of her shoulder. She seems much longer then taller. She also has a tail that curls into a circle…it's like she's prancing around all the time. Izzy has a great temperament. She loves people and other dogs and is very loving and gentle and even shares her toys and food without getting upset or possessive. Her absolute favorite place to hang out is the dog park. Not only does she get to play with her buddies but she loves to just run and burn off steam…and boy is she fast! Izzy is also able to chill out when I am working (I work from home) and she lies most of the time under my desk, right at my feet. She's very smart but also stubborn. She smart enough to learn things quickly but getting her to do it if she's not in the mood can be a challenge. She seldom barks (unless she hears someone outside the door) but she does howl when sirens go off or when she's put in her cage because I'm leaving the house (a bit of separation anxiety). I've had several types of dogs in my life but never one that's as much fun, loving, gentle and always entertaining. She's a great addition to our family!" Bred by Wallace Havens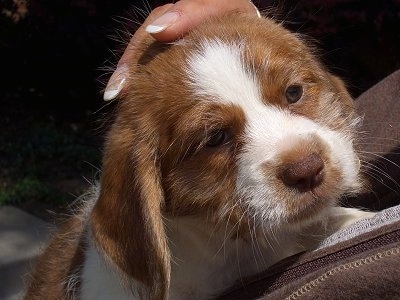 Izzy at 8 weeks old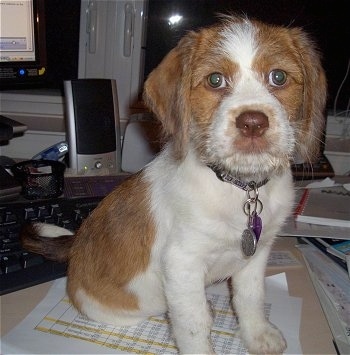 Izzy at 3 months old
Izzy at 3 months old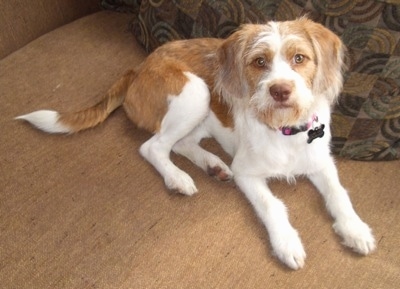 Izzy at 5 months old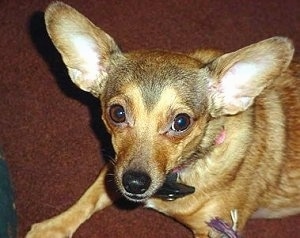 Mitzi, a Chihuahua mix
Archie, Boxer / Pit Bull mix, rescued from the Delaware County SPCA. He has a lot of energy but is very loveable.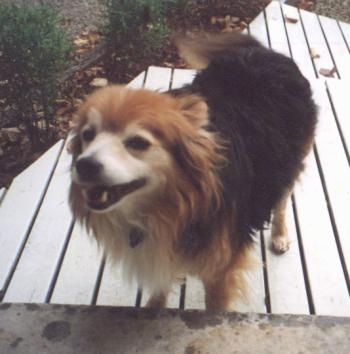 Sparky was an Australian Terrier / Border Collie mix. He lived to be 16 ½ years old.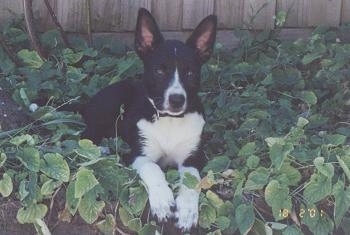 This is Bud. He is an 18-month-old Kelpie / Blue Heeler cross.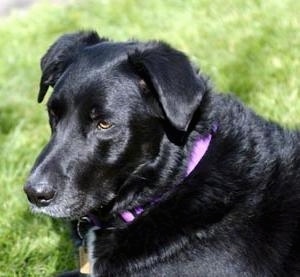 Kenny is a Lab / Collie mix (we think).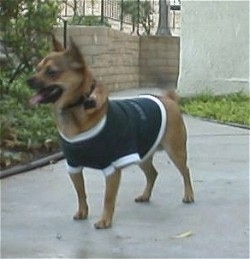 Oscar the Chihuahua mix
Dog DNA Tests