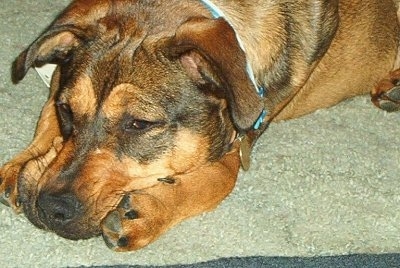 Noah, a German Shepherd mix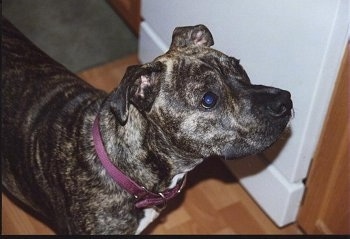 This is Bella. She is 2 years old and comes from Cape Breton, Nova Scotia. "Her father was a medium-sized Valley Bull and her mother, a small Pit Bull. Bella has an excellent temperament but is also very protective of her family and her home. But if she knows you're friendly then look out 'cause you just might have found a new best friend. She loves our cat Casey as well, although Casey isn't too fond of her sometimes. They play a lot and Bella likes to lick Casey's ears to make sure they are clean."

.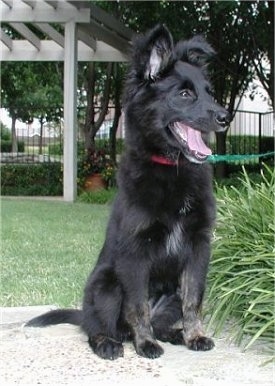 "This is Aulani the five-month-old mixed-breed 'miracle' puppy. Her tale is rather interesting, and actually a bit mysterious. A family friend was driving home from Mesquite down Interstate 30 when he spotted something that would make any animal-lover's heart skip a beat—a puppy on the highway, just waiting to be hit. He pulled over and got the puppy, but heard other whining and meowing as well, so he put the puppy in his truck and went over to the side of the road, moving through the grass that reached the height of his collarbone (he's a full-grown man), when he finally found a cardboard box with three kittens and seven other puppies in it. Unfortunately, there was a ninth puppy, but he had been hit by a car. He took all of them home, and he and his wife gave them all flea baths, and began to advertise free puppies and kittens available to good homes (the pups were only about six or seven weeks old, hardly old enough to be away from their mother, and the kittens were even younger). They live right next door to my mom's best friend, so when we went over there one night I got to go see the puppies. Well, I immediately fell in love with this little scamp and finally convinced my dad and my step-mom to adopt her. Unfortunately though, they recently moved to Denver and couldn't take Aulani with them, and my mom and I already have three dogs so we couldn't keep her, but she found a good home with a coworker of my mom's and her family—she loves it there, and I get to see her occasionally, so it all turned out well. This picture was taken at the pool at my dad's old apartment when she was about three months old. We think she's a cross between Border Collie, Golden Retriever, Rottweiler and Doberman (a few of her siblings have the Rottie/Dobie markings), and probably some other things. They're the sweetest things ever; it just goes to prove how great mutts are!"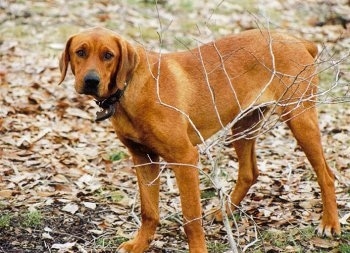 "D'argo is a Rottweiler and Red-Tick Coonhound mix. I met both of his parents, so I am sure of his parentage. In this photo he is just over a year old and weighs about 90 pounds, and is a big clumsy goof, but very sweet."
Dog DNA Tests