Love Those Mutts
Pictures of Mixed-Breed Dogs
Page 41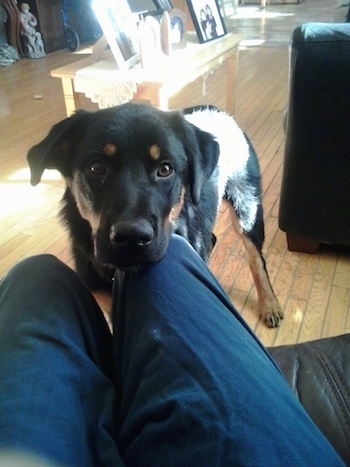 "This is my dog Buck. His father was a Rottweiler / GSD cross, and his mother was a Chow Chow / Aussie / Airedale mix. He was the result of natural selection, and was born in a culvert ditch where his mother stowed he and his sibling away to hide them. Buck shows much courage, loyalty, and wariness of strangers already, but in reality, is a huge goofball. He loves the woods just as much as I do, and he is the perfect companion who does whatever I ask. Well behaved, he is probably the best dog I have ever owned."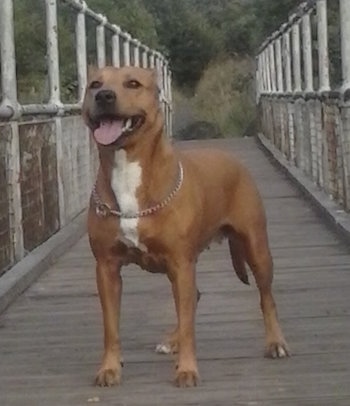 Diva the Staffie cross at 7 1/2 years old-"My dog is a Staffie cross. She has a golden brown coat with white on her chest. I don't know what she is crossed with."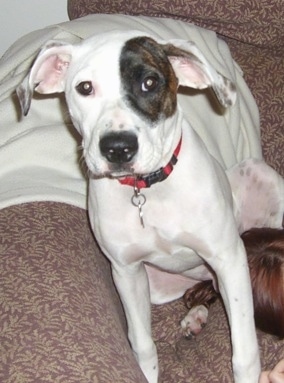 "This is Wally, our little American Bulldog mix. He has the most personality I have ever seen in a dog! He has a sad face, happy face, excited face and a thousand different barks! He's a big mama's boy. Wally is my 65-lb. lap dog and always wants to cuddle! We soon learned that he needs to go for a long walk and a run every day or he eats everything. He has eaten remote controls, shoes, pillows, picture frames and lots of people food if we leave him alone too long without any exercise. Luckily our apartment complex has its own dog park where he can chase and wrestle with all the other dogs and at night we take him rollerblading around the neighborhood. He sleeps all day unless you want to play so he is in fact the perfect dog! Lazy when I'm lazy and excited when I want to play!"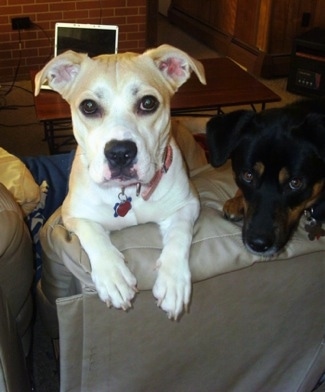 "This is my little girl Kasey. She is a Pit Bull / Corgi mix and is very unusual looking but she's the best dog I could ask for. She is the blonde and white one. The other dog, Noah is a German Shepherd / Rottweiler mix. He's full grown but still small because he was a runt, but he is a great companion dog."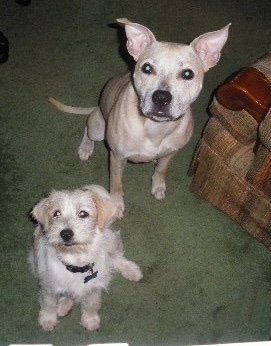 This is Cloey (Carin Terrier? / mix) that was adopted from Eleventh Hour Rescue in Rockaway, NJ and Sandy (Pit Bull mix) adopted from Golub Animal Clinic. They recently became house mates and are adjusting to life together.
"Sandy the Pit bull mix is the affectionate one. She loves to cuddle and give kisses. She is absolutely beautiful! She was adopted at 10 weeks of age and has gone to puppy school. We used the Dog Whisperer training with Sandy and she is very well behaved. Sandy is 11 months old in this picture. Sandy loves to cuddle and you can lie on top of her; she just wants to be close. She is very tolerant of Cloey. Cloey loves her new big sister!"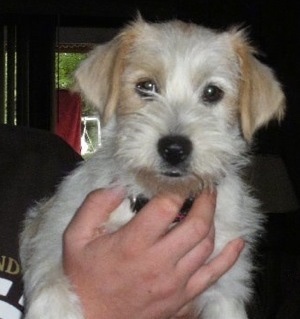 "Cloey was adopted from Eleventh Hour Rescue. She was in a pound in GA and was due to be destroyed along with 20 other dogs. When the rescue team got there, all but 4 had been destroyed. She had a 16-hour transport ride to NJ and we picked her up the next day. Tired, and filthy!! She is one lucky puppy! We were told Cloey was a Carin Terrier mix, but I'm not too sure. She appears to be taller. Who knows, all we do know is that we love that li'l girl. Look at that face!! In one week she has already learned to sit, come...now if we can just get the housetraining under control.