Love Those Mutts
Pictures of Mixed-Breed Dogs
Page 3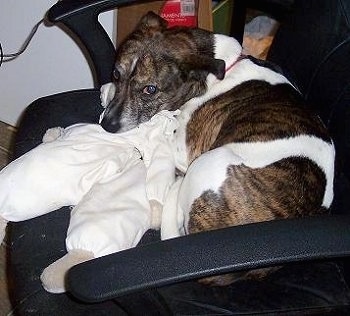 "This is Stanley with Bobo (the white teddy bear). Stanley's mom was a Min Pin / Rat Terrier mix, and his father was a Pit Bull. He's seven years old and belongs to my 15-year-old daughter. So does Bobo, the teddy bear; she's had Bobo all her life. The three of them are almost inseparable; she watches TV and surfs the 'net with Bobo and Stanley in her chair with her, sleeps with them, they go nearly everywhere she goes. When she does go somewhere they can't go, Stanley mopes until she comes home."
"He's lived with us since he was a very young puppy. He was the runt of the litter and they didn't expect him to survive, especially after his mother was hit by a car and the puppies had to be bottle fed. We were moving and on one trip from our old house to the new one, I saw him and his littermates playing in their front yard. It was a few days before my son's birthday and he was having a hard time adjusting to the move, so I stopped and asked, and it turned out they (the homeowners) were looking for homes for them. He was only six weeks old, but as I said, there were some extenuating circumstances. Even though we originally got him for my son, he soon bonded with my daughter."
"He's extremely high energy and playful, and used to sit on the sidelines when she played soccer, pulling at his leash and 'cheering' her on. I think he was the self-appointed mascot. Although he loves to play and run with her, he's also a major cuddler and is content to snuggle up and fall asleep beside her in a chair or on the couch. He can also be a bit nervous, especially during thunderstorms, though. His best friend, after her, is Watson the Wonder Chihuahua, who normally wins when they 'wrestle'. He's the only mixed-breed dog we own and also has the distinction of being the only dog we own who's never been sick or had any health problems. It's not that we have a preference for purebreds, it just worked out that way. Breed never seems to have anything to do with it, our dogs tend to come to us by way of serendipity, when we aren't even looking for them."
"As you can see, he has a very sweet, expressive face and striking markings, reverse brindle and white. People are always remarking how 'cool looking' or pretty he is. He has adorable button ears and beautiful brown eyes, and sometimes he behaves like he thinks he's human. He's also the only dog I've ever known that communicates by sneezing. When he wants something and you start listing the things he might want, like asking him, "Do you want to go out? So you want to go to bed?..." he sits in front of you and whines a little bit till you get to the one that he wants, then he jumps to his feet, starts dancing around, wagging his tail, and starts sneezing over and over again until he gets what he wants. We have no idea why he does that, but he always has. Sometimes he does it for no other reason than someone started talking to him in an excited or playful tone of voice. He's very much a unique character."
Elvis the Chow Chow / Rottie mix
Elvis the Chow Chow / Rottie mix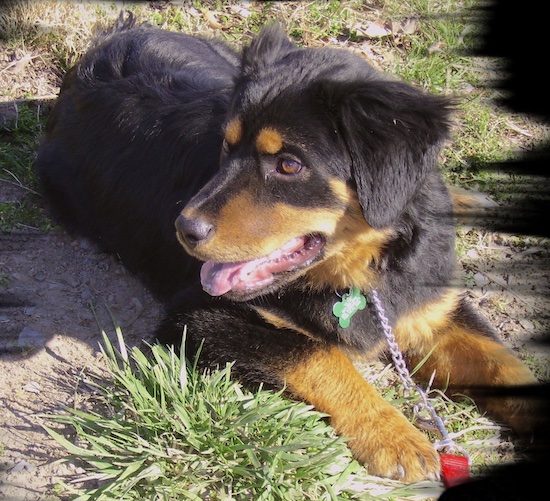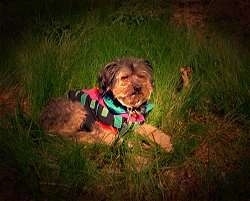 This is Benji. He is 17 years old. This picture was taken a few years ago when he and his owner were backpacking in the mountains. Benji is a mixed breed and looks somewhat like a Tibetan Terrier. His owner says, "He certainly is one of the smartest dogs I ever seen. Benji adopted my family and trained us how to be good dog owners. I would never have had a dog if I had my way, but he was too smart for me."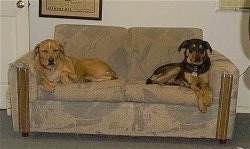 Rommel (left ) a Vizsla mix (?) and K.C., a mutt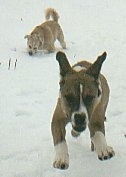 Paige, a Pit Bull Terrier mix (front) and Bailey, a terrier mix (back)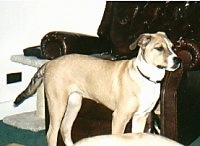 Paige the Pit Bull Terrier mix all grown up
Dee Dee, a 7-year-old bird dog mix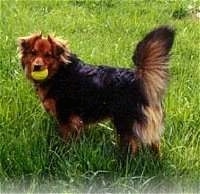 Hanna, a Border Collie or Aussie mix(?)—she herds cows and her Beagle brother.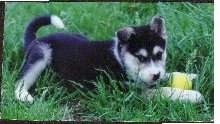 Mishka, a Malamute / Labrador puppy mix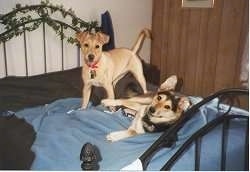 This is Emma, a yellow Lab / Rottweiler mix and Zoie, a German Shepherd / Husky mix. Zoie is in training to be pet partners (therapy dog and handler). Emma is still too young to go to work.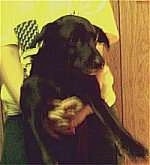 Labrador / Husky mix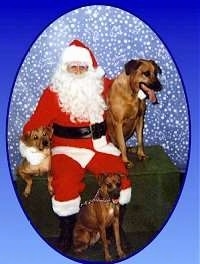 Rusty the Rhodesian Ridgeback / Lab mix (left), Ralphy the Rhodesian Ridgeback / Bull Mastiff (left), Lucy the Rhodesian Ridgeback / unknown mix (front)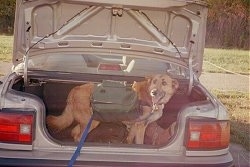 Sidnee, an 11-year-old Shepherd mix adopted from a pound over 10 years ago, has boundless energy and loves to go on walks. This photo was taken after one such walk. (No, he does not ride in the trunk; he jumped in and photo was snapped.)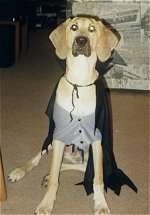 Jake, a Bloodhound / Lab mix