Love Those Mutts
Pictures of Mixed-Breed Dogs
Page 34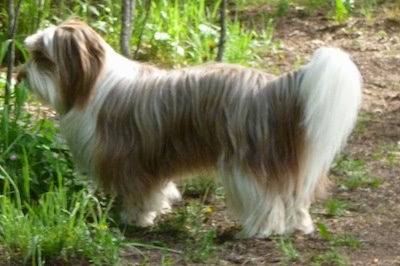 Marmot the Varmint, the Lhasa apso / Maltese / Lab mix at 2 years old—"She's a strange mix, but it works. She runs, jumps, swims, fetches, guards and sits in your lap!"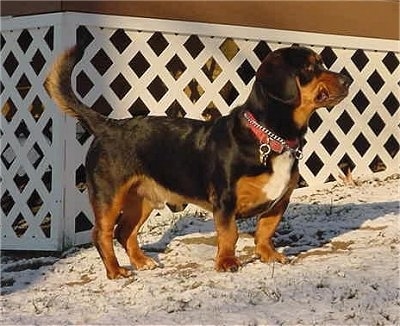 Stubby the Rottie / Basset Hound hybrid—"Stubby belongs to our neighbors and is a wonderful friendly dog. He is an interesting mix with an interesting story. His mother is a Basset Hound, a fine purebred show dog that had breeding potential. She came in to heat in her second year, but was not ready to be bred. Her owners left for work on a warm spring day and left the windows open and the screens down. When they got home from work that evening, one of the screens had been pushed out and when they open the door a large male Rottweiler was in the house with the Basset. He had broken in and had his way with her and Stubby was the result of this breeding! He was not planned, but is well loved! He is strong and athletic and very friendly. He is curious and loves to fetch and play with the neighborhood children."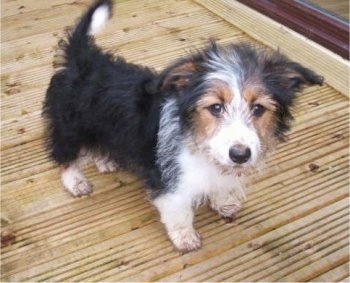 "I got my sister a Corgi x Border Collie cross for Christmas. These pictures were taken at 2 ½ months. She was about 15" and weighed about 25 lbs. She is extremely friendly with almost everyone (tends to be a little snappy around children) and constantly requires attention, even as a 9-week-old pup, when we got her. She has lots of energy and seems to sulk when not given her own way. I think she may have inherited more of her mother's (Corgi) characteristics."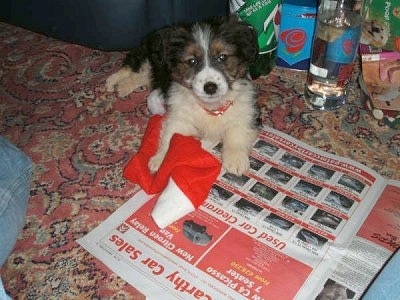 Corgi x Border Collie hybrid puppy at 2 ½ months old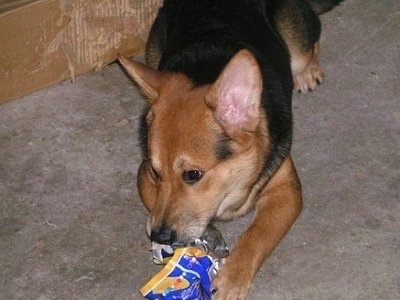 "This is Napoleon, a Rottweiler and Shepherd cross at 8 months old. He is a really good dog, protects my kids and the house from anybody who gets close. He is lovely and loves to play with the kids and my other 2 Chihuahuas. We found him in a Winn Dixie store's parking lot inside a little box in a shopping cart. According to the vet he was barely 2 months old. He looked so much like a baby Rott that we decided to keep him. He had some bad hookworms and so many fleas when we found him.... OMG now he is the baby of the house...my Napoleon."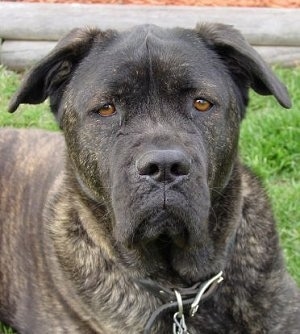 "Here is my dog Roxy at 4 years old. We rescued her from the local shelter when she was about 4 months old. We were told she was abandoned. She appears to be Mastiff mix. She is great with kids, was easy to train and loves to chase the cat all around the house! But you can catch the two lying down next to each other taking a nap! She is a wonderful dog and I wish we could always have her around!"