Love Those Mutts
Pictures of Mixed-Breed Dogs
Page 38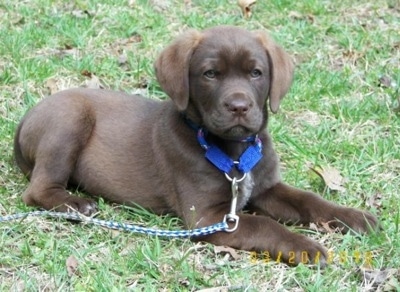 "This is Koda. She is our Chocolate Lab mix-breed puppy. She is approx. 10 weeks old in this picture. We adopted her from the pound after her mother died. Her mom was a Black Lab/Australian Shepherd or Collie mix stray dog that was brought in with four puppies. Father is unknown. We've had her since she was 3-4 weeks old. She gets 2-3 walks a day, each about 10-15 minutes; as she gets older the walks will get longer!! So far she is a very docile little pup, minds her manners and fits in well with our family. She is crate-trained and we are proud to say she's only had a few accidents the first few days we brought her home. She likes to fetch balls and sticks and will bring them back to you about 85% of the time!! haha She knows sit, down, stay and she is learning shake a paw and roll over. She can hold a 2-5 minute down with distractions...even with my children running in the yard! I watch Cesar and am a big fan of his show and his methods."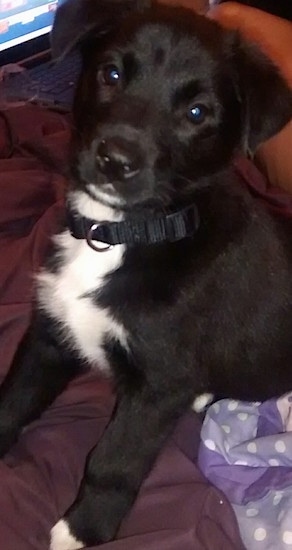 "Emmie is a puppy at about 10 weeks old. She was found a few days ago roaming the streets of San Antonio with only her littermate brothers and sisters. A young couple in my apartment building found the pups. They didn't have the heart to leave them, so they brought them home, cleaned them up and saved the cutest one for my kids and I. The puppy is just awesome! Incredibly smart, outgoing and lovable and in 3 days she is getting the potty training down! I believe she is part Lab but not sure what else. She has her first vet visit soon, so I am hoping someone will tell me what they think she is. She has huge paws, she's pretty plump and she has a tail that curls forward. She is just a beauty and everyone keeps asking what breed she is. Her personality is truly a win over too!"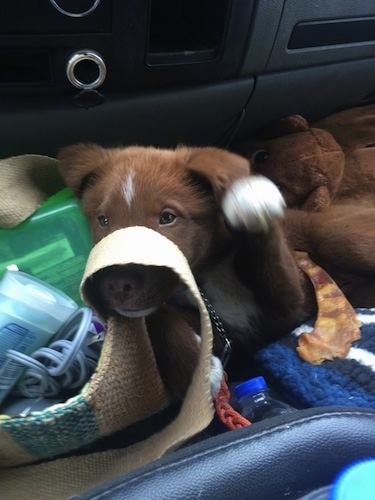 Henry the Pit Bull mix as a puppy—"Henry. What to say about Henry? He came into my life when I needed him most. He is my baby, my angel. He is by far the smartest dog I've ever met. The second that I got him he was learning something. I discovered very quickly that he is definitely a herding dog. Most people that we run into ask what kind of dog he is, and are always quick to offer their opinion... Australian Shepherd, Border Collie, or chocolate Lab are the most common. Some say the white marking between his eyes means this or that, and he has webbed feet so he must be a lab! All I know is that his (biological) mother was a Pit Bull, but not a purebred. When he was a very young pup he had very soft, fluffy, reddish-brown fur. He grew out of it by 6 months old, but his fur remains soft and reddish-brown. He's gotten spots on his pads, and a white (with minimal spots) chest. He loves to sit on the center console while riding in the truck (I had someone tell me he's a certain breed based on that!) and sleeps on his back. He is growing into quite the protective dog. He will stand guard while mommy is going to the bathroom or while I'm in my room. He doesn't like strangers coming to the house or to the truck. I love everything about my baby boy Henry. I'm so glad that I found this site when I did. Henry is very smart and tests the alpha status constantly. I've tried to maintain but sometimes fail. I'm so excited to see how well Henry responds to the new rules and new pack leader. Thank you so much!"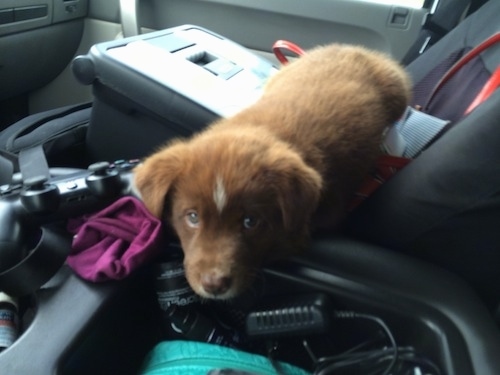 Henry the Pit Bull mix as a puppy
Henry the Pit Bull mix as a puppy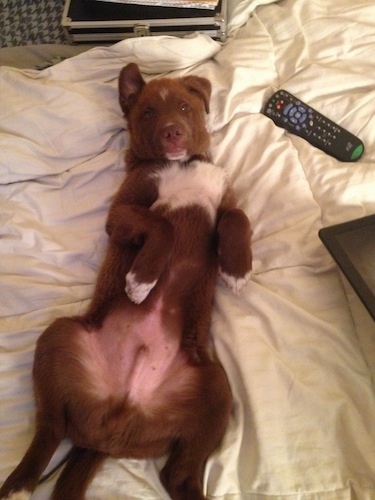 Henry the Pit Bull mix as a puppy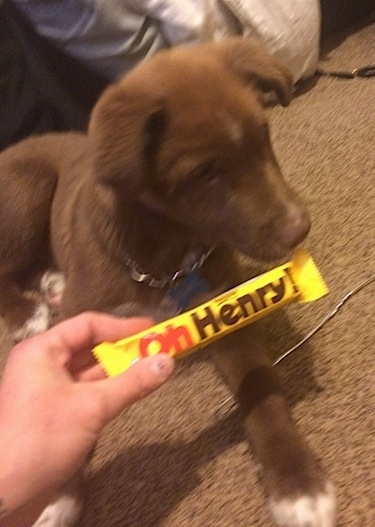 Henry the Pit Bull mix as a puppy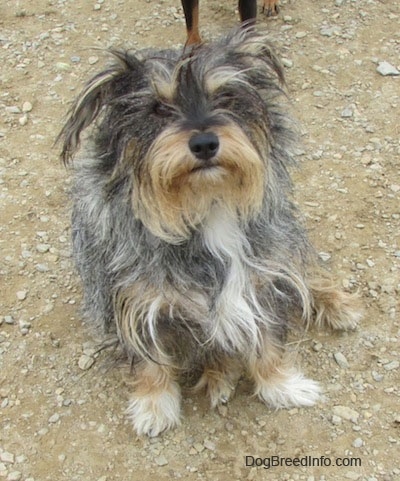 "This is Russel the shaggy mixed breed dog who hangs out at the dog park. No one has any idea what breed Russel is. One can only guess. Russel is like the park mascot. He's so adorable and charming. EVERYONE knows and loves Russel."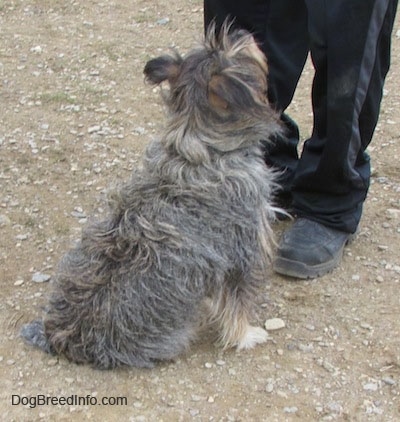 Russel the shaggy mixed breed dog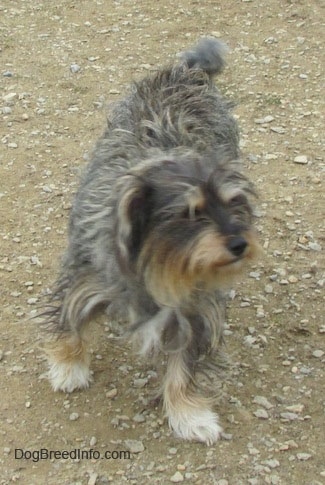 Russel the shaggy mixed breed dog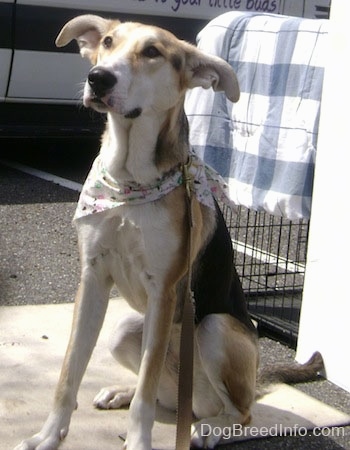 This rescued mixed breed dog was adopted from the SPCA. She looks like she has some hound in her.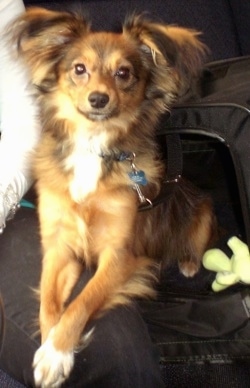 "This is our dog Frodo at 1 year old. His mother is a mix between a Sheltie and a Papillion (a Shelillon) and his father is a mix between a Chihuahua and a Papillion (a Chion). Frodo weighs around 10 pounds (4.5 kg). He is about the same height as our cat (whom he adores). He is a very sweet-tempered and bright dog. Always in the mood for kissing, caressing, playing or learning stuff. He likes to run very fast, and our cat has trained him to hunt with her. He looks a little bit silly when he tries to sneak in on something, but the other day he caught a mouse before she did (and he doesn't play with them like she does!). His hair is very easy to hold—we only give him baths when he is really muddy like after a walk. He is extremely friendly, especially to other animals (our rabbit and him are pals, too) and children. It is great to walk him in the pedestrian area—downtown in the city, everyone says, 'What a charming little dog' and wants to say hello, and he sure loves the attention!!"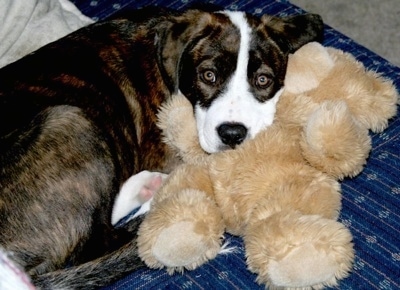 Lady the Pit Bull mix at 4 months old—"We adopted her at 8 weeks old from a rescue shelter, where she and her other littermates had been taken after found abandoned at just 7 weeks old.
"Honestly I think if my husband had known Lady was a Pit Bull mix before we had adopted her, he probably wouldn't have agreed to adopt her. Because like most of the population, my husband and I thought Pit Bulls were aggressive dogs and with our three cats and four young boys under the age of 8, that wouldn't have been a good fit for our family.""
"However, the shelter did not know her breed mix at 7 weeks of age and guessed a Lab type mix."
"The vet's office has more or less confirmed that she is a Pit Bull mix, and just from looking at her as she gets older and bigger, she favors the Pit Bull breed quite a bit!"
"From day one she has been a joy! She potty trained very easily, although if we get lazy she gets lazy! She's been nothing but perfect for our family and our four busy boys. She does not bite at them, even when they jump on her and pull her tail, and she only has lots of kisses for our one-year-old baby. She seems to instinctively know not to play with him like she does with the older boys."
"As for the cats, she likes to pester them but only to play. She has gotten close enough to sniff at them before (usually they run, they unfortunately do NOT like her!) and she never nips or bites at them, but just likes to sniff them and play with them, her tail a-wagging. One of our cats will actually chase Lady when Lady gets on her nerves enough! It's quite funny seeing a cat chasing a Pit Bull!"
"Her training, which we have done all on our own and through watching/reading about the Dog Whisperer's techniques, has gone very well. She sits for any treat automatically now without us having to prompt her, stays, lies down and walks right next to me on the leash when I am pushing the stroller to take her for a walk. At first she would whimper and refuse to walk past houses with other dogs but now she just trots by with her head held high!"
"Lady loves cuddles and especially to lie with us on the couch at night to watch TV. Even as a five-month-old puppy, her energy is considerably less than the previous Border Collie mix dog we had! Lady is a breath of fresh air!"
"We are Pit Bull lovers now and are very glad we adopted her. We look forward to the future with our new family pet!"
Lady the Pit Bull as a 2 month old puppy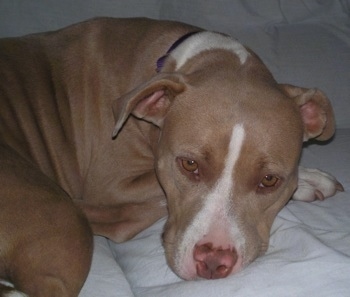 "I adopted Sandi 2 years ago at the local animal shelter when she was 2 - 2 1/2 years-old. I thought I wanted a little dog, but I couldn't resist that cute face! She was brought in as a stray and had just had puppies. She is not very good at fetching but great at playing 'keep away.' My husband or I take her on walks every day. She is a high-energy girl! She pretty much ignores other dogs and people unless they get in her face. If they are polite, she is polite. We also have three cats, two of which avoid her and one which sometimes plays with her. People ask, 'Is that a Pit Bull?' I guess she is MOSTLY Pit, but she did not come with papers. I really don't care. She is my sweetie!"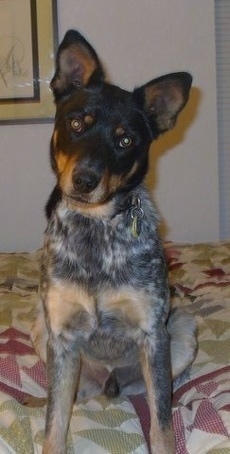 "I took this picture of my Australian Cattle Dog / Doberman mix after I rescued him from the animal shelter. Cisco had been a resident at the shelter for 4 months when I adopted him. He is about 2 years old in this picture, and is the sweetest, most mellow dog I have owned. He is unique-looking in his own way, he's been called many things, the most common are mutant dog or frankendog (I think he's beautiful)."
"I have two Carolina Dogs at home whom I love dearly, but there is something about Cisco that draws me to him. Cisco is very intelligent, learns quickly and it took only one week to fully housetrain him. I can honestly say he doesn't have any bad habits whatsoever. He loves everybody but doesn't jump on them, lick them or beg to be petted. He will walk up to strangers and if they want to pet him, fine; if not he just walks away."
"I take Cisco to work with me every day and he is a hit at the office. Everyone who meets him wants to take him home. I always tell them to adopt a stray from the shelter. I know there are plenty of dogs there who need a good home and will make fantastic companions. I am also a foster mom for our local shelter and have found a good home for all the dogs and puppies I have fostered in the past."
"I am so lucky to have found such a wonderful dog and he repays me with love and respect every day for rescuing him."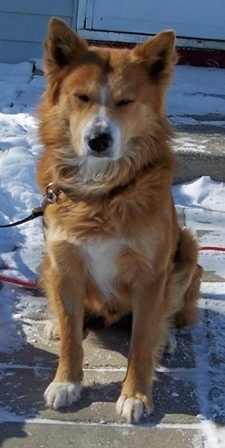 "This is Max; we had just picked him up from the humane society about 2 1/2 days before this picture was taken. This picture is of him enjoying the snow. He is what we think may be a Spitz mix (not sure of anything else). He is about 2-ish. He is the most easy-going dog I've ever been around, and I already trust him to be 'free' while I sleep; actually I fell asleep on the couch the first night we had him. He slept the whole time, as far as I know (no accidents in the house and nothing chewed up or anything). When I awoke at 4 a.m. he was lying by the front door. The next night while I was at work (I work 3rd shift) my boyfriend fell asleep on the couch, and when he woke, he found him sleeping on our comfy chair (where my boyfriend usually sits) and still no accidents or problems at all. Just such an easy-going dog. He loves to take walks and enjoys the snow and our goats! Amazingly, so far, he has been very calm when we've taken him to our barn. Just such a well-mannered little guy!"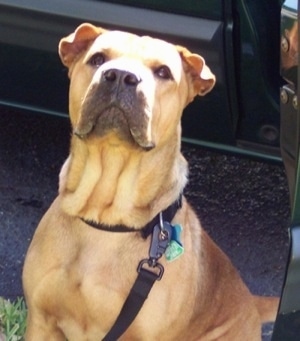 "Wasabi is a mix of Shar-Pei / Pit Bull, shown here at 4 years old, and a rescue. He likes bike riding, jogging, swimming, boating and car rides. He runs on average 5 miles a day. He has an excellent temperament with kids and other dogs. We went through extensive training on how to train Wasabi for dog obedience."