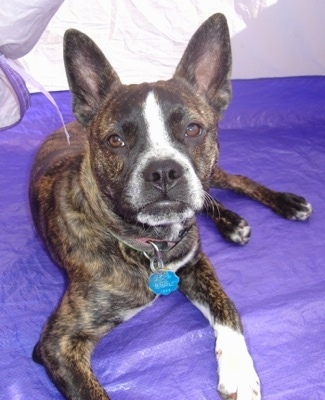 Boots at 6 months old—"I love this website and I couldn't find a dog that looked like mine. People kept saying Boston Terrier mixed with Pitbull or Boxer or Labrador. So I sent a DNA test off and the results were very surprising. I can tell you she hates water. Loves to chase any little creature and eat it if she can. She hops and gallops when she runs. Loves to play chase with the neighbor kids until she plops on the grass exhausted. She loves to wear a dog sweater and she loves to ride in the car. She is mostly quiet unless somebody is walking on the path behind our house. Her name is Boots and her mother is a Boston Terrier."
The results were:
Level 2 Boston Terrier (37-74%)
Level 4 Dachsund (10-19%)
Level 5 Chinese Shar Pei (10%)
Level 5 Chow Chow (10%)
Level 5 Newfoundland (10%)"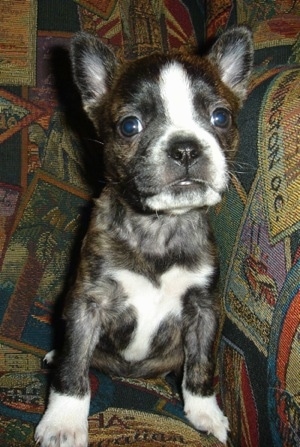 Boots the Boston Terrier / Dachsund / Chinese Shar Pei / Chow Chow, Newfoundland mix puppy at 6 weeks old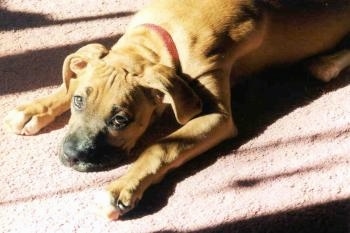 Delta the Boxer mix pup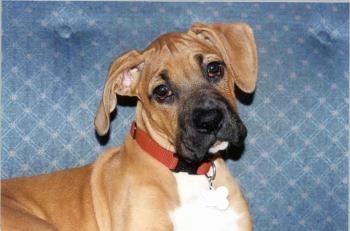 Delta the Boxer mix pup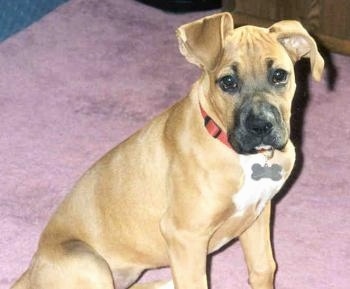 Delta the Boxer mix pup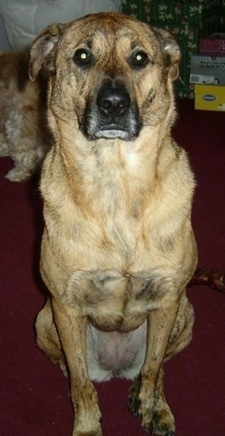 Bryndee the German Shepherd / Pit mix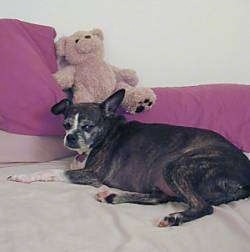 Chien, a Boston Terrier mix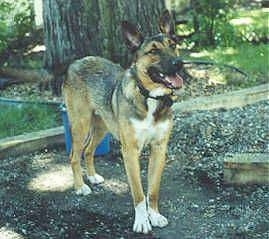 Petey, a German Shepherd / Collie mix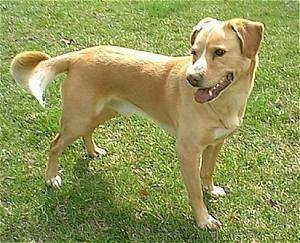 Sammy is a 3 ½-year-old Lab mix (?) adopted from the Humane Society. His owners say, "He does not like other dogs! He's very mellow. Best pet we've ever had. We love him!"
This is Lady, the love of her owner's life! Lady was obtained from the SPCA; in this photo she is estimated to be about seven months old. She is what her vet dubbed "American" due to the many varieties she represents! She has some Dalmatian, Black Lab, Corgi, possible Doberman (the long legs!) and terrier; in her rabies certificate she is labeled "terrier mix."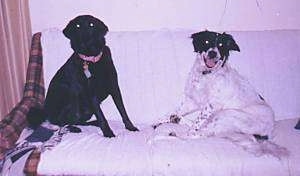 Kazoo (left) and Reo (right) - Kazoo is a lab mix (3 years old) - Reo is a Spinger Spaniel / Border Collie mix - (1½ years old).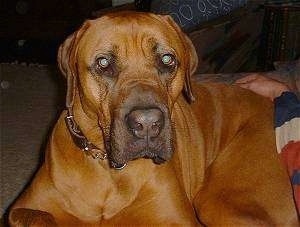 Nelson is 2 ½ years old and was born in South Africa. He is a Boerboel (¾) crossed with a St. Bernard (¼). He now lives in the Netherlands. He loves to sleep and drools a lot!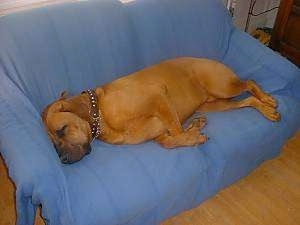 Nelson is so BIG he takes up the whole couch! He now weighs about 143 pounds (65 kg), his height is 29 inches (74 cm) at the shoulder and is 3' 3" (1 m) long from nose to tail!