Dog Breed Popularity Survey Results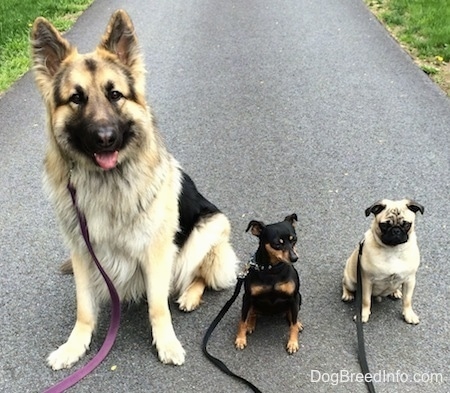 How do you measure how popular a type of dog is if you intend to include mixed and unrecognized breeds? We decided to conduct a survey asking "what breeds do you currently own?" and these are the results. The breeds are listed in order from the most popular to the least popular. A dog is listed as a "mix" breed when it is a mix and neither the mother or father's breeds were known. The "mixed breeds" are broken down by size. When one parent was known it is listed as a mix of the known parent. If you do not see a breed or type of dog listed it is because no one reported owning that type of dog during the time period the survey ran. This survey was run independent from any of the other surveys taking by the Dog Breed Info Center®.
The survey ran from September 7th 2013 to January 12th 2016.
Total number of dogs = 12,003
The most popular dog breeds are...
American Pit Bull Terrier = 464
Labrador Retriever = 452
Chihuahua = 403
German Shepherd (Alsatian) = 396
Boxer = 281
Golden Retriever = 262
Shih Tzu = 238
Yorkshire Terrier = 222
Dachshund = 219
Mix breed medium or otherwise unknown to the person reporting (20 to 50 pounds) = 182
Pug = 182
Rottweiler = 165
Border Collie = 163
Mix breed large or otherwise unknown to the person reporting (50 to 100 pounds) = 159
Beagle = 156
Mix breed small or otherwise unknown to the person reporting (20 pounds and under) = 150
Jack Russell Terrier = 140
Siberian Husky = 140
Miniature Schnauzer = 134
Labrador Retriever mix = 133
Pomeranian = 122
Boston Terrier = 121
Australian Shepherd = 117
Toy Poodle = 117
Doberman Pinscher = 102
American Bulldog = 99
Great Dane = 97
Chihuahua mix = 95
English Bulldog = 95
Cavalier King Charles Spaniel = 83
Standard Poodle = 79
American Staffordshire Terrier = 76
American Bully = 74
Labrabull (Labrador Retriever / American Pit Bull Terrier mix) = 73
American Pit Bull Terrier mix = 71
Bichon Frise = 70
Australian Cattle Dog (Blue Heeler) = 69
Miniature Pinscher = 69
German Shepherd mix = 65
West Highland White Terrier = 64
Miniature Poodle = 63
Shetland Sheepdog = 60
Labradoodle (Labrador Retriever / Poodle mix) = 59
Pekingese = 59
Basset Hound = 58
French Bulldog = 55
Great Pyrenees = 55
German Shorthaired Pointer = 53
Goldendoodle (Golden Retreiver / Poodle mix) = 51
Cockapoo (Cocker Spaniel / Poodle mix) = 50
Rat Terrier (Feist) = 50
English Mastiff = 48
Bernese Mountain Dog = 47
Havanese = 48
Bullboxer Pit (Boxer / American Pit Bull Terrier) = 45
Jack Russell Terrier mix = 45
Maltese = 45
Malti-Poo (Maltese / Poodle mix) = 44
Staffordshire Bull Terrier = 43
Chiweenie (Chihuahua / Dachshund mix) = 42
Newfoundland = 42
Greyhound = 40
Schnoodle (Schnauzer / Poodle mix) = 40
Collie = 39
Lhasa Apso = 39
Chinese Crested = 38
Labradane (Labrador Retriever / Great Dane mix) = 38
Papillon = 37
Brittany = 35
Rhodesian Ridgeback = 35
Pembroke Welsh Corgi = 34
Saint Bernard = 34
Border Collie mix = 33
Beagle mix = 32
Bull Terrier = 32
Chow Chow = 32
German Sheprador (German Shepherd / Labrador Retriever mix) = 32
Maltese = 32
Weimaraner = 32
Borador (Border Collie / Labrador Retriever mix) = 31
Golden Labrador (Golden Retriever / Labrador Retriever mix) = 31
Shih-Poo (Shih Tzu / Poodle mix) = 31
Cairn Terrier = 30
Shih Tzu mix = 30
Yorkiepoo (Yorkshire Terrier / Poodle mix) = 30
American Eskimo Dog = 29
Cane Corso Italiano = 29
Akita = 28
Welsh Corgi (Type not specified) = 28
Yorktese (Morkie) (Yorkshire Terrier / Maltese mix) = 28
Australian Cattle Dog (Blue Heeler) mix = 27
Bullmastiff = 27
Labrottie (Labrador Retriever / Rottweiler mix) = 26
Yorkshire Terrier mix = 26
Alaskan Malamute = 25
Border Terrier = 25
Shiba Inu = 25
Belgian Malinois = 24
Dalmatian = 24
Zuchon (Bichon Frise / Shih Tzu mix) = 24
Boerboel = 23
Boxer mix = 23
Dogue de Bordeaux (French Mastiff) = 23
Soft Coated Wheaten Terrier = 23
Chorkie (Chihuahua / Yorkshire Terrier mix) = 22
Gerberian Shepsky (German Shepherd / Siberian Husky mix) = 22
Rat Terrier (Feist) mix = 21
Shar Pei = 21
Vizsla = 21
Cavachon (Cavalier King Charles Spaniel / Bichon Frise mix) = 20
Pomchi (Pomeranian / Chihuahua mix) = 20
Miniature Australian Shepherd = 21
Dachshund mix = 20
Border Heeler (Border Collie / Australian Cattle Dog (Blue Heeler) mix) = 19
Chipin (Chihuahua / Miniature Pinscher mix) = 19
Redbone Coonhound = 18
Tibetan Spaniel = 18
Toy Poodle mix = 18
Australian Shepherd mix = 17
Kangal Dog = 17
Boxador (Boxer / Labrador Retriever mix) = 16
Pug mix = 16
Puggle (Pug / Beagle mix) = 16
Scottish Terrier = 16
ShiChi (Chihuahua / Shih Tzu mix) = 16
Border-Aussie (Border Collie / Australian Shepherd mix) = 15
Texas Heeler (Australian Cattle Dog / Australian Shepherd Dog mix) = 15
Toy Fox Terrier = 15
Biewer = 14
Bloodhound = 14
Chin = 14
Shepweiler (German Shepherd / Rottweiler mix) = 14
Golden Cocker Retriever (Cocker Spaniel / Golden Retriever mix) = 14
Gordon Setter = 14
Running Walker Foxhound = 14
Shorkie Tzu (Shih Tzu / Yorkshire Terrier mix) = 14
Airedale Terrier = 13
Anatolian Shepherd = 13
Chug (Chihuahua / Pug mix) = 13
Golden Retriever mix = 13
Hound mix = 13
Italian Greyhound = 13
Irish Setter = 13
Jack Chi (Chihuahua / Jack Russell Terrier mix) = 13
Jug (Jack Russell Terrier / Pug mix) = 13
Peek-a-poo (Pekingese / Poodle mix) = 13
Pomeranian mix = 13
Whippet = 13
Bich-poo (Bichon Frise / Poodle mix) = 12
Border Collie / German Shepherd mix = 12
Lhasa-Poo (Lhasa Apso / Poodle mix) = 12
Louisiana Catahoula Leopard Dog = 12
Mal-Shi (Maltese / Shih Tzu mix) = 12
Tibetan Terrier = 12
American Staffordshire Terrier mix = 11
Bichon Yorkie (Bichon Frise / Yorkshire Terrier mix) = 11
Brussels Griffon = 11
Chabrador (Chow Chow / Labrador Retriever mix) = 11
Chow Chow mix = 11
Coton de Tulear = 11
Doberman Pinscher mix = 11
Dorkie (Dachshund / Yorkshire Terrier mix) = 11
Louisiana Catahoula Leopard Dog mix = 11
Lurcher (exact mix unknown) = 11
Portuguese Water Dog = 11
Samoyed = 11
Sheprador (Australian Shepherd / Labrador Retriever mix) = 11
Silky Terrier = 11
Anatolian Pyrenees (Anatolian Shepherd / Great Pyrenees mix) = 10
Mix breed extra large or otherwise unknown to the person reporting (over 100 pounds) = 10
Alaskan Husky = 10
Australian Terrier = 10
Cavapoo (Cavalier King Charles Spaniel / Poodle mix) = 10
Coonhound mix = 10
English Setter = 10
Husky mix = 10
Indian Street Dog (Pariah Dog) = 10
Labbe (Beagle / Labrador Retriever mix) = 10
Miniature Schnauzer mix = 10
Pointer = 10
Siberian Husky mix = 10
Jack-A-Bee (Beagle / Jack Russell Terrier mix) = 9
Miniature Pinscher mix = 9
Rottweiler mix = 9
Siberian Retriever (Siberian Husky / Labrador Retriever mix) = 9
Snorkie (Miniature Schnauzer / Yorkshire Terrier mix) = 9
American Bulldog mix = 8
Bagle Hound (Basset Hound / Beagle mix) = 8
Bassador (Basset Hound / Labrador Retriever mix) = 8
Cairn Terrier mix = 8
Chion (Chihuahua / Papillon mix) = 8
German Shorthaired Lab (German Shorthaired Pointer / Labrador Retriever mix) = 8
Japanese Spitz = 8
Malchi (Chihuahua / Maltese mix) = 8
Miniature Poodle mix = 8
Parson Russell Terrier mix = 8
Presa Canario = 8
Saint Pyrenees (Saint Bernard / Great Pyrenees mix) = 8
Staffy Bull Pit (Staffordshire Bull Terrier / American Pit Bull Terrier mix) = 8
Black Mouth Cur = 7
Boston Terrier mix = 7
Bugg (Boston Terrier / Pug mix) = 7
Bulloxer (Boxer / American Bulldog mix) = 7
Bullypit (American Bulldog / American Pit Bull Terrier mix) = 7
Giant Schnauzer = 7
Golden Shepherd (Golden Retriever / German Shepherd mix) = 7
Great Pyrenees mix = 7
Lab-Pointer (Labrador Retriever / Pointer mix) = 7
Mal-Shi (Maltese / Shih Tzu mix) = 7
Pitweiler (Rottweiler / Pit Bull Terrier mix) = 7
Rat-Cha (Chihuahua / Rat Terrier mix) = 7
Shar Pei mix = 7
Shiloh Shepherd = 7
Wire Fox Terrier = 7
Basenji = 6
Border Terrier mix = 6
Chineranian (Japanese Chin / Pomeranian mix) = 6
Chow Shepherd (Chow Chow / German Shepherd mix) = 6
Collie mix = 6
Dalmador (Labrador Retriever / Dalmatian mix) = 6
German Shorthaired Pointer mix = 6
Great Dane mix = 6
Irish Terrier = 6
Jack-Rat Terrier (Jack Russell / Rat Terrier mix) = 6
Lab Pei (Labrador Retriever / Shar Pei mix) = 6
Leonberger = 6
Miniature Bulldog / Jack Russell Terrier / Shih Tzu mix = 6
Nova Scotia Duck-Tolling Retriever = 6
Peek-A-Pom (Pomeranian / Pekingese mix) = 6
Polish Lowland Sheepdog = 6
Pomapoo (Pomeranian / Poodle mix) = 6
Poodle mix = 6
Rhodesian Labrador (Rhodesian Ridgeback / Labrador Retriever mix) = 6
Shepherd Pit (American Pit Bull Terrier / German Shepherd mix) = 6
Wolfdog (Timber Wolf / Husky mix) = 6
Shollie (German Shepherd / Collie mix) = 6
Welsh Terrier = 6
Aussiedoodle (Australian Shepherd / Poodle mix) = 5
Beagi (Beagle / Welsh Corgi mix) = 5
Boykin Spaniel = 5
Cheagle (Chihuahua / Beagle mix) = 5
Chi-Poo (Chihuahua / Poodle mix) = 5
Cojack (Jack Russell Terrier / Pembroke Welsh Corgi mix) = 5
Corgidor (Labrador Retriever / Corgi mix) = 5
Doberman Pinscher / Labrador Retriever mix = 5
Doberman Shepherd (Doberman Pinscher / German Shepherd mix) = 5
English Mastiff mix = 5
Field Spaniel = 5
Foxy Rat Terrier (American Rat Terrier / Toy Fox Terrier mix) = 5
Frenchie Pug (French Bulldog / Pug mix) = 5
Greyhound mix = 5
Irish Wolfhound = 5
Jack-A-Poo (Jack Russell Terrier / Poodle mix) = 5
Labradinger (Labrador Retriever / English Springer Spaniel mix) = 5
Labraheeler (Labrador Retriever / Australian Cattle Dog (Blue Heeler) mix = 5
Llewellin Setter = 5
Maltese mix = 5
Pug-Zu (Pug / Shih Tzu mix) = 5
Rhodesian Boxer (Rhodesian Ridgeback / Boxer mix) = 5
Rhodesian Ridgeback mix = 5
Shiranian (Pomeranian / Shih Tzu mix) = 5
Westiepoo (West Highland White Terrier / Poodle mix) = 5
Yorkie Russell (Yorkshire Terrier / Jack Russell Terrier mix) = 5
Alaskan Shepherd (Alaskan Malamute / German Shepherd mix) = 4
American Cocker Spaniel mix = 4
American Mastiff = 4
American Pit Bull Terrier / American Staffordshire Terrier / Chow Chow mix = 4
Beabull (Beagle / Bulldog mix) = 4
Bearded Collie = 4
Belgian Tervuren = 4
Borgi (Border Collie / Pembroke Welsh Corgi mix) = 4
Briard = 4
Chihuahua / Pomeranian / Shih Tzu mix = 4
Chow Chow / Golden Retriever mix = 4
Cock-A-Tzu (Cocker Spaniel / Shih Tzu mix) = 4
Dalmatian / English Cocker Spaniel mix = 4
Dameranian (Dachshund / Pomeranian mix) = 4
Daniff (Great Dane / Mastiff mix) = 4
Dogo Argentino = 4
Dutch Shepherd = 4
English Bulldog / Jack Russell Terrier / Shih Tzu mix = 4
Gollie (Golden Retriever / Collie mix) = 4
Great Danoodle (Great Dane / Poodle mix) = 4
Greater Swiss Mountain Dog = 4
Jackshund (Jack Russell Terrier / Dachshund mix) = 4
Japanese Spitz mix = 4
Keeshond = 4
Koolie = 4
Malinois X (Belgium Shepherd / German Shepherd Dog mix) = 4
Mastador (Mastiff / Labrador Retriever mix) = 4
Mountain Cur = 4
Pekingese mix = 4
Pomsky (Pomeranian / Husky mix) = 4
Prazsky Krysarik = 4
Pyrador (Great Pyrenees / Labrador Retriever mix) = 4
Schipperke = 4
Shiba Inu mix = 4
Shinese (Pekingese / Shih Tzu mix) = 4
Valley Bulldog (Boxer / Bulldog mix) = 4
West Highland White Terrier mix = 4
Wirehaired Pointing Griffon = 4
Wolfdog (Timber Wolf / German Shepherd mix) Specified type = 4
Affenpinscher = 3
Akita mix = 3
Akita Pit (Akita / Pit Bull Terrier mix) = 3
Alapaha Blue-Blood Bulldog = 3
Alaskan Malamute mix = 3
American Bullador (American Bulldog / Labrador Retriever mix) = 3
American Pit Bull Terrier / Boxer / Labrador Retriever mix = 3
American Pit Bull Terrier / Bull Terrier mix = 3
American Pit Bull Terrier / Mastiff mix = 3
American Pit Bull Terrier / Pointer mix = 3
American Pit Bull Terrier / Rhodesian Ridgeback mix = 3
American Staffordshire Terrier / Labrador Retriever mix = 3
Aussie-Corgi (Australian Shepherd or Miniature Australian Shepherd / Welsh Corgi mix) = 3
Bearded Collie mix = 3
Beauceron = 3
Belgium Shepherd = 3
Bichon Frise mix = 3
Boglen Terrier (Beagle / Boston Terrier mix) = 3
Bo-Jack (Boston Terrier / Jack Russell mix) = 3
Border Beagle (Border Collie / Beagle mix) = 3
Border Collie / Husky mix = 3
Border Jack (Border Collie / Jack Russell Terrier mix) = 3
Boxapoint (Boxer / German Shorthaired Pointer mix) = 3
Bull Arab mix = 3
Cane Corso Italiano mix = 3
Chigi (Chihuahua / Corgi mix) = 3
Chonzer (Bichon Frise / Miniature Schnauzer mix) = 3
Cockalier (Cavalier King Charles Spaniel / Cocker Spaniel mix) = 3
Elk-a-Bee (Norwegian Elkhound / Beagle mix) = 3
English Bulldog mix = 3
English Mastweiler (Mastiff / Rottweiler mix) = 3
English Shepherd = 3
English Springer Spaniel mix = 3
Eurasier = 3
Faux Frenchbo Bulldog (Boston Terrier / French Bulldog mix) = 3
German Australian Shepherd (German Shepherd / Australian Shepherd mix) = 3
German Shepherd / Hound mix = 3
Goberian (Golden Retriever / Siberian Husky mix) = 3
Griffonshire (Brussels Griffon / Yorkshire Terrier mix) = 3
Highland Maltie (Maltese / West Highland White Terrier mix) = 3
Irish Terrier mix = 3
Jack Tzu ( Jack Russell Terrier / Shih Tzu mix) = 3
Labollie (Collie / Labrador Retriever mix) = 3
Labmaraner (Labrador Retriever / Weimaraner mix) = 3
Labahoula (Labrador Retriever / Louisiana Catahoula Leopard Dog mix) = 3
Lhasa Apso mix = 3
Louisiana Catahoula Leopard Cur = 3
Löwchen = 3
Maremma Sheepdog = 3
Mi-Ki = 3
Miniature Aussiedoodle (Toy/Miniature Australian Shepherd / Miniature Poodle mix) = 3
Miniature Bulldog (Bulldog / Pug mix) = 3
Newfoundland mix = 3
Old Anglican Bulldogge (American Pit Bull Terrier or American Staffordshire Terrier / Bulldog mix) = 3
Papi-poo (Papillon / Poodle mix) = 3
Pomimo (American Eskimo / Pomeranian mix) = 3
Rotterman (Doberman Pinscher / Rottweiler mix) = 3
Schnocker (Miniature Schnauzer / Cocker Spaniel mix) = 3
Schnau-Tzu (Miniature Schnauzer / Shih Tzu mix) = 3
Shih Apso (Lhasa Apso / Shih Tzu mix) = 3
Siberian Husky / Rottweiler mix = 3
Siberian Husky / Staffordshire Bull Terrier mix = 3
Spinone Italiano = 3
Toy Rat Doxie (Dachshund / Rat Terrier mix) = 3
Yorkie-Apso (Yorkshire Terrier / Lhasa Apso mix) = 3
Akita Shepherd (Akita / German Shepherd mix) = 2
Alaskan Klee Kai = 2
Alaskan Malamute / Karelian Bear Dog mix = 2
Alusky (Alaskan Malamute / Siberian Husky mix) = 2
American Bandogge (American Bulldog / Mastiff mix) = 2
American Boston Bull Terrier (American Pit Bull Terrier / Boston Terrier) = 2
American Bulldog / Australian Cattle Dog (Blue Heeler) mix = 2
American Pit Bull Terrier / Beagle mix = 2
American Pit Bull Terrier / Chow Chow mix = 2
American Pit Bull Terrier / Doberman Pinscher mix = 2
American Pit Bull Terrier / English Bulldog / Rat Terrier mix = 2
American Pit Bull Terrier / Golden Retriever mix = 2
American Pit Bull Terrier / Great Dane / Labrador Retriever mix = 2
American Pit Bull Terrier / Greyhound mix = 2
American Pit Bull Terrier / Hound mix = 2
American Pit Bull Terrier / Louisiana Catahoula Leopard Dog mix = 2
American Pit Bull Terrier / Shar Pei mix = 2
American Rat Pinscher (Rat Terrier / Miniature Pinscher mix) = 2
Anatolian Shepherd mix = 2
Aussie Siberian (Australian Shepherd / Siberian Husky mix) = 2
Australian Cattle Dog (Blue Heeler) / Australian Shepherd / Border Collie mix = 2
Australian Shepherd / Beagle mix = 2
Australian Shepherd / Collie mix = 2
Australian Shepherd / Jack Russell Terrier mix = 2
Australian Stumpy Tail Cattle Dog = 2
Basenji mix = 2
Basenji / Louisiana Catahoula Leopard Dog mix = 2
Basschshund (Basset Hound / Dachshund mix) = 2
Basset Hound mix = 2
Beagle / German Shepherd mix = 2
Beagle / Treeing Walker Coonhound mix = 2
Beaglier (Beagle / Cavalier King Charles Spaniel mix) = 2
Belgian Malinois mix = 2
Bichon Frise / Maltese / Shih Tzu mix = 2
Black Mouth Cur mix = 2
Blue Lacy = 2
Bluetick Coonhound mix = 2
Bloodhound mix = 2
Bo-Dach (Boston Terrier / Dachshund mix) = 2
Boerboel / Great Dane mix = 2
Bogle (Boxer / Beagle mix) = 2
Bolognese = 2
Border Collie / Brittany mix = 2
Border Collie / Flat Coated Retriever mix = 2
Border Collie / New Zealand Huntaway mix = 2
Border Collie Pit (Border Collie / Pit Bull mix) = 2
Border Collie Pyrenees (Border Collie / Great Pyrenees mix) = 2
Border Springer (Border Collie / English Springer Spaniel mix) = 2
Bordernese (Border Collie / Bernese Mountain Dog mix) = 2
BoShih (Boston Terrier / Shih-Tzu mix) = 2
Boston Huahua (Boston Terrier / Chihuahua mix) = 2
Boxane (Boxer / Great Dane mix) = 2
Boxer / Bullmastiff mix = 2
Boxer / German Shepherd mix = 2
Boxsky (Boxer / Husky mix) = 2
Boxer / Labrador Retriever / Rottweiler mix = 2
Boxer / Leonberger mix = 2
Boxer / Mastiff mix = 2
Brussels Griffon mix = 2
Bullboxer Staff (Boxer / American Staffordshire Terrier mix) = 2
Bullmasador (Bullmastiff / Labrador Retriever mix) = 2
Bully Bordeaux (Bullmastiff / Dogue de Bordeaux mix) = 2
Carkie (Cairn Terrier / Yorkshire Terrier mix) = 2
Carolina Dog mix = 2
Cavalier King Charles Spaniel mix = 2
Cheeks = (Chihuahua / Pekingese mix) = 2
Chestie (Chihuahua / West Highland White Terrier mix) = 2
Chihuahua / Poodle / Pug mix = 2
Chilier (Cavalier King Charles Spaniel / Chihuahua mix) = 2
Chinaranian (Chinese Crested / Pomeranian mix) = 2
Chizer (Chihuahua / Miniature Schnauzer mix) = 2
Chow Chow / Rottweiler mix = 2
Clumber Spaniel = 2
Cock-A-Chon (Bichon Frise / Cocker Spaniel mix) = 2
Cock-A-Mo (American Eskimo / Cocker Spaniel mix) = 2
Cockinese (Pekingese / Cocker Spaniel mix) = 2
Collie / Husky mix = 2
Corgipoo = Corgi / Poodle mix = 2
Crestepoo (Chinese Crested / Poodle mix) = 2
Dachshund / Pekingese / Poodle mix = 2
Dalmatian mix = 2
Dalmatian / Jack Russell Terrier mix = 2
Dalmatian / Pointer mix = 2
Dingo = 2
Docker (Dachshund / Cocker Spaniel mix) = 2
Dorgi (Dachshund / Corgi) = 2
Double Doodle (Goldendoodle / Labradoodle or Golden Retriever / Labrador Retriever / Poodle mix) = 2
Doubull-Mastiff (Bullmastiff / English Mastiff mix) = 2
Doxie-Chon (Bichon Frise / Dachshund mix) = 2
Doxie-Pin (Dachshund / Miniature Pinscher mix) = 2
Doxiepoo (Dachshund / Poodle mix) = 2
English Cocker Spaniel mix = 2
English Foxhound = 2
Fila Brasileiro = 2
Foxy Russell (Jack Russell Terrier / Toy Fox Terrier mix) = 2
Free-Lance Bulldog (Bulldog / French Bulldog mix) = 2
French Bull Tzu (French Bulldog / Shih Tzu mix) = 2
French Spaniel = 2
Giant Schnauzer = 2
German Shepherd / Corgi mix = 2
German Shepherd / Labrador Retriever / Rottweiler mix = 2
German Shepherd / Saint Bernard mix = 2
German Shepherd / Shiba Inu mix = 2
Giant Schnoodle = 2
Golden Border Retriever (Border Collie / Golden Retriever mix) = 2
Golden Retriever / Pug mix = 2
Golden Saint (Golden Retriever / Saint Bernard mix) = 2
Great Bernese (Bernese Mountain Dog / Great Pyrenees mix) = 2
Havachon (Bichon Frise / Havanese mix) = 2
Havashire (Havanese / Yorkshire Terrier mix) = 2
Italian Greyhound mix = 2
Irish Mastiff (Mastiff / Irish Wolfhound mix) = 2
Irish Wolfhound mix = 2
Irish Wolfhound / Labrador Retriever mix = 2
Papijack (Jack Russell Terrier / Papillon mix) = 2
Jack Russell Terrier / West Highland White Terrier mix = 2
Jack Russell Terrier / Whippet mix = 2
Japanese Spitz / Poodle mix = 2
Kooikerhondje = 2
King Shepherd = 2
Labrador Retriever / Newfoundland mix = 2
Leavitt Bulldog = 2
Lucas Terrier / Poodle mix = 2
Lurcher = (Greyhound / Rhodesian Ridgeback mix) = 2
Maltichon (Maltese / Bichon Frise mix) = 2
Maltipom (Pomeranian / Maltese mix) = 2
Minnie Jack (Jack Russell Terrier / Miniature Pinscher mix) = 2
Mountain Feist = 2
Native American Indian Dog = 2
Norfolk Terrier = 2
Papillon mix = 2
Australian Kelpie / Border Collie mix = 2
Plott Hound = 2
Pointer mix = 2
Pom-A-Pug (Pomeranian / Pug mix) = 2
Poolky (Silky Terrier / Poodle mix) = 2
Pushon (Bichon Frise / Pug mix) = 2
Raggle (Rat Terrier / Beagle mix) = 2
Rhodesian Ridgeback / German Shepherd mix = 2
Saint Bermastiff (Saint Bernard / Mastiff mix) = 2
Saluki = 2
Stabyhoun = 2
Sharp Eagle (Beagle / Shar-Pei mix) = 2
Schnug (Miniature Schnauzer / Pug mix) = 2
Shar-Pei Pitbull (American Pit Bull Terrier / Shar Pei mix) = 2
Shepadoodle (German Shepherd / Poodle mix) = 2
Silky Cocker (Maltese / Cocker Spaniel mix) = 2
Smithfield = 2
Spanador (Labrador Retriever / Cocker Spaniel mix) = 2
Sprocker Spaniel (English Springer Spaniel / Cocker Spaniel mix) = 2
Swedish Vallhund = 2
Taco Terrier (Chihuahua / Toy Fox Terrier mix) = 2
Tibetan Mastiff = 2
Torkie (Toy Fox Terrier / Yorkshire Terrier mix) = 2
Toxirn (Cairn Terrier / Chihuahua mix) = 2
Treeing Walker Coonhound mix = 2
Welsh Corgi mix (Type not specified) = 2
Wee-Chon (Bichon Frise / West Highland White Terrier mix) = 2
Wolamute (Timber Wolf (Gray Wolf) / Alaskan Malamute mix) = 2
Yoranian (Pomeranian / Yorkshire Terrier mix) = 2
Yorkinese (Pekingese / Yorkshire Terrier mix) = 2
Australian Kelpie / Belgian Shepherd mix = 1
Affenpinscher / American Staffordshire Terrier mix = 1
Affen Tzu (Affenpinscher / Shih Tzu mix) = 1
Afghan Hound = 1
Afghan Hound / Chinese Shar-Pei / Doberman Pinscher / German Shorthaired Pointer / Italian Greyhound mix = 1
Afghan Hound / Australian Shepherd / Dalmatian / Golden Retriever / Irish Setter/ Parson Russell Terrier / Rhodesian Ridgeback mix = 1
Africanis = 1
Ainu Dog = 1
Airedale Terrier mix = 1
Airedale Terrier / Irish Wolfhound mix = 1
Akbash Dog / Maremma Sheepdog mix = 1
Akita / American Bulldog / Rottweiler / Shar Pei mix = 1
Akita Chow (Akita / Chow Chow mix) = 1
Akita / Chow Chow / Labrador Retriever mix = 1
Akita / Labrador Retriever mix = 1
Alaskan Husky / Chesapeake Bay Retriever mix = 1
Alaskan Klee Kai mix = 1
Alaskan Malador (Alaskan Malamute / Labrador Retriever mix) = 1
Alaskan Malamute / Border Collie mix = 1
Alaskan Malamute / Canadian Eskimo Dog / Siberian Husky mix = 1
Alaskan Malamute / Chow Chow mix = 1
Alaskan Malamute / Irish Setter mix = 1
Alaskan Malamute / Keeshond mix = 1
American Bandogge / Australian Kelpie mix = 1
American Bull Staffy (American Staffordshire Terrier / American Bulldog mix) = 1
American Bulldog / American Staffordshire Terrier / Basset Hound / Plott Hound mix = 1
American Bulldog / Basset Hound mix = 1
American Bulldog / Dogo Argentino mix = 1
American Bulldog / Great Dane / Rottweiler = 1
American Bulldog / Great Pyrenees mix = 1
American Bulldog / Husky mix = 1
American Cocker Spaniel / Chihuahua / Jack Russell Terrier mix =1
American Cocker Spaniel / German Shepherd mix = 1
American Cocker Spaniel / German Shepherd / Rottweiler mix = 1
American Cocker Spaniel / Pekingese / Poodle mix = 1
American Cocker Spaniel / Pointer mix = 1
American Cocker Spaniel / Treeing Walker Coonhound mix = 1
American Eskimo Dog mix = 1
American Eskimo Dog / Golden Retriever mix = 1
American Eskimo Dog / Maltese mix = 1
American Hunt Terrier = 1
American Pit Bull Terrier / Akita / Labrador Retriever / Wolf mix = 1
American Pit Bull Terrier / Australian Cattle Dog / Labrador Retriever mix = 1
American Pit Bull Terrier / Australian Cattle Dog / German Shepherd mix = 1
American Pit Bull Terrier / Australian Shepherd mix = 1
American Pit Bull Terrier / Australian Shepherd / Shar Pei mix = 1
American Pit Bull Terrier / Belgian Malinois mix = 1
American Pit Bull Terrier / Black Mouth Cur mix = 1
American Pit Bull Terrier / Bluetick Coonhound mix = 1
American Pit Bull Terrier / Boxer / Dachshund mix = 1
American Pit Bull Terrier / Boxer / German Shepherd mix = 1
American Pit Bull Terrier / Brittany mix = 1
American Pit Bull Terrier / Bull Arab / Bull Mastiff / Great Dane / Neopolitan Mastiff mix = 1
American Pit Bull Terrier / Bullmastiff mix = 1
American Pit Bull Terrier / Cocker Spaniel mix = 1
American Pit Bull Terrier / Chow Chow / Rottweiler mix = 1
American Pit Bull Terrier / Chow Chow / Doberman Pinscher / Rottweiler mix = 1
American Pit Bull Terrier / Dogo Argentino mix = 1
American Pit Bull Terrier / German Shepherd / Maremma Sheepdog mix = 1
American Pit Bull Terrier / Greyhound / Labrador Retriever mix = 1
American Pit Bull Terrier / Husky / Wolf mix = 1
American Pit Bull Terrier / Labrador Retriever / Mastiff mix = 1
American Pit Bull Terrier / Labrador Retriever / Rhodesian Ridgeback mix = 1
American Pit Bull Terrier / Neapolitan Mastiff mix = 1
American Pit Bull Terrier / Rat Terrier (Feist) mix = 1
American Pit Bull Terrier / Rottweiler / Shar Pei mix = 1
American Pit Bull Terrier / Treeing Walker Coonhound mix = 1
American Pit Bull Terrier / Vizsla mix = 1
American Staffordshire Terrier / Australian Cattle Dog (Blue Heeler) mix = 1
American Staffordshire Terrier / Beagle mix = 1
American Staffordshire Terrier / Boxer / Greyhound mix = 1
American Staffordshire Terrier / Chihuahua mix = 1
American Staffordshire Terrier / Corgi mix = 1
American Staffordshire Terrier / German Shorthaired Pointer / Pointer mix = 1
American Staffordshire Terrier / Jack Russell Terrier = 1
American Staffordshire Terrier / Labrador Retriever / Mastiff mix = 1
American Staffordshire Terrier / Mastiff mix = 1
American Staffordshire Terrier / Rottweiler mix = 1
American Staffordshire Terrier / Siberian Husky mix = 1
American Staffordshire Terrier / Whippet mix = 1
Anatolian Shepherd / Australian Shepherd / Border Collie mix = 1
Anatolian Shepherd / Kangal Dog / German Shepherd mix = 1
Anatolian Shepherd / Saint Bernard mix = 1
Ausky (Australian Cattle Dog / Siberian Husky) mix = 1
Auss-Tzu - (Miniature Australian Shepherd / Shih Tzu mix) = 1
Aussiedor (Australian Shepherd / Labrador Retriever mix) = 1
Aussie Siberian (Australian Shepherd / Husky mix) = 1
Australian Cattle Dog (Blue Heeler) / Beagle mix = 1
Australian Cattle Dog (Blue Heeler) / Border Collie / English Springer Spaniel mix = 1
Australian Cattle Dog (Blue Heeler) / Boxer mix = 1
Australian Cattle Dog (Blue Heeler) / Australian Shepherd / Brittany Spaniel mix = 1
Australian Cattle Dog (Blue Heeler) / Australian Shepherd / German Shepherd / Labrador Retriever mix = 1
Australian Cattle Dog (Blue Heeler) / Australian Shepherd / Labrador Retriever mix = 1
Australian Cattle Dog (Blue Heeler) / Doberman Pinscher mix = 1
Australian Cattle Dog (Blue Heeler) / German Shepherd / Labrador Retriever mix = 1
Australian Cattle Dog (Blue Heeler) / German Shorthaired Pointer mix = 1
Australian Cattle Dog (Blue Heeler) / Golden Retriever mix = 1
Australian Cattle Dog (Blue Heeler) / Labrador Retriever / Rottweiler mix = 1
Australian Cattle Dog (Blue Heeler) / Louisiana Catahoula Leopard Dog mix = 1
Australian Cattle Dog (Blue Heeler) / Papillon mix = 1
Australian Cattle Dog (Blue Heeler) / Poodle mix = 1
Australian Cattle Dog (Blue Heeler) / Pug mix = 1
Australian Cattle Dog (Blue Heeler) / Rat Terrier mix = 1
Australian Cattle Dog (Blue Heeler) / Rottweiler mix = 1
Australian Cattle Dog (Blue Heeler) / Treeing Walker Coonhound mix = 1
Australian Kelpie mix = 1
Australian Kelpie / Boxer / Chihuahua / Smooth Fox Terrier mix = 1
Australian Kelpie / English Springer Spaniel mix = 1
Australian Kelpie / Labrador Retriever mix = 1
Australian Kelpie / Rottweiler = 1
Australian Shepherd / Basset Hound mix = 1
Australian Shepherd / Bichon Frise / Shih Tzu mix = 1
Australian Shepherd / Border Collie / Blue Tick Coonhound mix = 1
Australian Shepherd / Border Collie / Corgi mix = 1
Australian Shepherd / Border Collie / German Shepherd mix = 1
Australian Shepherd / Border Collie / Schnauzer mix = 1
Australian Shepherd / Chow Chow / Rottweiler mix = 1
Australian Shepherd / Doberman Pinscher mix = 1
Australian Shepherd / English Springer Spaniel mix = 1
Australian Shepherd / McNab mix = 1
Australian Shepherd / Nova Scotia Duck-Tolling Retriever mix = 1
Australian Shepherd / Poodle / Collie mix = 1
Australian Shepherd / Rat Terrier mix = 1
Australian Shepherd / Rhodesian Ridgeback mix = 1
Australian Sheprador (Australian Shepherd / Labrador Retriever mix) = 1
Australian Silky Terrier (Australian Terrier / Silky Terrier mix) = 1
Australian Terrier / Cairn Terrier mix = 1
Australian Terrier / Chihuahua / Shih Tzu mix = 1
Australian Terrier / Miniature Pinscher mix = 1
Basenji / Chihuahua mix = 1
Basenji / English Shepherd mix = 1
Basenji / Jack Russell Terrier mix = 1
Basenji / Miniature Pinscher mix = 1
Ba-Shar (Basset Hound / Chinese Shar-Pei mix) = 1
Basselier (Cavalier King Charles Spaniel / Basset Hound mix) = 1
Basset Foxhound (Basset Hound / Foxhound mix) = 1
Basset Hound / English Springer Spaniel mix = 1
Basset Hound / French Bulldog mix = 1
Basset Hound / Treeing Walker Coonhound mix = 1
Basset Shepherd (Basset Hound / German Shepherd mix) = 1
Bassetoodle (Basset Hound / Poodle mix) = 1
Beagle / Bluetick Coonhound mix = 1
Beagle / Chihuahua / Pug mix = 1
Beagle / Coonhound mix = 1
Beagle / Foxhound / Labrador Retriever mix = 1
Beagle / German Shepherd / Golden Retriever mix =1
Beagle / Greyhound mix = 1
Beagle / Greater Swiss Mountain Dog mix = 1
Beagle / Italian Greyhound / Rat Terrier mix = 1
Beagle / Jindo mix = 1
Beagle / Pointer mix = 1
Beagle / Rottweiler mix = 1
Beagle / Staffordshire Bull Terrier mix = 1
Beagleman (Beagle / Doberman Pinscher mix) = 1
Beaski (Beagle / Siberian Husky mix) = 1
Beauceron / German Shepherd mix = 1
Bedlington Terrier / Irish Wolfhound mix = 1
Belgian Malinois / Husky mix = 1
Belgian Malinois / Labrador Retriever mix = 1
Belgian Malinois / Rottweiler = 1
Belgium Shepherd / German Shepherd Dog / Timber Wolf mix = 1
Bergamasco = 1
Bernese Mountain Dog mix = 1
Bernese Rottie (Bernese Mountain Dog / Rottweiler mix) = 1
Bichon Frise / Cavalier King Charles Spaniel / Coton de Tulear mix = 1
Bichon Frise / Cocker Spaniel / Poodle mix = 1
Bichon Frise / Pomeranian / Shih Tzu mix = 1
Bichon Frise / Poodle / Yorkshire Terrier mix = 1
Bichon Frise / Shih Tzu / Yorkshire Terrier mix = 1
Black and Tan Coonhound / Dalmatian mix = 1
Black Mouth Cur / Collie mix = 1
Black Mouth Cur / Labrador Retriever mix = 1
Bluetick Coonhound / German Shorthaired Pointer mix = 1
Bluetick Coonhound / Husky mix = 1
Bluetick Coonhound / Poodle mix = 1
Bocker (Beagle / Cocker Spaniel mix) = 1
Boerboel / Fox Terrier mix = 1
Boerboel / Rhodesian Ridgeback mix = 1
Border Collie / Boxer mix = 1
Border Collie / Boxer / English Setter mix = 1
Border Collie / Chihuahua mix = 1
Border Collie / Chow Chow / Rottweiler mix = 1
Border Collie / Collie / German Shepherd / Ibizan Hound mix = 1
Border Collie / Dutch Shepherd mix = 1
Border Collie / English Shepherd mix = 1
Border Collie / Great Dane mix = 1
Border Collie / Hound / Labrador Retriever mix = 1
Border Collie / Keeshond mix = 1
Border Collie / Louisiana Catahoula Leopard Dog mix = 1
Border Collie / Miniature Pinscher mix = 1
Border Collie / New Zealand Heading Dog mix = 1
Border Collie / Papillon mix - 1
Border Collie / Rough Collie mix = 1
Border Collie / Staffordshire Bull Terrier = 1
Border Collie / Whippet mix = 1
Border Newfie (Border Collie / Newfoundland mix) = 1
Border Point (Border Collie / Pointer mix) = 1
Border Sheepdog (Border Collie / Shetland Sheepdog mix) = 1
Border Terrier / Lakeland Terrier mix = 1
Border Terrier / Miniature Schnauzer mix = 1
Borzoi = 1
Boston Spaniel (Boston Terrier / Cocker Spaniel mix) = 1
Boston Terrier / Bull Terrier mix = 1
Boston Terrier / Chin / Pug mix = 1
Boston Terrier / Jack Russell Terrier / Rat Terrier mix = 1
Boston Terrier / Pomeranian / Pug mix = 1
Bouvier des Flandres / Fila Brasileiro mix = 1
Bouvier des Flandres / Mastiff mix = 1
Box-a-Shar (Boxer / Shar Pei mix) = 1
Boxer / Bloodhound mix = 1
Boxer / Bull Terrier / Shar Pei mix = 1
Boxer / Chesapeake Bay Retriever / Golden Retriever / Labrador Retriever mix = 1
Boxer / Collie / Pit Bull = 1
Boxer Chow (Boxer / Chow Chow mix) = 1
Boxer / Dachshund mix = 1
Boxer / Dogue de Bordeaux mix = 1
Boxer / English Pointer mix = 1
Boxer / German Shorthaired Pointer / Parson Russell Terrier / Rhodesian Ridgeback / Shetland Sheepdog mix = 1
Boxer / Great Pyrenees mix = 1
Boxer / Greyhound mix = 1
Boxer / Greyhound / Rottweiler mix = 1
Boxer / Jack Russell mix = 1
Boxer / Labrador Retriever / German Shepherd mix = 1
Boxer / Labrador Retriever / German Shorthaired Pointer = 1
Boxer / Mudi mix = 1
Boxer / Olde English Bulldogge mix = 1
Boxer / Rat Terrier mix = 1
Boxerman (Boxer / Doberman Pinscher mix) = 1
Boxollie (Boxer / Collie) = 1
Boxspring (Boxer / English Springer Spaniel mix) = 1
Brat (American Rat Terrier / Boston Terrier mix) = 1
Brittany / Shiba Inu mix = 1
Bullboxer Staffy Bull (Boxer / Staffordshire Bull Terrier mix) = 1
Bull Arab = 1
Bull Arab / Mastiff mix = 1
Bull Mastweiler (Bullmastiff / Rottweiler mix) = 1
Bull Terrier mix = 1
Bull Terrier / Miniature Schnauzer mix = 1
Bull Terrier / Staffordshire Bull Terrier mix = 1
Bullmastiff mix = 1
Bullmastiff / American Pit Bull Terrier mix = 1
Bullmastiff / Neapolitan Mastiff mix = 1
Bullmastiff / Olde English Bulldogge mix = 1
Bullmastiff / Siberian Husky mix = 1
Cairland Terrier (Cairn Terrier / West Highland White Terrier mix) = 1
Cairn Terrier / Silky Terrier mix = 1
Canaan Dog mix - 1
Cane Corso Italiano / Rottweiler mix = 1
Cardigan Welsh Corgi mix = 1
Carolina Dog = 1
Carolina Dog / Husky mix = 1
Caucasian Shepherd Dog / Doberman Pinscher mix = 1
Cava-Chin (Cavalier King Charles Spaniel / Japanese Chin mix) = 1
Cava-Corgi (Cavalier King Charles Spaniel / Welsh Corgi mix) = 1
Cava-Shell (Cavalier King Charles Spaniel / Shetland Sheepdog mix) = 1
Cava-Tzu (Cavalier King Charles Spaniel / Shih-Tzu mix) = 1
Cav-A-Malt (Cavalier King Charles Spaniel / Maltese mix) = 1
Cav-A-Mo (American Eskimo / Cavalier King Charles Spaniel mix) = 1
Cavachon / Yorkie-poo mix = 1
Cavador (Cavalier King Charles Spaniel / Labrador Retriever mix) = 1
Cavalier King Charles Spaniel / Jack Russell Terrier mix = 1
Cavalier King Charles Spaniel / Keeshond mix = 1
Cavapom (Cavalier King Charles Spaniel / Pomeranian mix) = 1
Chart Polski = 1
Chesapeake Bay Retriever mix = 1
Chesapeake Bay Retriever / English Springer Spaniel mix = 1
Chesapeake Bay Retriever / German Shepherd / Labrador Retriever mix = 1
Chi Apso (Chihuahua / Lhasa Apso mix) = 1
Chi-Chi (Chihuahua / Chinese Crested mix) = 1
Chi-Chon (Chihuahua / Bichon Frise mix) = 1
Chihuahua / Basenji mix = 1
Chihuahua / Cocker Spaniel / Dachshund mix = 1
Chihuahua / Dachshund / Jack Russell mix = 1
Chihuahua / Dachshund / Miniature Pinscher mix = 1
Chihuahua / Dachshund / Poodle mix = 1
Chihuahua / Jack Russell Terrier / Poodle mix = 1
Chihuahua / Jack Russell Terrier / Pug mix = 1
Chihuahua / Manchester Terrier mix = 1
Chihuahua / Miniature Pinscher / Shih Tzu mix = 1
Chihuahua / Pekingese / Pug mix = 1
Chihuahua / Shiba Inu mix = 1
Chin / Labrador Retriever / Shih Tzu mix = 1
China Jack (Chinese Crested / Jack Russell Terrier mix) = 1
Chinook = 1
Cotralian (Australian Shepherd / Cocker Spaniel mix) = 1
Chow Chow / Dutch Shepherd mix = 1
Chow Chow / Doberman Pinscher / German Shepherd mix = 1
Chow Chow / German Shepherd / Husky mix = 1
Chow Chow / Pit Bull Terrier / Rottweiler mix = 1
Chusky (Chow Chow / Siberian Husky mix) = 1
Cocker Spaniel / Poodle / Labrador Retriever mix = 1
Cocker Spaniel / Poodle / Yorkshire Terrier mix = 1
Collie / Coyote / German Shepherd mix = 1
Collie / German Shepherd / Jindo mix = 1
Collie / Labrador Retriever / German Shepherd mix = 1
Coonhound / Rottweiler mix = 1
Corkie (Cocker Spaniel / Yorkshire Terrier mix) = 1
Coton de Tulear mix = 1
Corgi Cattle Dog (Australian Cattle Dog / Pembroke Welsh Corgi mix) = 1
Corgi / Dachshund / Shetland Sheepdog mix = 1
Corgi Pit (American Pit Bull Terrier / Welsh Corgi mix) = 1
Corgi / Pomeranian mix = 1
Corgi / Rat Terrier mix = 1
Corgi Schip (Welsh Corgi / Schipperke mix) = 1
Coydog (Domestic Dog / Coyote mix) = 1
Crestoxie (Chinese Crested / Dachshund) mix = 1
Dachsador (Dachshund / Labrador Retriever mix) = 1
Dachshund / French Bulldog / Jack Russell Terrier mix = 1
Dachshund / Labrador Retriever / Husky mix = 1
Dachshund / Lhasa Apso mix = 1
Dachshund / Pit Bull mix = 1
Dachshund / Toy Fox Terrier mix = 1
Dachshund / Toy Poodle / Welsh Corgi mix = 1
Dashalier (Dachshund / Cavalier King Charles Spaniel mix) = 1
Daug (Dachshund / Pug mix) = 1
Dingo / Kelpie mix = 1
Doberman Pinscher / Great Dane mix = 1
Doberman Pinscher / Mastiff mix = 1
Dogue Brasileiro (Boxer / Bull Terrier mix) = 1
Dogue de Bordeaux (French Mastiff) / Pit Bull Terrier mix = 1
Dorset Olde Tyme Bulldogge = 1
Doxie Scot (Dachshund / Scottish Terrier mix) = 1
Dutch Shepherd mix = 1
EngAm Bulldog (American Bulldog / English Bulldog mix) = 1
English Mastiff / Fila Brasileiro mix = 1
English Mastiff / Labrador Retriever / Rottweiler mix = 1
English Mastiff / Shar Pei mix = 1
English Pointer mix = 1
English Setter mix = 1
English Setter / Pointer mix = 1
English Springer Spaniel / German Shepherd mix = 1
English Springer Spaniel / Mountain Cur mix = 1
English Springer Spaniel / Pointer mix = 1
English Springer Spaniel / Welsh Springer Spaniel mix = 1
Eskipoo (American Eskimo Dog / Poodle mix) = 1
Flat-Coated Retriever mix = 1
Formosan Mountain Dog = 1
Formosan Mountain Dog mix = 1
Fo-Tzu (Shih Tzu / Toy Fox Terrier mix) = 1
Foodle (Toy Fox Terrier / Poodle mix) = 1
Foxhound (type not specified) = 1
Foxhound mix = 1
French Bulldog mix = 1
French Bulldog / Old English Bulldogge mix = 1
French Bullhuahua (Chihuahua / French Bulldog mix) = 1
German Anatolian Shepherd (Anatolian Shepherd / German Shepherd mix) = 1
German Pinscher = 1
German Spitz = 1
German Spitz / Poodle mix = 1
German Shepherd / Caucasian Shepherd Dog mix = 1
German Shepherd / Great Dane / Labrador Retriever mix = 1
German Shepherd / Great Pyrenees mix = 1
German Shepherd / Husky / Miniature Pinscher mix = 1
German Shepherd / Husky / Rottweiler mix = 1
German Shepherd / Husky / Shetland Sheepdog mix = 1
German Shepherd / Jindo mix = 1
German Shepherd / Labrador Retriever / Pit Bull Terrier mix = 1
German Shepherd / Labrador Retriever / Poodle mix = 1
German Shepherd / Labrador Retriever / Shetland Sheepdog mix = 1
German Shepherd / Labrador Retriever / Whippet mix = 1
German Shepherd / Mastiff mix = 1
German Shepherd / Norwegian Elkhound mix = 1
German Shepherd / Pharaoh Hound mix = 1
German Shepherd / Rhodesian Ridgeback mix = 1
German Shepherd / Siberian Husky / Spitz mix = 1
German Shepherd / Staffordshire Bull Terrier = 1
German Shorthaired Pointer / Golden Retriever / Shih Tzu mix = 1
German Shorthaired Pointer / Weimaraner mix = 1
German Wirehaired Pointer mix = 1
Giant Schnauzer mix = 1
Golden Boxer (Boxer / Golden Retriever mix) = 1
Golden Irish (Golden Retriever / Irish Setter mix) = 1
Golden Mountain Dog (Golden Retriever / Bernese Mountain Dog mix) = 1
Golden Pyrenees (Golden Retriever / Great Pyrenees mix) = 1
Golden Retriever / Mastiff mix = 1
Golden Retriever / Old English Sheepdog mix = 1
Golden Retriever / Pomeranian mix = 1
Golden Retriever / Tibetan Mastiff mix = 1
Golden Sheltie (Golden Retriever / Shetland Sheepdog mix) = 1
Grand Gascon Saintongeois = 1
Great Danebull (Great Dane / American Pit Bull Terrier mix) = 1
Great Dane / German Shepherd mix = 1
Great Dane / Irish Setter mix = 1
Great Dane / Jack Russell Terrier mix = 1
Great Dane / Maremma Sheepdog mix = 1
Great Dane / Rhodesian Ridgeback mix = 1
Great Pyrenees / Collie mix = 1
Great Pyrenees / Rottweiler mix = 1
Great Pyrenees / Treeing Walker Coonhound mix = 1
Greek Sheepdog = 1
Havanese mix = 1
Havanese / Soft Coated Wheaten Terrier mix = 1
Havashu (Havanese / Shih Tzu mix) = 1
Havaton (Havanese / Coton de Tulear = 1
Hellenikos Ichnilatis (Greek Harehound) = 1
Hound / Labrador Retriever mix = 1
Hound / Shar-Pei mix = 1
Hovawart = 1
Husky Jack (Siberian Husky / Jack Russell Terrier mix) = 1
Italian Grey Min Pin (Italian Greyhound / Miniature Pinscher mix) = 1
Italian Greyhuahua (Italian Greyhound / Chihuahua mix) = 1
Irish Doodle (Irish Setter / Poodle mix) = 1
Irish Red and White Setter = 1
Irish Setter / Husky mix = 1
Jack-A-Ranian (Jack Russell Terrier / Pomeranian mix) = 1
Jack Russell Terrier / American Staffordshire Terrier mix = 1
Jack Russell Terrier / Labrador Retriever / Pug mix = 1
Jack Russell Terrier / Pug / Rat Terrier mix = 1
Jack Russell Terrier / Stumpy Tail Cattle Dog mix = 1
Jack Russell Terrier / Tenterfield Terrier mix = 1
Jackie-Bichon (Bichon Frise / Jack Russell mix) = 1
Jindo = 1
King Wheaten (Cavalier King Charles Spaniel / Soft Coated Wheaten Terrier mix) = 1
Kishu Ken = 1
Klein Poodle = 1
Komondor = 1
Kuvasz = 1
Labrador Corso (Labrador Retriever / Cane Corso mix) = 1
Labrador Retriever / Coonhound mix = 1
Labrador Retriever / Rat Terrier mix = 1
Labernard (Labrador Retriever / Saint Bernard mix) = 1
La-Chon (Bichon Frise / Lhasa Apso mix) = 1
Lakeland Terrier = 1
Lakeland Terrier mix = 1
Leonberger mix = 1
Lhasa Apso / Papillon mix = 1
Lhasa-Coton (Lhasa Apso / Coton de Tulear mix) = 1
Lhasalier (Cavalier King Charles Spaniel / Lhasa Apso mix) = 1
Lhatese (Lhasa Apso / Maltese mix) = 1
Louisiana Catahoula Leopard Cur mix = 1
Louisiana Catahoula Leopard Dog / Border Collie mix = 1
Louisiana Catahoula Leopard Dog / German Shepherd mix = 1
Louisiana Catahoula Leopard Dog / Labradoodle mix = 1
Louisiana Catahoula Leopard Dog / Mastiff mix = 1
Louisiana Catahoula Leopard Dog / Pit Bull mix = 1
Louisiana Catahoula Leopard Dog / Shar Pei mix = 1
Lurcher = (Collie / Staffy / Whippet mix) = 1
Lurcher = (Dalmatian / Greyhound mix) = 1
Lurcher = (Fox Terrier / Greyhound / Weimaraner mix) = 1
Lurcher = (Greyhound / Irish Wolfhound mix) = 1
Lurcher = (Greyhound / Labrador Retriever mix) = 1
Lurcher = (Greyhound / Pit Bull mix) = 1
Lurcher = (Greyhound / Pointer mix) = 1
Lurcher = (Greyhound / Whippet mix) = 1
Mastiff / Rhodesian Ridgeback mix = 1
Maltese / Mi-Ki / Papillon mix = 1
Maltese / Pomeranian / Shih Tzu mix = 1
Maltese / Poodle / Yorkshire Terrier mix = 1
Maltese / Poodle / Shih Tzu mix = 1
Maltese / Shih Tzu / West Highland White Terrier mix = 1
Maltese / Shih Tzu / Yorkshire Terrier mix = 1
Malti-Pug (Pug / Maltese mix) = 1
Malti-Pin (Miniature Pinscher / Maltese mix) = 1
Maremma Sheepdog / Siberian Husky mix = 1
Mauzer (Miniature Schnauzer / Maltese mix) = 1
Miniature Boxer (Boston Terrier / Boxer mix) = 1
Miniature English Bulldach (Bulldog / Dachshund mix) = 1
Miniature Schnauzer / Rat Terrier mix = 1
Miniature Schnauzer / Shetland Sheepdog mix = 1
Miniature Schnoxie (Dachshund / Miniature Schnauzer mix) = 1
Muggin (Pug / Miniature Pinscher mix) = 1
New Zealand Huntaway mix = 1
Newfoundland / Labrador Retriever mix = 1
Neapolitan Mastiff mix = 1
Norfolk Terrier mix = 1
Norfolk Terrier / Pomeranian / Treeing Walker Coonhound mix = 1
Old English Sheepdog / Labrador Retriever mix = 1
Olde English Sheepdog / Siberian Husky mix = 1
Olde English Bulldogge / Poodle / Pug mix = 1
Ori Pei (Pug / Shar-Pei mix) = 1
Pakistani Bull Terrier mix = 1
Paperanian (Papillon / Pomeranian mix) = 1
Papillon / Tibetan Spaniel mix = 1
Patterdale Terrier mix = 1
Patterjack (Patterdale Terrier / Jack Russell Terrier mix) = 1
Patterdale Shepherd (German Shepherd / Patterdale Terrier mix) = 1
Peke-A-Tese (Pekingese / Maltese mix) = 1
Petit Basset Griffon Vendeen = 1
Petite Goldendoodle (Golden Retriever / Cocker Spaniel / Poodle mix) = 1
Pharaoh Hound = 1
Pit Heeler (American Pit Bull Terrier / Blue Heeler mix) = 1
Pitsky (American Pit Bull Terrier / Husky mix) = 1
Pom-Coton (Pomeranian / Coton de Tulear mix) = 1
Pom Terrier (Pomeranian / Toy Fox Terrier mix) = 1
Pomerat (Pomeranian / Rat Terrier mix) = 1
Pomston (Boston Terrier / Pomeranian mix) = 1
Poovanese (Havanese / Poodle mix) = 1
Poshies (Pomeranian / Shetland Sheepdog mix) = 1
Powderpap (Papillon / Chinese Crested mix) = 1
Presa Dane (Presa Canario / Great Dane mix) = 1
Pugalier (Cavalier King Charles Spaniel / Pug mix) = 1
Puginese (Pekingese / Pug mix) = 1
Pyredoodle (Great Pyrenees / Poodle mix) = 1
Pyrenean Mastiff = 1
Rashon (Rat Terrier / Bichon Frise mix) = 1
Reagle (Rottweiler / Beagle mix) = 1
Redbone Coonhound mix = 1
Redbone Coonhound / Golden Retriever mix =1
Rhodesian Ridgeback / Shar Pei mix = 1
Roman Rottweiler = 1
Saint Berdoodle (Saint Bernard / Poodle mix) = 1
Saint Bernard mix = 1
Saint Bernard / Schipperke / Weimaraner mix = 1
Saint Bernard / Wirehaired Pointing Griffon mix = 1
Saint Bernewfie (Saint Bernard / Newfoundland or Landseer Newfoundland mix) = 1
Saint Dane (Saint Bernard / Great Dane mix) = 1
Saluki mix = 1
Samoyed mix = 1
Schapendoes = 1
Schipperke mix = 1
Schneagle (Beagle / Schnauzer mix) = 1
Sco-Shi (Scottish Terrier / Shih Tzu mix) = 1
Scotch Collie = 1
Scotchi (Scottish Terrier / Chihuahua mix) = 1
Scotchon (Scottish Terrier / Bichon Frise mix) = 1
Scottish Terrier / Jack Russell Terrier mix = 1
Shar Tzu (Shih Tzu / Shar Pei mix) = 1
Shel-Aussie (Miniature Australian Shepherd / Shetland Sheepdog mix) = 1
Shelillon (Papillon / Shetland Sheepdog mix) = 1
Sheltie Inu (Shetland Sheepdog / Shiba Inu mix) = 1
Sheltie Shepherd (Shetland Sheepdog / German Shepherd mix) = 1
Sheltie Pin (Shetland Sheepdog / Miniature Pinscher mix) = 1
Shetland Sheepdog mix = 1
Shetland Sheepdog / Siberian Husky mix = 1
Shih-Mo (American Eskimo / Shih Tzu mix) = 1
Shih Tzu / Soft Coated Wheaten Terrier mix = 1
Shih Tzu / Wire Fox Terrier mix = 1
Sloughi = 1
Siberian Husky / Koolie mix = 1
Silken Windhound = 1
Silky Terrier mix = 1
Silky Cairn (Cairn Terrier / Silky Terrier mix) = 1
Silkyhuahua (Chihuahua / Silky Terrier mix) = 1
Soft Coated Wheatzer (Miniature Schnauzer / Soft Coated Wheaten Terrier mix) = 1
Spanish Mastiff = 1
Springerdoodle (English Springer Spaniel / Poodle mix) = 1
Staffordshire Bull Terrier mix = 1
Staffordshire Bull Terrier / Labrador Retriever mix = 1
Staffordshire Bull Terrier / Whippet mix = 1
Standard Auss-Tzu (Australian Shepherd / Shih Tzu mix) = 1
Standard Poodle mix = 1
Swissneese (Great Pyrenees / Greater Swiss Mountain Dog mix) = 1
Teacup Poodle = 1
Terri-Poo (Australian Terrier / Poodle mix) = 1
Thai Ridgeback = 1
Tibalier (Cavalier King Charles Spaniel / Tibetan Spaniel mix) = 1
Tibetan Spaniel mix = 1
Tibetan Terrier mix = 1
Timber Wolf = 1
Toy Fox Beagle (Toy Fox Terrier / Beagle mix) = 1
Toy Fox Terrier mix = 1
Valley Bulldog (Boxer / Olde English Bulldogge mix) = 1
Vizmaraner (Vizsla / Weimaraner mix) = 1
Vizsla mix = 1
Volpino Italiano = 1
Weimaraner mix = 1
Welsh Corgi / Pomeranian mix = 1
Whippet / Poodle mix = 1
Whoodle (Soft Coated Wheaten Terrier / Poodle mix) = 1
Wolfdog (Timber Wolf / Akita mix) = 1
Wolf Hybrid = 1
Yorkie-ton (Yorkshire Terrier / Coton de Tulear mix) = 1
Yorkillon (Papillon / Yorkshire Terrier mix) = 1